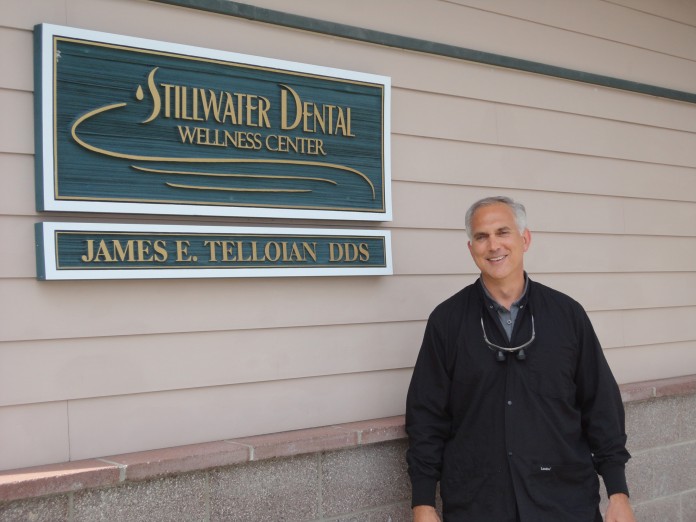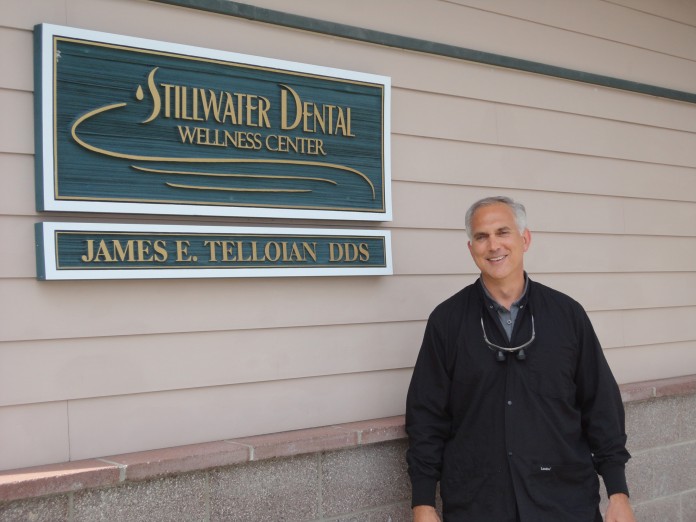 Dr. Jim Telloian is a family dentist, and he is the only dentist on staff at Stillwater Dental Wellness Center, which is intentional because he believes it improves patient care.
"We see kids from the time their first tooth erupts, and every age thereafter. My oldest patient is turning one hundred this summer," he said. "I consider myself a 'grand dentist,' because I have patients that I saw as children that are now grown up and are bringing their kids here."
Dr. Telloian explains why this matters, "We like to know our patients, who their spouse is, what their hobbies are. This creates a caring practice, but it also creates continuity of care. When I've seen someone for 20 years I know their mouth. I know what's been done and what needs to be done."
Born and raised in Southern California, Dr. Telloian spent a lot of time in Olympia with his grandparents who lived along Black Lake. "I learned how to water ski here and spent most of the summers of my teen years here and loved it," he said.
When he was in dental school and had to make a decision about where to set up his practice, it was easy. He thought about quality of life, knowing he wanted to avoid the rat race of California. He opened his first practice in Tumwater in 1990, and then moved to the current Black Lake location in 2005. A few years later the name of his practice changed from James E. Telloian to Stillwater Dental Wellness Center.
"It is a privilege to practice here, because [Thurston County] still has a little bit of that small town feel. I can go to the mall or Red Robin and I get to see my patients," said Dr. Telloian. "They invite me to weddings and graduations and it feels like one big extended family."
Focus on Wellness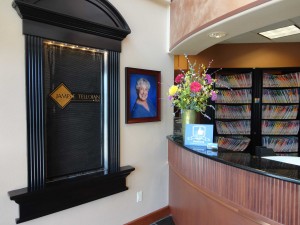 At the core of Stillwater Dental Wellness Center's philosophy is a focus on prevention. For example, research links a type of bacteria in a patient's mouth to cardiovascular disease. Treating the bacteria can also improve the health of the entire body. "We offer Laser Assisted Bacterial Reduction (LABR) or Laser Periodontal Therapy. This procedure uses laser at a very low level to clean deep pockets that are difficult to clean properly with scraping," he said. "Laser keeps the bacteria away for two months, allowing the gums to heal and the ligaments to reattach, compared to a deep cleaning that only keeps the bacteria at bay for 24 hours."
Dr. Telloian and his team also offer orthodontics without braces, using a system called Myobrace. Using an appliance worn only at night, like a sports guard, the tongue habit and lip postures are corrected so the teeth are able to come in straight. "For most kids this is a good starting point. The system has been available in Europe for over 20 years, and is now catching on in the United States," he said. The cost is comparable to traditional braces, but the benefits are substantial. "Braces can cause shortening of the roots, are hard to clean, and can break down the enamel. We see none of that with this system, plus by correcting swallowing and breathing problems it may prevent future sleep apnea," he said.
Another unique aspect of Dr. Telloian's practice is the use of a Neuromuscular based approach to TMJ or jaw dysfunction. Dr. Telloian explains, "This is an area of dentistry which looks at the relationship between the muscles in your face, your teeth, and your bite related to TMJ. Our theory is these issues are muscle related, so if we can get your muscles to relax, then your symptoms will go away. We have a computer system that helps find a position for your jaw where your muscles are relaxed and we create an appliance to put your mouth in that position." Dr. Telloian has treated dozens of patients over the years using neuromuscular dentistry and they usually notice a difference after the first night, such as a lack of headaches the next day.
"Our philosophy is that we want to treat people in the most conservative way possible without surgery and drugs. Surgery can be a great option, and I'm glad we have it available, but it should be a last resort. I've had people come see me who were supposed to have surgery for TMJ and all they needed was to have their bite corrected. I make a splint for them and their pain goes away," he said.
For Dr. Telloian, a large part of practicing preventative dentistry and promoting wellness is staying up-to-date on new research and techniques. In fact, Dr. Telloian was one of the first dentists in town to stop using silver fillings. "We realized that if we did a silver filling, and had any leftover material we had to dispose of it as hazardous waste. I wouldn't want that in my mouth, so I'm not going to put it in my patient's mouth. That was over 20 years ago," he said.
And while Dr. Telloian and his team focus on wellness, they know the power of a great smile. "Cosmetic dentistry is a big part of what we like to do, and I've had a lot of training in this specialty. The biggest compliment I get when I do a smile makeover is people telling the patient they have pretty teeth or a beautiful smile," he said. "The fun thing about smile makeovers is that they are instant. People look at their smile in the mirror and often begin to cry. It is very emotional. I love this work, because it changes people's lives."
Stillwater Dental Wellness Center
1930 Black Lake Blvd SW
Olympia, WA 98512
360-352-0847