A quick Google Search for "knitting popularity" returns scores of articles confirming the anecdotal evidence this 40-year-old writer collected locally (mainly that I'm knitting, my friends are knitting, so everyone must be knitting). People of all ages, mainly women but also many men, are taking up the traditional hand-crafts of their grandmothers with increasing frequency.
Why? For most, it's connection to something real and tangible in a world dominated by social media and virtual conversation. Knitting and crocheting provide an opportunity to create something with your own hands that can last for generations.
Additionally, there is a sense of community fostered among those who share a hobby. In particular, fiber arts are tailored to group gatherings where needles click and stories unfurl as quickly as the yarn. Advice on life, as well as dropped stiches is traded and cherished. And, it all fits neatly in a tote bag. Bonus.
Those of us ready to knit up our next awesome cowl, maybe inspired by the wildly popular knitware on the Starz series Outlander, now have a new option for finding the perfect yarn. Michelle Cohen's new shop, The Black Sheep Yarn Boutique, opens in West Olympia. Becoming a small business owner, running her own shop and selling something she loves is a dream come true for Cohen. A dream that for many years, she couldn't even put a name to – a dream she came close to never discovering at all.
"I'm from Seattle, but grew up all over the place," Cohen shares as we settle into the cozy armchairs and couch in Black Sheep's sitting area. It was in her early 20's that she reconnected with family in the Pacific Northwest and felt a sense of belonging she hadn't known before. Returning to Seattle, she met and married her late husband Mitch, a family physician in Elma who passed away suddenly five years ago.
She and Mitch made a home in Olympia where she "loved the rural feel and small town atmosphere" after living for years in bigger cities. The couple had three children and Cohen was "doing the mom thing" full-time when Mitch died. Cohen was daunted by the prospect of heading back into the workforce full-time. But, as is typical for Cohen, as anyone who knows her would attest, she forged ahead, securing a job to support her family. Just three months into her new job, Cohen was diagnosed with breast cancer and faced a long, intense treatment. With her determination, positive outlook, and the support of friends and family, Cohen is now cancer free.
"I'm the kind of person who thinks about life as a series of events with one thing leading to the next," she explains. While she admits it took time to find her way out of grief after her husband's death, she also shares, "I really try and look at the blessings in life – to focus on the positives."
While Cohen had achieved success in non-profit management among other business pursuits, she never felt she was doing "what I was supposed to do." And, as with many women after leaving professional careers to care for and raise their children, Cohen found herself one day at a crossroads. "I just hit that point in life where you say to yourself, 'What am I going to do? Isn't there something more I'm supposed to do?'"
For Cohen, the answer came nine months ago while helping a close friend look at vacant spaces for a new business. Her friend asked, "If you could have a shop, Michelle, what would it be?" She didn't have an answer ready, but it rattled around in her head for weeks until she happened to visit Gig Harbor's Rainy Day Yarns.
"I had this revelation that if I owned a yarn shop, this would be it. It was fun, pretty, cozy and it started me thinking," Cohen shares. As an accomplished knitter, Cohen has spent time in her fair share of yarn shops, yet this time it was different.
"I literally heard myself getting excited. I had a real self-awareness that for the first time, this could be my dream. This could be the right thing for me," she recalls. "I channeled my inner Russell Wilson," laughs the Seahawks super-fan, "and said, 'Why not me?'"
She dug in, did the work with the help of local life coach Logan Reed and her network of supportive friends and family, and this week will open the doors to The Black Sheep Yarn Boutique.
The space is inviting and cozy with walls fittingly painted "Knitting Needles Gray" and includes a project space, perfect for the classes Cohen will offer. A true beginners class will be first, followed by kids classes, a sock class, and holiday decoration classes. "My goal for the shop is for people to feel like they can come here and find what they want – something unique – without breaking the bank," Cohen explains. Her selections include skeins starting at just $3 and she looks forward to customer suggestions on yarns and products to carry.
I have my eye on a delicious merino wool, perfect for fingerless gloves come fall.
The Black Sheep Yarn Boutique offers area knitters and crocheters more than a source for beautiful yarn. It offers a place for community, a place for learning, and a place for creating something that lasts. Keeping your hands busy with needles and hooks, not your smart phone, is definitely trending in Olympia.
Keep track of Michelle Cohen and The Black Sheep Yarn Boutique via Facebook.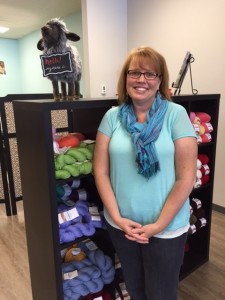 The Black Sheep Yarn Boutique
2615 Capital Mall Dr SW #3B (in the Outback Plaza, near Black Bear Diner)
(360) 350-0470
Grand Opening – June 27 and 28 from 10:00 a.m. – 5:00 p.m.
Regular business hours:
Tuesday and Wednesday – 10:00 a.m. – 5:00 p.m.
Thursday – 11:00 a.m. – 7:00 p.m.
Friday and Saturday – 10:00 a.m. – 5:00 p.m.
Closed Sunday and Monday