By Doris Faltys

"Music is food," says local jazz singer LaVon Hardison. "Even if I was not singing on a professional level, I would still be singing because I need to. It is not an option. I have sung all my life, starting out at Ebenezer Baptist Church in Boston."
"My family liked to sing. There was always music," continues Hardison.  "My mom would take me out of school to go see the symphony or musicals when they came through town. She felt it was really important to expose me to the music culture. I got a chance to see pianist Eubie Blake. I got to see Nell Carter in 'Ain't Misbehavin'.'"
Hardison explains that this exposure to music in the larger world "kept me interested in learning, and kept me in school. I had a wonderful music teacher there who would say, 'Okay, you can go to typing class and not do anything, or you can come down here and hang out with me.' So I would hang out with the music teacher."
"I went to Boston University and majored in opera for a year. It was great classical training and really wonderful for me. The attitude there…" Hardison pauses to think. "I found it really challenging, this hierarchy of music, with Wagner on top, folk and novelty songs somewhere below. That just didn't sit well with me." And, she adds smiling, "I did not have the drive, or the personality. I am too silly!"
"I was very fortunate that I had this classical background. Then, and this happens to many singers if they have had classical background, they have to relearn how to sing other music. The very precise diction, head voice, chest voice, you are not going to sing." Here Hardison goes into an operatic voice and sings, 'I've Got Rhythm.' We both laugh.
Hardison shares with me how she arrived in the Pacific Northwest. "I met my husband, Scott Stevens, an Olympia native, in Boston. We courted for a little while. Then he road his bike back here. I came out here. I was in love and it was summer. I never thought it would rain, ever. I knew, but I thought drizzles – not like six months."
"I am really grateful for being here. Olympia is a very generous place and there is so much creativity here," says Hardison.  "I mean really, there are so many fine musicians, a lot of artists, amazing talent here. I feel truly fortunate to have worked with them."
"I have been working mostly full time on my music since then. I did some acting, video and voice work for a while for the Washington State Department for Information Services when they were still located here in town. If you go to jury duty, you have to watch an informational video. I am the judge in the video," Hardison laughs. "I want to say one of my proudest things is that Raymond Burr used to be the video judge. I replaced him. He really was!"
"Once in awhile someone will ask me if I'm the 'ergonomics lady' because I did a lot of information videos. It's kind of funny," Hardison recalls.
Jazz performance and live theater keep Hardison very busy. "I am currently appearing in Harlequin Productions' Sixties Chicks Too, musical review. I am part of a four woman group and I am singing 'Heat Wave,' 'No Where to Hide,' and 'You Don't Have to Say You Love Me.' It's funny when you listen to most of the lyrics in these songs. It's like serious dysfunction. The show has wonderful women in it – great singers."
As Ruby, of Red & Ruby, Hardison performs with local jazz guitarist, Vince Brown.  Brown also has a standing gig every Wednesday night from 6:00 – 8:00 p.m. at Swing Wine Bar in Olympia.
Vince Brown shares the story of how he met Hardison.  "I had a radio show on KAOS Community Radio and my radio show was immediately before Scott Stevens' show. Scott knew that I played music. One day Scott came in and said, 'You know, my wife sings jazz. Do you think you might be interested in getting together?' Of course I said yes. LaVon and I talked on the telephone and made a date to get together, and she came over. I had never met her before and we sat down. I said, 'What do you want to sing?' She said, 'How about 'Body And Soul'?' I get the first chord and LaVon started to sing. I just stopped in my tracks and looked at her. 'Your husband lied to me. He said you can sing. I say what you do is much more than sing. It is magic. It's amazing.' That was the beginning of a long and fruitful relationship."
Brown continues, "While she is a musician's musician, somewhat unusual in a vocalist, she is extremely skilled technically. She is also such an amazing performer and brings so much of herself, and well, whoever she happens to be channeling at the moment, to every performance that she does. It is really that combination of musicianship and capacity to tell you a story through the song that really makes her strong."
"I love working in duos the most because you can be so conversational," Brown says.  "With two people you can move and change, and things can really happen, especially with LaVon, which is why I like playing with her. She is so responsive and after all these years, it is so easy. It is really fun. I love improvisation. I don't like playing anything in the same way twice. Sometimes with LaVon, it is more theater than jazz, but it is always improvisational."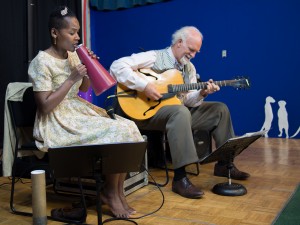 Neither Hardison nor Brown remembers where the name Red & Ruby came from. "It just happened," says Hardison. "Red was a nickname Vince had from a band he was part of called Red Brown and the Tune Strings. We have been working together off and on for about 16 years, the last six or so as Red & Ruby. We have a lot of fun together. I learn so much from the musicians I work with. I improve through the aid of others."
"It is an illusion that artists make it on their own. It takes getting your community in place. Whatever good things I have had happen in life, musically, artistically, creatively, have been through the aid, and care, and love, and support of other people," explains Hardison. "It is especially wonderful that I have a great partner who is very supportive."
"Don't underestimate the power of music," Hardison adds. "It can change hearts. It loosens up forgotten memories and emotions. That is one of the things that motivates me – that's why I like to perform. Music has a way that touches people's heart that words just can't. Come to a show!"
Hardison and Brown perform around the Northwest regularly individually, as a duo, and with other musicians.  Here are some upcoming places that you can see LaVon Hardison, Red & Ruby and Vince Brown perform.
Harlequin Productions' Sixties Chicks Too runs through July 19. LaVon Hardison will be the featured vocalist at Pacific Lutheran University's Jazz Under The Stars on July 9.
See them live as Red & Ruby at the Olympia Farmers Market on July 31 from 11:00 a.m. – 2:00 p.m.
More information is available about LaVon Harsidon's upcoming performances here. To learn more about Vince Brown's upcoming performances, click here. View performance schedules for Red & Ruby here. Vince Brown is also a member of The Greta Jane Quartet.
Vince Brown plays every Wednesday night from 6:00 p.m. – 8:00 p.m. at Swing Wine Bar in Olympia.
Note: Samples of their music can be heard on each of their respective web sites.