Submitted by Rainy City Roller Dolls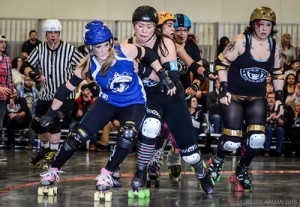 This weekend is chalk full of derby with an upcoming double-header, featuring the Rainy City Roller Dolls versus the Wine Country Crushers and Overbeaters Anonymous versus the Skate-O-Holics on Saturday June 20.  It's sure to be a spectacular sight filled with competition, support and superior athleticism.
And, in the world of roller derby, support and service is at the foundation and core of every roller derby team and certainly every player.
"No matter which way you slice it, we play for ourselves and we play for each other," said Rainy City Roller Dolls President, Rebecca Parvin, also known on the track as Ivanna Pop-A-Tart, "I support my teammates and do what I can for each of them and the team, just as they would for me.  That's why supporting Twin Cities Mission is so important to us."
Twin Cities' House Mother and Director, Tracy Scott, went to the mission in 2005, running from abuse.  "I was running from abuse and running from myself," said Scott, "I stayed for eight months."
Twin Cities Mission is a Centralia based 501 (c) 3 non-profit group home that helps women from different backgrounds and life experiences.  The organization is 13 years old now and is still going strong.
"This home helped me change my life," Tracy said in an email, "I (now) have been running this house for 3 years since the (the founder) retired. I (still) keep in close contact with her."
As an independent and very small non-profit, Twin Cities Mission has no government funding and the organization relies solely on financial donations, donated items and donated service help.
And, their return to the community is ten-fold when it comes to supporting women and getting them back on their feet.
"We help ladies getting out of jail, older displaced women and many women (who are) getting off of drugs. Our average stay is 90 (days)."  said Tracy.
This weekend's double-header event is sure to draw a crowd and Rainy City Roller Dolls is hoping the community can deliver results, for Twin Cities Mission and for Tracy.
Parvin is excited for this weekend. "We are looking forward to an incredible turnout not only for roller derby but for the women utilizing Twin Cities Mission," she said, "every little bit helps; whether it's five dollars or five rolls of toilet paper, these women need our support."
Tracy is thankful for the support and is looking forward to the turnout as well in addition to the overwhelming support they've received from Rainy City Roller Dolls thus far.
Her final words before this Saturday, "Some ladies stay as long as a year. As long as they are continuing to better their lives, we want to help them."
Location:  Centralia Rollerdrome 216 W. Maple St. , Centralia, WA 98531
***Beer Garden for 21 and over***
Saturday, June 20 – Doors open at 5:30 p.m.; first whistle at 6:00 p.m.
$10 Presale/Online; $15 at the door
Kids age 10 and under are free.
Buy Tickets Online Here
REMEMBER: When you make a donation, you will receive 3 raffle tickets to win a prize
Their current needs are as follows:
Money to pay off home
Toilet paper
Paper towels
Napkins
Bleach
Lysol wipes
Sugar
Coffee
Dishwasher soap
Laundry soap
Tall kitchen trash bags
Easy daily use mops
Broom & dust pan