By Heidi Smith

If you're having a bad day, Marian Licxandru has a solution: stop by La Gitana Olympia and leave with a smile on your face. The restaurant's new owner thinks that dining is more than just serving food. "It's about making people happy," he says. "We've had people come in who are crying and upset, but tiramisu always does the trick." The restaurant's combination of organic, high-quality food and welcoming atmosphere has the power to change people's days, he believes.
Licxandru and his wife Lumi took over the popular European eatery in April from founders Francesco Chiechi and Carlos Morist. They also purchased the Yelm La Gitana restaurant in 2011 and have been operating it since 2013. La Gitana is known for its artisanal pizzas cooked in a woodfired oven and composed of quality ingredients, many of which are imported from Spain and Italy. They also serve a variety of cheeses, cold cuts, and salads.
Both Marian and Lumi are new to the restaurant world. In their native Romania, he ran a publishing house and she worked in middle management. Since they took on this new venture, it's been a crash course in teamwork and managing employees. Fortunately, they both already had plenty of people skills. "I love people," Marian says.   "My goal is to offer one of the happiest dining experiences for my guests. If I can do that, I've touched their lives. They're going to go home with enough energy to play with their dogs or their spouse or their kids."
He also feels confident about the food itself. "I sleep well because I know that whoever was in my restaurant ate something that I like to eat and put in my body," he says. "We import ingredients from almost all over the world. Our vinegar and olive oil are from Italy and Spain, our proscuitto comes from Italy and the blue cheese is imported from France. We use organic flour and the tomato sauce and the shredded mozzarella have no preservatives or cellulose added."
Marian explains that the restaurant chooses to buy cheese that is limited in filling ingredients, like cellulose. "I'm not saying cellulose is bad, because the FDA has declared it good," Marian explains. "I'm saying cheese that has 50% cellulose is 50% cheaper. That's why our pizzas might cost $1 or $2 more and that is why we have parents that want to buy our shredded mozzarella and serve it to their kids, saying that it is the only cheese their kids would eat."
At the Yelm location, they've recently added pasta to the menu. "It's organic and non-GMO," he says. "We make the pasta fresh because we want to make sure our guests get the best of what we have to offer. It's the European experience of fresh food."
Their lemonade has no sugar added and even the fruit and produce they use for their cocktails are organic. "We want to make sure that nothing chemical leaks into your drink. It's expensive for us but we like it and our guests deserve it," he says.
The extra effort and expense are worth it for his peace of mind. "When my wife was pregnant, we were working at the restaurant and she ate pizza every day," he says. "My son's DNA molecule is round – it's not a double helix."
Since taking over the Olympia business, Marian has noticed how different it is from their other location. "I told my friends that we got out of the Shire," he jokes. "It's not the gingerbread house where everybody knows everybody. Yelm is kind of like someone's living room. In Olympia, there are many students and people you may never see again – they might have dropped their kids off at college or be visiting their grandson."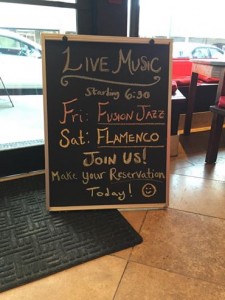 The downtown restaurant hosts regular fusion jazz and flamenco nights, which are a popular draw on weekends. "Francesco and Carlos have really created a great atmosphere here," says Marian. "I very much like the Olympia restaurant for the ambiance it provides and I love Yelm for its coziness."
Renee Webb frequents both locations, and she agrees. "Yelm has a home atmosphere, while Olympia has a much more party feel about it," she says.  "Both have excellent pizza, food, and charm."
Ultimately, Marian says, it's about home. "We miss Europe, so we brought Europe to where we are. We grew up in this kind of environment and did our best to try to bring it here. I was very surprised that the community actually embraced us as much as they have. Apparently Americans have a romantic side, too."
Visit La Gitana at 518 Capitol Way South in downtown Olympia or 309 E. Yelm Avenue in Yelm.  Pick your order in advance by reviewing the menu here.