Submitted by Home Instead Senior Care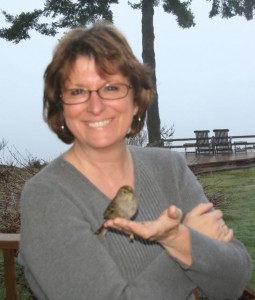 The Olympia area is the home to a variety of healers; whether they be primary care practitioners, massage therapists, acupuncturists or physical therapists.  One little known method of therapy and healing is the practice of Jin Shin Jyutsu and our local practitioner and instructor, Leslie Demich, is right at our fingertips.
"Any approach to healing (whether western or eastern) is likely to have a certain level of effectiveness as long as it keeps your well-being paramount," says Leslie, accredited JSJ practitioner and instructor. "Each approach has its place in the healing process."
What is Jin Shin Jyutsu?
Jin Shin Jyutsu is an ancient Japanese art that employs simple touch to stimulate 26 points on each side of the body. When stimulated in a certain order, these points (we call them Safety Energy Locks) work together to open any of the thousands of highly defined energy pathways in the body.
Prior to becoming a JSJ practitioner, Leslie, was the owner of The Demich Group, a public relations consulting firm with clients across the country, for over 30 years; and her career was definitely lucrative.  "My experience with Jin Shin Jyutsu and its benefits are a result my husbands battle with chronic illness and the associated pain with chronic illness; and it's what drove me to make the leap from the PR grind to opening my own practice," Demich says, recalling what prompted her curiosity into the field.
"Acupuncture helped, but he had a hard time integrating it into his life.  In desperation, we turned to a Jin Shin Jyutsu practitioner whom I'd known and liked as a friend for years in spite of what she did for a living.  Until that moment, it hadn't occurred to me to ask her for help because I didn't think that weird Jin Shin Jyutsu stuff was real.  I thought it was just some froo-froo new-age requiring a healthy dose of gullibility to make it work.  If it worked," she mused.
As it turned out, her husband was sleeping better, moving better and enjoy life more than he was, due to chronic pain.
The philosophy and practice of Jin Shin Jyutsu sets it apart from other modalities in a number of ways:
Jin Shin Jyutsu embraces and beautifully complements western medicine and all other modalities. Jin Shin Jyutsu will support and help the body harmonize with any approach.
Jin Shin Jyutsu honors the modesty of each individual. Clients remain fully clothed, lying face up on a massage table throughout their treatment.
Jin Shin Jyutsu employs no needles or tissue manipulation, just gentle touch. As a result, most clients find Jin Shin Jyutsu to be profoundly relaxing.
Because Jin Shin Jyutsu employs only gentle touch, clients are able to do it on themselves over time. Each client learns supportive self-help routines so they do not have to rely on their practitioner forever.
Leslie Demich is a hosting an exclusive educational seminar for the public, at no cost, hosted by Home Instead Senior Care.  Leslie will teach participants how to apply this art immediately, helping yourself and loved ones.  Handouts will be provided so you can try it at home, at work, on the go, or even as you fall as sleep at night.
This program designed for anyone who is an unpaid caregiver or support member caring for an elderly person be it a parent, other relative or friend.  This program is scheduled on Thursday, June 18, 2015, from 10:00-11:00 a.m. at Home Instead Senior Care located at 1217 Cooper Point Road SW, Suite 8, Olympia, WA  98502.  Space is limited and registration is required.  Call 360.570.0049 to register by June 16. Ask for Kelly Cavenah.
About Leslie Demich
Leslie Demich is an accredited Jin Shin Jyutsu practitioner and self-help instructor.  Her thriving, full-time practice in Lacey is called Body in Balance Jin Shin Jyutsu.  You can reach her at 360.349.2451 or visit her website for more information.