By Lynn West

A noisy crow may haunt our sleep, a sweet hummingbird may hum in our hollyhocks, and, if fortunate, we may spot a stately great blue heron on a nearby shoreline. Yes, birds are part of our daily lives, but usually only in passing. Birders, rather than distractedly acknowledging a glimpse or a caw, will stop and quietly observe. Grab a pair of binoculars and The Sibley Field Guide to Birds of Western North America, and you are on your way to an addicting pastime.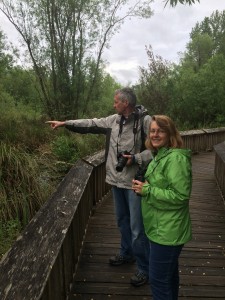 After my first visit to the Nisqually National Wildlife Refuge (NNWR) years ago, I knew we were fortunate to have it in our backyard, but I didn't realize visitors, and especially birders, come from all over the area, the United States and the world to enjoy this unique refuge.
Nisqually's paths are lined with helpful signage. Clear pictures and text identify birds and wildlife. However, if you really want to begin birding in earnest, join the Wednesday morning Birding Walk.
Phil Kelly, who has led the walk for the past twelve years, first came to Nisqually to photograph birds. "Then I decided I had better learn more about the species I was spotting, so I traded the camera for a scope," he said as he led a group of thirty birders along the walk.
Kelly and assistant Russ Smith said the popularity of the Birding Walk has grown over the years. "On a nice sunny Wednesday as many as 40 folks show up," Russ told me.  Phil added, "That number includes an eclectic mix of all ages, backgrounds and levels of birding knowledge, from Master Birders to first timers. We spot 65-80 different species per day, and over 165 in a year's span."
When the group paused to view a magnificent peregrine falcon along the outer boardwalk, Laurel Parshall showed me her list of birds. When asked if she was a regular on the walk, she responded, "I drive down from Pierce County and arrange my work schedule so I can come at least one Wednesday a month."
BirdNote sparked Laurel's first interest in birding in 2009. "It soon became a passion," she said. "Last year I recorded 300 species in Washington State, and I have gone on birding trips to Thailand, South America, and Mexico."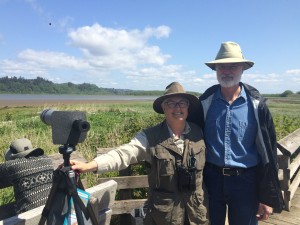 Tacoma residents, Brian and Tove Payne joined the group for the first time. Brian explained, "The last time we were at Nisqually, we saw a great blue heron with a rubber boa in its mouth." Although the naturalists told him he had observed a rarity, he was curious what he might spot with a knowledgeable group.
Another popular birding spot is Grays Harbor National Wildlife Refuge, an extension of NNWR, which encompasses 1,500 acres of intertidal mudflats, salt marsh, and uplands. Every spring, the Refuge hosts the Shorebird Festival to observe the stop-over of hundreds of thousands of shorebirds flying north to the Copper River delta breeding grounds in southeast Alaska.
Marian Baily, a wildlife biologist from Nisqually who was working at the Festival, shared her scope, which made the tiny semi-palmated plovers and dunlins much more distinct. Among the 24 species that populate the refuge year round, Western sandpipers and dowitchers are easy to spot. Spring and fall are especially popular bird watching seasons at the refuge.
The Black Hills Audubon Society (BHAS) sponsors the Wednesday Birding Walk at Nisqually and hosts an easy to navigate website for local birders. When asked about the best local birding spots, Bonnie Wood, Field Trip Chair for the society, said, "Woodard Bay Natural Resources Conservation Area is always popular." She often leads field trips to this area for beginning and intermediate birders.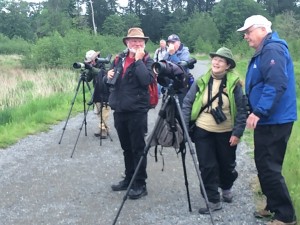 Among Bonnie's other favorite birding spots are McLane Creek Nature Trail and the often overlooked, Pioneer Park in Tumwater, which offers, according to Bonnie, "amazing marsh, river, and meadow…all habitats birds enjoy."
Bonnie also mentioned that the Audubon Society offers birding 101 classes twice a year, and they are so popular that they always have a waiting list. The next session will be in September, so keep checking the website.
Citizen science opportunities are also listed on the BHAS website. Volunteers are encouraged to participate in bird counts, surveys, and monitoring activities. Phil Kelly's birding group also assist in bird observations and counts for Nisqually.
If it isn't possible to attend the early morning birding walk, perhaps Birds and Beer on the third Monday of each month at 4:30 p.m. at Fish Tale Brewpub might be a better fit. Birders share their favorite "birding spots" in our area, so come ready to learn and share.
Bonnie ended our conversation by praising the many volunteers who make the work of the society, including the Wednesday Birding Walk, possible. "Birds are our poster child, but without habitats, we wouldn't be able to enjoy them, so conservation is also a large part of our mission."
If your image of Birders came from the competitive frenzy of the 2011 movie, "The Big Year," you will find the local birding community a refreshingly different flock altogether.