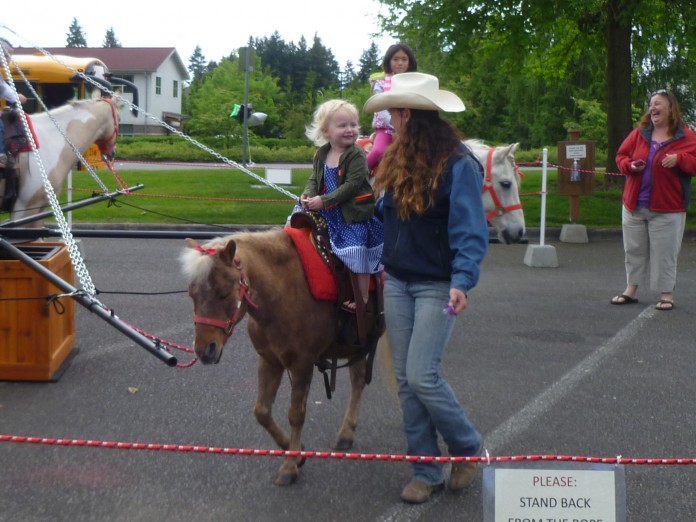 Submitted by The City of Lacey Spring Fun Fair
Be sure to mark your calendars for the 28th Annual Lacey Spring Fun Fair! This year's festivities will take place at Saint Martin's University on Saturday and Sunday, May 16 and 17. Each year more than 16,000 guests join us as we celebrate families and friends with this FREE Family Extravaganza! 
Members of your family, big and small, are going to have a great time this year!!  Inside the Pavilion you will step into "Kidsworld", an experience like no other!  Your little ones can visit over 50 booths where they can play games, create arts and crafts, and even get their faces painted.  Event highlights include a chance to meet Barbara Hicks, the author of 2 new books based on Disney's Frozen, free pony rides, live music and entertainment, and Leaps and Bounds, this year's newest thrill ride!
Grab a tasty treat from one of the delicious concession stands, shop for local arts and crafts, watch a great show on one of our two stages, and create amazing memories with your family and friends!
The Grand Parade will kick-off at 6 p.m. on Saturday, May 16. Bring the whole family out to see the fabulous floats, talented students, beautiful horses, and dynamic community organizations that will be amazing the audience this year. The parade route can be found on laceyspringfunfair.com.  Come early so you can grab dinner at the fair and get a good spot to watch the show!
Sunday will be another great day at the Spring Fun Fair!  The "All Star Talent Show", sponsored by WSECU, will take place at 2 p.m.  Come root on your favorite dancers, singers, and other performers as they compete for this year's prizes.  Last year our winners donated $500 in prize money to local charities!!  Also, join us Sunday for the Car Show as automobile enthusiasts from around the Northwest show off their best stuff! New cars, restored cars, low riders, trucks, and impressive paint jobs will be on display all day long.
Don't want to deal with parking? Don't worry! Intercity Transit (IT) has provided FREE shuttles on Saturday from 10:00 a.m. – 5:15 p.m. from the South Sound Mall, near the Flag Pavilion parking lot, to the fair and back. On Sunday, you can add to the day's adventure by taking an IT bus to the event (for information on local routes visit http://www.intercitytransit.com)
Join us May 16 and 17 for the amazing "Kidsworld" experience, local entertainment, delicious food, exciting games, arts & crafts, and  much much more!!