By Nikki McCoy
It all started with an email: "Come dig in the dirt."
It was this call to action, along with the mention of volunteerism, which caught the attention of dozens of local WSECU members.
As part of a recent community outreach campaign, WSECU has teamed up with GRuB (Garden-Raised Bounty), a local non-profit organization, to act as a springboard for members to give back to their community. While many companies invite their employees to volunteer in the community, not many have tried to tap their best resource – their customers, or in the case of the credit union, their members. When WSECU put out a call to its members to help GRuB, they responded positively.
"WSECU members often talk about the credit union feeling like a family or a community," says Ann Flannigan, vice president of public relations for WSECU. "This volunteer effort really affirms that. I think there is pride in getting together with your 'family' to do something good for others. We're also excited to showcase the work of GRuB and have people learn about this tremendous organization."
About 20 people, including half a dozen kids, showed up at GRuB headquarters Saturday morning for hours of digging, weeding, seeding and fertilizing.
And of course, fun.
"I think the best part is learning about the farm and organization," says 8-year-old Preston Gress, who aspires to be a farmer. Together with 3-year-old sister Claire, and mom, Crystal, they pull weeds and examine spiders. The family all bank with WSECU (the kids participate in the Munny Bunny savings program) and all are happy to help.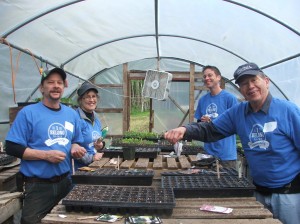 Kerensa Mabwa, community engagement coordinator for GRuB, was also on site, weeding and talking with volunteers.
"Many hands make light work," says Kerensa, smiling while digging up a dandelion.
"GRuB is a community based organization, so we rely heavily on community support," she says. "To have businesses partner with us really bolsters what we do with youth and family enrichment."
"When businesses become ambassadors and help share that work, it allows outreach and engagement. So an event like this allows us to share excitement for our similar values," add Kerensa.
Member Kathy Goodwin is also glad to be helping GRuB.
"It's something I know how to do," she says, clearing the area around a blueberry bush. "And I like to be able to volunteer out in the community. It makes me feel good to give back."
Near the flowering current and elderberry, two volunteers, Carol Sittler and Melissa Ferris, meet for the first time. They chat about building raised garden beds and how while giving back can be hard work, it has its benefits, too.
"Playing in the dirt on a Saturday is always good," laughs Ferris.
"This is actually relaxing," Sittler chimed in, noting her high-stress job providing low- and middle-income families with housing.
They both agreed volunteering with WSECU is an activity they would do again.
"At GRuB, our mission is to bring people together around food and agriculture to inspire personal and community change," Kerensa says. "The shared interest in the food movement, like convening people together to develop leadership skills – WSECU shares that community development base – is a powerful way to partner with us."
Out in the field, where potatoes and peas will grow, volunteers amend soil alongside WSECU President and CEO Kevin Foster-Keddie.
"This is very exciting, I love working outside, and I love our members, we have very cool members," he says, noting a conversation he just had about the prospect of growing mushrooms from coffee grounds.
And regarding the business part of the event?
"It's really easy to write a check," he says. "It's much harder to find the organizations that really work and work with them and figure out what they really need. You have to have conversations. You have to have meetings. When we find an organization, a group that fits us and we can see is really effective, like GRuB, we really get behind them. We're all in."
On another part of the farm, little girls tote buckets of weeds around. A group of members can be heard laughing in the greenhouse, where seeds are being sown, both literally and figuratively. There is Preston again, pushing the wheelbarrow around, earning his stripes as farmer-to-be.
I make my exit as the group winds down for a break. Live bluegrass and snacks, plus the occasional sun breaks make the perfect setting, and smiles were all around.
"We have the best members!" says Ann, gratitude in her voice. "We think it's pretty cool that they would volunteer their time on a Saturday based on the simple tie that they are members of WSECU. That's a cooperative in action."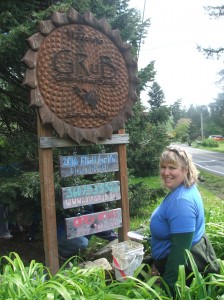 "We're already brainstorming for what the next volunteer opportunity might be in Thurston County and in the other cities where we have branches," adds Ann. "We have over 200,000 members – imagine what we could do together!"
GRuB builds more than 60 food gardens (for free) for low-income families and individuals across Thurston and Mason Counties. The non-profit organization hosts numerous workshops and events, offers a Community-Supported Agriculture (CSA), partners with the Olympia School District and more.
Most recently, GRuB has started FIG (Food Investment Gardens) where they build gardens for people of all income levels on a sliding fee scale. A new fundraiser, developed by existing high school staff to help offset stipend costs (students gain credit, food and money through the program) is now live.
WSECU is a not-for-profit credit union based in Olympia. Membership is open to anyone who lives or works in Washington State. To learn more about WSECU, click here. To learn more about GRuB, click here.