Submitted by Saint Martin's University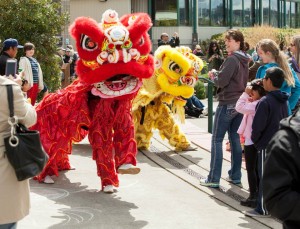 Colorful dragon boats and a record-breaking 48 local, regional and international teams of paddlers, including two teams from China, will descend on Olympia Saturday, April 25, at the 10th annual Saint Martin's University Dragon Boat Festival, a celebration steeped in rich, cultural traditions, exciting racing and fun activities for the whole family.
Approximately 5,000 people are expected to attend this year's festival, which will begin at 9 a.m. in the Port Plaza of Olympia near the Marine Terminal. This is a beautiful location with views of the Washington State Capitol buildings and Olympic Mountains. The event site is downtown, near the Olympia Farmers Market and popular, local restaurants. The day-long celebration, presented by the University in cooperation with KaiKane Events, is free and open to the public.
"We reach a milestone this year as we celebrate the 10th anniversary of the Dragon Boat Festival.  We had no idea ten years ago that the festival would grow to its current size," says Josephine Yung, vice president of International Programs and Development.  "We have grown from the inaugural year of 260 paddlers to 1,000 paddlers this year.  It's wonderful to see how much the community embraces the festival."
The teams will be competing in the Dragon Boat Races throughout the day. The paddlers are members of teams from universities, high schools, school districts, government agencies, community organizations and local businesses, hailing regionally from Seattle to Portland. The two China teams are from Saint Martin's sister universities in that country, Shanghai Maritime University and Shanghai University of Traditional Chinese Medicine.
Dragon boat racing dates back to fourth-century China, commemorating famed poet Qu Yuan, who threw himself into the Milo River to protest the political turmoil and suffering of the people at that time. Today, dragon boat races are an opportunity to celebrate culture and community.
The Dragon Boat Festival is a multi-cultural event that started in 2006. The purpose of the festival is to raise cultural awareness, build a sense of community and provide a day of family-oriented activities to South Sound residents. The festival was moved from Capitol Lake to the Port Plaza in 2010, drawing a lot of foot traffic from downtown Olympia and the adjacent Farmers Market.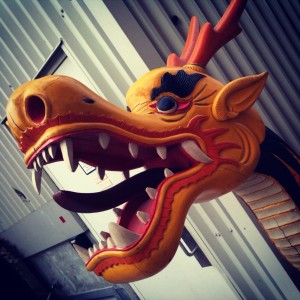 A major delight for festival participants is the distinctive dragon boats, which feature ornately carved dragon heads and weigh 500-800 pounds each. The hulls of the boats are painted with scales and the paddles used to steer the vessels symbolically represent claws. Every boat is constructed to contain 20 paddlers, as well as a steer person and a drummer who keeps the beat to help the paddlers work in unison. The paddle teams are divided according to skill level.
"Dragon boating is not a sport that's built on brute force," says Brother Ramon Newell, a monk at Saint Martin's Abbey who annually serves as advisor and coach to various paddle teams. "It's more about timing, technique, synchronization and people working together."
Saint Martin's University has been actively involved in education and cultural exchanges with China since 1995. Each year, members of Saint Martin's faculty travel to China to teach international business, accounting and general education courses. Saint Martin's students regularly participate in China study tours. In addition, about 50 students from China are currently studying at Saint Martin's University.
Following welcoming remarks at 9 a.m. by Saint Martin's University President Roy Heynderickx, Ph.D., and Joe Williams, honorary chair of the Dragon Boat Steering Committee and Chairman of the University Board of Trustees, the festival will kick off at 9:10 a.m. with the traditional "Dotting of the Eye" ceremony, a blessing of the dragon boats. The races will begin at 9:30 a.m.
In addition to the races, there will be Chinese traditional art demonstrations, culinary delights, martial arts performances and music. The beloved Lion Dances will take place between 11:45 a.m. and 12:45 p.m. There will also be an elaborate Dragon Dance, which was added to specially recognize the festival's 10th anniversary.
Other scheduled performers include the Taiko Drum Group from River Ridge High School; the Crow Drummers; Saint Martin's University students ; the Olympia Kung Fu and Tai Chi Club; and Guma Imahe. The competitions will conclude shortly after 4 p.m. The closing and awards ceremony begins at 4:30 p.m.
Organizations supporting the Dragon Boat Festival are American Life Inc., Capital Mall, Capitol City Press, City of Lacey, City of Olympia, City of Tumwater, Lucky Eagle Casino, Olympia Area Chinese Fellowship, Olympia Federal Savings, Port of Olympia, Red Lion Hotel, Saint Martin's University Board of Trustees, and Squaxin Island Tribe.
Those who plan to attend the festival are requested to be mindful of parking and leave vehicles in locations designated for the Saint Martin's University Dragon Boat Festival or in a public parking space. There is plenty of free street parking downtown that festival attendees can utilize. In addition, please consider using the Dash Shuttle for riding to the event.
For more information about the festival, click here or contact the Office of International Programs and Development at 360-438-4504.