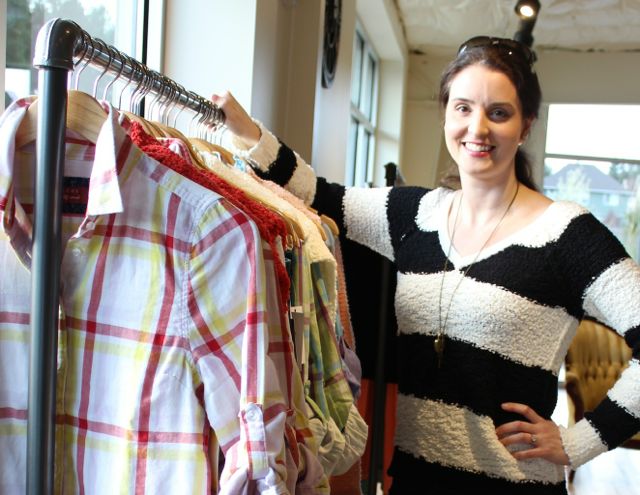 By Kelli Samson

Ladies, meet Amy Peters. I want you to get to know this woman, because she is going to get us out of our yoga pants (especially those of us who don't even do yoga) and into something more put together.
She knows just where we're coming from. Peters is coming off of a break from the professional world of retail fashion since starting her family nearly four years ago.
Metaphorically speaking, she, too, is just getting out of the yoga pants.
"I'm a jeans, t-shirt, and sweater gal. That's my uniform," Peters assures me.
And we are oh-so-glad this is the case. The opening of industrie clothiers is a total win for all of us ladies who want to look nice right now. Not after a trip northward and a big shopping spree, but after a trip down the road and with a receipt in hand that we don't have to hide from our other halves.
With January's opening of industrie, Peters has become the fourth female business owner in the complex also housing Spruce Skin and Wax Shoppe (owner Annie Johns), Bon Lemon (owner Amy Evans), and Kneaded Relief (owner Alison Heard). Her arrival has fully rounded out the front of the building and made it a true destination for women in the area.
Originally from Oregon, Peters worked in the fashion industry as a Corporate Buyer for Nordstrom Rack in Seattle during most of her twenties and thirties after earning a degree in business from Oregon State University. "If you want to work in retail, working for Nordstrom is the best experience," says Peters.
Industrie is her first foray into the world of business ownership. Luckily, she is in the right location for lots of valuable advice.
"What the girls at Bon Lemon and Spruce have done with their space, along with their taste level, was just an inspiration and an impetus for me to turn my idea into a reality," says Peters. "Their philanthropy work is especially inspiring. They're so involved in the community. They've been really good mentors."
The decision to open the shop this winter was quick, and it had a lot to do with the location.
"I walked by this space last fall and saw all the windows. It was still gutted, but I could just imagine what I would do with it," recalls Peters. "It was kind of the perfect storm. My kids are getting older, this space was available, and the landlords are fantastic. When you're going into business, good partnerships are key."
From start to finish, there were about three months between Peters noticing the space in October and opening the shop in late January. "I haven't even had a chance to do a grand opening yet," she laughs.
The choice to name her store industrie clothiers, on the other hand, took a bit of time. The name holds multiple layers of meaning for Peters.
It's is a nod to the fashion industry, yes, but one made more effeminate by using the French spelling. The fact that France is often considered the epicenter of high fashion in the world of women's clothing is just icing on the cake.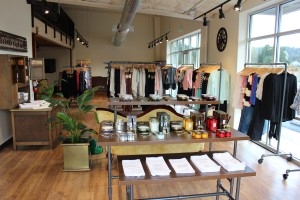 The name also refers to being in the fashion industry and getting the industry prices and deals. "A lot of my posts on Facebook share the manufacturer's suggested retail price and then the price that I am selling the item for," explains Peters.
The moniker additionally connects to the idea of the Industrial Revolution, a period in history of which Peters is an astute student.
"During the Industrial Revolution, the textile industry was booming, It was great for the economy and the consumer. What wasn't great was that it took people away from their farms. They went to go live in not-so-great-conditions, they worked long hours in factories, and it struck a chord with me," explains Peters.
She continues, "I grew up in a small town and went from the farm to the city to work in fashion. I like turning the idea of 'industry' on its head because now I am back in a small town, this works for me, this works for my family, and I get to work part-time. My kids are still my full-time job."
The shop's atmosphere brings in a decidedly French flair with luxe, vintage velvet settees and chairs, along with an antique cabinet that houses a line of fancy Tocca perfume products.
On the flip side, Peters mixes in a lot of industrial touches to bring out a minimalist, factory vibe. The clothing is displayed on rolling racks made out of pipes, there is a lot of metal work for sale, and the shop is truly uncluttered.
The clothing is contemporary-casual. Peters works with her contacts from her time in the fashion industry to bring highly coveted brands to Olympia at an amazing, nearly unbelievable value to her customers. We're talking jeans by Hudson, 7 for All Mankind, Lucky Brand, and Joe's for nearly half of what we're used to paying in the more urban areas.
"I do a lot of Google searches to make sure we're never undersold," says Peters.
She currently stocks sizes 00 to 14, and it's likely she can get you something in your size if it's not on the floor. "I have really amazing suppliers who have been contacts for years. They're very supportive of me," explains Peters.
If you need a gentle nudge in a fashionable direction after years of feeling unfashionable, Peters kindly shares her two favorite pieces in the shop currently.
"I'm really digging the hot pink pants by Hudson right now, and the polka dot ones," shares Peters. "I'm hearing that bright, obnoxious neon is coming back, and I'm kind of excited about it."
It so fortunate that Amy Peters is here to point us in the right direction and help us feel confident in our wardrobes. Even if we show up in yoga pants with a small child in tow, she's got us covered. There's a special corner just for the little ones to hang out while we shop. "I want people to come in and have a great experience," says Peters.
We love you already, Amy. You're speaking our language.
Industrie clothiers is open Monday through Saturday from 10:00 a.m. – 6:00 p.m. You can learn more about the shop on Facebook. And if all this sounds really magical to you, Peters is currently hiring.
­­­­­­4419 Harrison Ave. NW, Suite 103 in Olympia
360-515-0253