By Kathryn Millhorn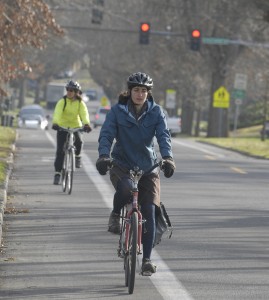 In May, Thurston County's Intercity Transit will host their annual Bicycle Commuter Contest. This month-long challenge, which began in 1988, rewards those who swap their car for a bike and is open to anyone within the county. In 2014, more than 1400 registrants logged an average 107 miles per rider, preventing a total of 55 tons of carbon emissions.
Sitting for so long is more than just an annoyance. Recently "the Gallup-Healthways Well-Being Index, which surveyed Americans about the effects of their daily commutes, discovered a virtual horror show. They found the longer the commute, the higher the levels of one's obesity, cholesterol, pain, fatigue, and anxiety," reports Reuters.
But commuting models are changing, due in part to the rise in gas prices and improvements made by cities and corporations to foster a healthier, greener lifestyle. The U.S. Census shows "the number of U.S. workers who traveled to work by bicycle increased from about 488,000 in 2000 to about 786,000 in 2008-2012, a larger percentage increase than any other commuting mode."
Biking is also a tremendous cost saver for those who live close to where they work. On average, driving a sedan costs 59 cents per mile, SUV's 75 cents per mile, but riding a bike averages only 10 cents a mile!
"Typically about a third of the participants are doing it for the first time," Event Coordinator, Duncan Green, explains. "The event is growing and evolving, with new ideas each year, many of which come from our participants. The biggest news this year is that the Bicycle Commuter Contest will be completely free for all participants for the first time."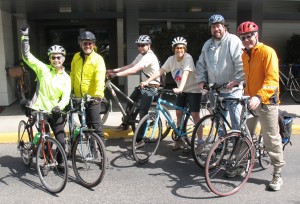 Contest registration is open in April and May with final mileage logs due by June 5 (all miles biked in May). The official Prize Hoopla takes place on Saturday, June 27 at the Olympia Famers Market main stage. In between, there are instructional and social rides, workshops, an Earth Day Market Ride, and much more. Check the event's website for details. Registrants will also receive a coupon good for a free bike safety check from one of the bike shops that help sponsor the Bicycle Commuter Contest.
While there will be team prizes for most miles or days ridden overall, all entrants who turn in completed mileage logs will get entered in prize drawings and receive coupons for goods and discounts around town. But Green stresses "we don't like to focus too much on the 'mosts' as we really want to encourage everyone to participate, whether they ride a bike regularly or rarely, whether they have a 20- or 1-mile commute."
The contest is open to riders of all ages, and Green recalls that "our youngest riders get their start being pulled by parents in bike trailers. We have quite a few elementary school kids participating, and quite a few retired folks, biking to the grocery store or on other errands."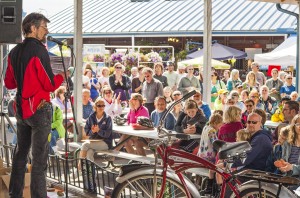 Past riders enjoy the contest and the changes it makes both in fitness and mindset. One rider said, "Participating in the Bicycle Commuter Contest has been a lifestyle change for me! I enjoy being out in the environment, seeing the sights, sounds, and smells via bike. It feels good getting places via my own womanpower while reducing my reliance on fossil fuel. I forgot how much fun riding is! Thank you Bicycle Commuter Contest!"
Another shared, "The coupons are great. I've used several already and saved a lot of money by using them. This was the first year I was on a team and that helped motivate me to ride."
Registration for the contest is now open online. There you can also find details on joining or forming a team, a Facebook page with fun facts, trivia, and event specifics. Questions can be directed to Duncan Green at 360-705-5874 or dgreen@intercitytransit.com.
It's been noted, "Everywhere you look, people are jumping on the bicycle bandwagon. It's no surprise, given the thousands of miles of new bicycle lanes in cities across the United States and the environmental benefits. But riding a bike is good for more than saving the planet and your hard-earned cash. It's also one of the most effective workouts you'll ever do." Why not join your friends, coworkers, neighbors, and family in a contest where everyone wins?