By Gail Wood

As a high school track coach, Mike Michael knows that experience is the best teacher. But shear talent, that innate ability to run, jump and throw, trumps it all.
That's the case at Northwest Christian High School, where the Navigator's track team is loaded with young talent that has blossomed early. Michael's top two returning distance runners are Luke Schilter and Kiersten Kimminau, a pair of sophomore sensations. Both are aready eyeing school records.
Then there's Heidi Sowers, another sophomore that has blossomed early. Although she's doing the triple jump for the first time this year, she's already popped a 33-3, which ranks her fourth in state and broke a school record.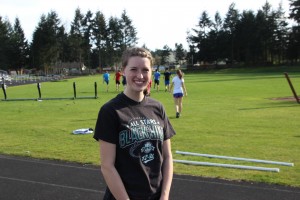 "She shows lots of potential," said Michael, a North Thurston High School graduate who ran at the University of Washington in the 1980s.
Sowers is also moving in on a school record in the 300-meter hurdles, already running in the low 47s.
Last year as a freshman, Schilter ran the 1,600 in 4:24. By the time he's run his last race for the Navigators as a senior, he's hoping to have run a 4:10, which would be a school record and would probably rank him in the top 20 in the country.
"Every time I think I've figured out where Luke is at, he surprises me," Michael said.
Also back in the 1,600 is Luke Bredeson, who ran that race in 4:34 as a sophomore and placed 10th at state in cross country to help Northwest Christian win the state 2B title. Levi Schilter, Luke's older brother, is also back for his senior year, giving the Navigators added depth in the distance events.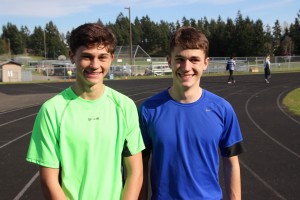 Levi, as the older brother who runs the same events as his younger brother, has had to deal with something other than shin splints. It's called sibling rivalry. "I think it was hard for him at first but now he's come to grips with it," Michael said. "He's okay with it. It's been a bit of an adjustment for him though."
Levi's envy has turned to praise. He's gone from "Awe shucks, why not me?" to "Yeah, that's my brother!"
"It was hard in the beginning but not anymore," Levi said. "I'm proud of him. It's been a good experience."
Abby McSheffrey knows all about sibling rivalry. Her younger sister, Megan McSheffrey, while only a freshman, is on track to break the school record in the 300-meter hurdles, an event Abby used to run. Megan also placed 10th at the state cross country meet in the fall, helping the Navigators win the girls state title.
"For us, it was hard at the beginning because she started beating me in some of my races," Abby said.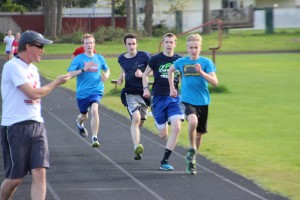 But those thoughts of jealousy disappeared when she put one thing in perspective.
"We sat down and we talked about it and I told her I was really proud of her and that she's racing with the talent that God has given her," Abby said.
Michael has a couple of other athletes who are proving that experience is over rated. Elizabeth Stottlemyre tossed the javelin 120 feet last year as a freshman. Dillan Nichols, in his first year turning out for track, has caught on quickly with the triple jump and went 35 feet in his first meet.
Kimminau, while only a sophomore, is hoping to run the 1600 in the 5:10 this season, which would be a school record. By the time she's a senior, she's hoping to run a 4:50, making her Division I potential.
"She's got big goals," Michael said. "She wants to go to the University of Oregon."
Lee Thibodeau gives the Navigators a threat to place in the long jump and the 200 meters. In the shot put David Bowker and Zeb Daugherty give the Navigators some scoring punch. Bowker has never turned out for track before, but he's been on the powerliftng team and has the strength to throw. Michael knows his team needs to be strong in something besides distance events. Northwest Christian is a perennial powerhouse in the distance events, but not so much in the field events and sprints.
"We've got to get better there," Michael said.
Northwest Christian, with 40 students turning out for the track team, again looks like a threat at state. Last year, the girls team finished second at state and the boys placed sixth.
Anna Brooks, a senior, gives Northwest Christian some added depth in the distance events. But it's not just about running for her. Recently, Brooks, who placed seventh at state in cross country, organized a fundraiser for Dan Sorrell, a former elementary music school teacher at Northwest Christian. Sorrel recently died from brain cancer.
Brooks organized a 5K run and over 300 people registered for the fundraiser. She never took a class from Sorrel, but he was a neighbor of the Brooks' family.
"It was such a blessing," Brooks said about the fundraiser. "My goal was a thousand. I just knew that's what God wanted me to do. I didn't really know how to do it. But He totally provided because it wasn't anything I did. I didn't know what I was doing."