By Laurie O'Brien

John Welsh believes that musical acumen comes from several sources. Raw talent is only one piece of the puzzle. Student Orchestras of Greater Olympia (SOGO), of which Welsh is the musical director, builds on top of the base created by school programs and private instruction, providing motivated school-aged instrumentalists with an opportunity to dive into a more diverse and challenging classical repertoire with other talented student musicians.
"SOGO's purpose is to offer an opportunity for students who are interested in and talented enough to join us in participating in classical music performance. Along with performance, we offer the documented benefits of musical participation and the enrichment of cultural and historical awareness. We also emphasize in our various programs the sense of creating a team," comments Welsh.
In addition to performance, SOGO also wants its members to understand music theory, and they offer a number of small ensemble opportunities for those who seek them out.
Three Thurston County musicians, who have benefitted from their participation in SOGO, are leaders in the program. All three have aspirations of taking their musical studies to the next level, and each believes that SOGO has enriched their education in a number of ways.
Oboist Bridget Long joined SOGO as a 7th grader and made Conservatory (the highest level SOGO orchestra) her freshman year of high school.
"It felt affirming to know that I was good enough to be a part of the top group, as not all freshman get into Conservatory," she says. "I remember really enjoying being able to play with highly advanced and experienced upperclassmen."
Four years later, the Capital High School senior is one of those experienced players. She plays for multiple groups in her school program, and this winter she has been making the rounds, auditioning for college music programs. She'd like to focus her studies on oboe performance. In addition, she is a principal oboist with the Tacoma Youth Symphony and she is a competitive Irish Dancer.
This coming weekend, Long will be playing with the Conservatory Orchestra and will be the featured soloist with the Academy Orchestra (the intermediate level SOGO group) when they perform the Marcello Concerto for Oboe in D.
"Playing a solo with an ensemble is really an incomparable experience, and it has also been fun to see how much the Academy Orchestra has improved their parts since they started working on my concerto a few months ago," Long says.
Long isn't the first SOGO member wanting to pursue a career in music.
"The current Concert Master of the Olympia Symphony Orchestra, Aaron Inglin, was a member of the founding orchestra of SOGO in 2000," says Welsh. "Dillon Welch (no relation) is currently studying at the Cleveland Institute of Music under the Concert Master of the Cleveland Orchestra and is a member of the Canton, Akron and Sandusky Symphonies." According to Welsh, there are a number of other SOGO alumni in Olympia and around the country who have studied and are studying for musical careers.
Welsh emphasizes that helping SOGO members become professional musicians is not the primary goal of the program, but any student who wants a career in music will most likely have participated in a local youth orchestra. "We have maybe a half dozen students every year that go into a music related course of study, including such fields as music education, music performance or even such related fields as music therapy," he explains.
Olympia High School sophomore Henry Nordhorn is toying with the idea. "I am thinking about a career in music and film, playing in the recording studios, and maybe composing a little," says the French horn player. Like Long, Nordhorn made Conservatory his freshman year. "It was like any other audition I had done, but it was really cool when Mr. Welsh told me that I would be playing in the top orchestra."
In addition to performing, Nordhorn is a student representative on SOGO's Board of Directors, and he is a volunteer mentor with Play On Greater Olympia (POGO) a classical music education program for students who don't have the financial resources for private instruction. On top of those commitments, he also plays in his school band and is on the swim team.
Another SOGO leader is Nolan Welch (younger brother of Dillon Welch, mentioned above.) A senior at Timberline High School, Welch balances being president of the National Honor Society and writing for the school paper with his school and SOGO orchestra obligations, being a student representative on the SOGO board, and teaching three private cello students.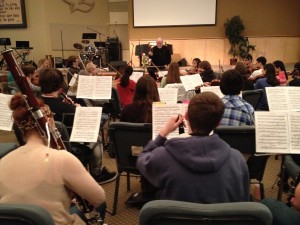 "I plan on pursuing a career in Performing Arts Management, which is the business/backstage/logistical work that goes into the arts," says Welch, who has also been applying to college programs this year. This summer he will be adding a huge item to his resume when he serves as the Apprentice Orchestra Manager for the National Youth Orchestra of the USA during their tour to China.
Welch joined SOGO as a member of the Debut Orchestra when he was eight years old and made Conservatory in the eighth grade. Last November he was featured on the cello, playing the Haydn Cello Concerto in C Major. "It was a great experience playing in front of a couple hundred people," he says. "Although there were a few small mistakes, I enjoyed every second of it because it's good practice. I feel like I can do anything now, really. Whenever I think I can't do something, I think to myself, 'Nolan, you played in front of 800 people for half an hour… you can do it!'"
John Welsh and his talented musicians would like to invite all of Olympia to join SOGO for their late winter concert this Sunday, March 1, at 4:00 p.m. at The Washington Center for the Performing Arts in downtown Olympia.
The Conservatory Orchestra will present Wagner's Overture from the opera Rienzi, Boccherini's Cello Concerto No. 4 featuring Maura Phelps, and Bizet's music from the Carmen Suites. The Academy Orchestra will be featuring Bridget Long, performing the Marcello, Oboe concerto in D minor.
Also appearing: Brass Choir, Debut Orchestra