By Gail Wood

Show Mel Smith a good swimmer and he'll show you a good student.
In his 38 years as a swim coach, Smith has found that the two go hand-in-hand. That was true of his Olympia High School's boys swim team this season.
With a line-up of "A" students, Smith's team has won the academic state championship for 4A boys swimming. He figured his team's combined GPA (which includes 13 varsity swimmers) had a combined 3.842 GPA, tops in the state for their classification. All 13 of those swimmers had a GPA of 3.5 or higher.
"My experience in coaching, and this is year 38, is that the athletes who come out for swimming tend to have a degree of commitment, which carries over to their studies because they only have so much time to do everything," Smith said.
Two of Smith's swimmers had perfect 4.0 GPAs. And four had 3.9s.
"That's pretty solid," said Smith, who didn't want to name the 4.0 students because he didn't want to embarrass them with recognition.
Besides the A grades in the classroom, Olympia also graded pretty well in the pool, too. Olympia placed sixth at the recent 4A West Central District III championships with 163 points.
Olympia qualified two relays and one individual for the state meet, which begins Friday at Federal Way's King County Aquatic Center. Olympia's Andrew Wright is going to state in two events. The junior and now three-time state qualifier won the 200 individual medley at districts with a 2:00.04 and was second in the 100 breaststroke with a 1:02.2, giving the Bears their top two finishes at district.
Olympia's 200 medley relay placed fourth and the Bears' 200 freestyle relay placed sixth with a 1:34.4, qualifying both relays for state.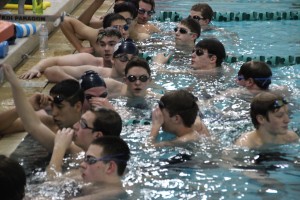 Like his teammates, Wright has the right stuff in the pool and in the classroom.
"If they're like Andrew Wright, who is swimming three mornings with his club and then five afternoons with his high school team, you don't have a lot of time to do a lot of stuff," Smith said.
It's the first time the Olympia boys team has won the state's 4A academic championship. The Bears girls team won the academic title in back-to-back years beginning in 2009. Smith said the key to good grades is simple. A student has to stay focused, on task.
"You need to make sure when the teacher tells you in the last 12 minutes of class to do homework a lot of kids just start shooting the breeze and doing whatever," Smith said. "I think most swimmers crack open that book for the last 12 minutes, so that's 12 minutes they don't have to give up in the evening."
Procrastinating, putting homework off, is a contradiction to good grades.
At the start of the season, Smith talks to his teams about being accountable academically.
"We sit down with the kids right at the beginning of the season and we talk about not letting your team down and not letting yourself down by not being as prepared for school as we want you to be in the pool," Smith said.
Smith also gave Olympia School District a high five for their high academic standards for athletes. To be eligible, a student-athlete has to be passing in all their classes.
"You have one failing grade and you're ineligible to compete," Smith said. "Which is a higher standard than even WIAA."
Smith agreed that sports in general teaches students to push themselves. It teaches them discipline. In swimming, to get better you have to push yourself, you have to work hard at practice, doing lap after lap. The same principle applies in the classroom, Smith said. To get better grades, you have to study harder. There are no short cuts – in swimming or in academics.
"Turning out for swimming definitely does teach you discipline," the Olympia coach said. "It also teaches you time management."
But the Olympia coach said his team's good grades go beyond the occasional reminders about grades.
"I think it's good parenting," Smith said. "It starts in the home."