By Gail Wood
Winning has become a tradition for the North Thurston High School boys swim team. For four straight seasons, the Rams went undefeated, winning an impressive 33 straight dual meets.
But coming into this season, Rams coach Jak Ayres figured that string was in jeopardy. Against tough 3A Narrows League opponents that winning streak would certainly be challenged.
And that's what makes the Rams' accomplishment so satisfying for their coach. A young North Thurston team, led by Connor Ridgeway, a senior and about to become a four-time state qualifier, did the unexpected. They went undefeated. Again. They stretched their unbeaten string to 41 dual meets over five seasons, going 8-0 this year.
"Really, to have this group step up the way they did is amazing," Ayres said. "They did a great job."
In the bus on their way to a meet against Wilson, a perennial powerhouse, North Thurston swimmers chanted, "Forty. Forty. Forty."
"They didn't want to be the ones to end the string," Ayres said.
Now, with blowout wins over powerhouse rivals Wilson, Capital and Shelton, the Rams head for the league championship meet at Mount Tahoma High School. Swimmers will be trying to qualify for district. North Thurston already has 10 individuals and all three relays qualified for the district meet. The Rams are sending 23 to the league meet.
"The team wanted us to keep going," Ridgeway said. "The more we pushed each other the faster we got. The tough meets we just pushed through."
That desire to win, worked. The Rams scored over 100 points in every meet, beating Mount Tahoma 137-37, Central Kitsap 122-48, Capital 113-57, Shelton 115-70, Foss 131-33, Aberdeen 135-48, Wilson 108-72 and Lincoln 135-31.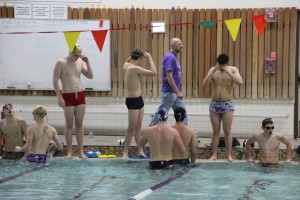 Ridgeway is already qualified for district in the individual medley, breaststroke and freestyle. Swimmers qualify for district and state by their times in the season or by placing in the top five at league championships and then district.
The Rams top five swimmers are Ridgeway, Naveed Johnson, Lucas Johnson, Wyatt Couey and Lars Krause, a sophomore German exchange student.
Lucas Johnson, a junior, turned out for cross country in the fall for the first time, helping him with his endurance.
"Lucas is making our relays happen," Ayres said. "He's really come on this year. Both Lucas and Wyatt are juniors. They've made a big impact on the team. These guys really stepped it up."
Unlike some of his teammates and opponents, Lucas hasn't been swimming competitively since he was in grade school. Following the prod of his friends who were on the swim team, Lucas turned out for swimming for the first time when he was a ninth grader.
"They said come do swimming, it's fun," Lucas said. "It is fun."
Swimming is a family tradition for Ridgeway. His older brother Tyler swam for the Rams, making it to state. Tyler is now attending the Naval Academy and is on the university's baseball team. Ridgeway's younger brother, Justin, is a freshman at North Thurston and has qualified for district in the individual medley, freestyle and breaststroke.
Connor's favorite event is the 100 breaststroke, making it to state in that event every year since he was a freshman. He's just under a second from qualifying for state this year.
"It's my favorite event," Connor said about the breaststroke. "Ever since I've started it I've just had the kick for it. It's a natural feeling or me."
Since his freshman year, Connor, who is in the Thurston County Sheriff Explorers and wants to become a policeman, has dropped his PR in the 100 breaststroke from 1:12 to 1:02.
Like Connor, Naveed is shooting for his fourth straight trip to state. Last year he qualified in several relays. Besides swimming on his high school's team, Naveed is also on the Thurston Olympians Swim Club. He's in the pool by 5:30 a.m. three mornings a week with his club team and then heads to swimming practice again with his high school team in the afternoons.
"That really helps with endurance," said Naveed, who has been swimming since he was seven.
Krause has been a point-getter for the Rams. He's pushing Connor in the breaststroke and he's done well as a freestyler.
"Without him I don't know if we could have been undefeated against the other teams," Ayres said. "He was a significant point getter for us. He fits right in with the team."
With 38 turning out for the swim team, Ayres was appreciative of his assistant coaches, Laurel Smith and Heather Kincaid. John Myers works with the divers.
"Laurel is a big part of our success," Ayres said. "Heather works with the brand new kids."
Here are the league qualifiers from North Thurston:
Seniors: Kyler Earp-sprint freestyle; Naveed Johnson- (District) fly, backstroke, freestyle Dakota Mitchell-distance freestyle Thomas Reay-sprint freestyle Connor Ridgeway-(District) IM, breaststroke and freestyle Jeremy Sawyer-diving and sprint freestyle Ben Watson-(District)  breaststroke and sprint freestyle
Juniors: Wyatt Couey-(District) fly and freestyle Lucas Johnson-(District) backstroke and freestyle Dylan Nogle-IM and distance freestyle Andrew Meldrum-breaststroke Tyler Parchem-middle and distance freestyle Justin Seldomridge-backstroke
Sophomores: Logan Anderton-(District) fly, IM, and freestyle JT Bretschneider-(District) breaststroke and freestyle Brandon Christensen-backstroke and sprint freestyle Nate Johnson-distance freestyle and backstroke Lars Krause-(District) breaststroke, freestyle and IM Andrew Quebedeaux-IM and breaststroke
Freshmen: Jeffery Harn-(District) backstroke IM, and freestyle Justin Ridgeway-(District) IM, freestyle, and breaststroke Tanner Meldrum-backstroke Gregg Wrinkle-backstroke