By Holly Smith Peterson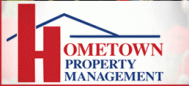 Some people have special gifts, such as being able to envision how a random blend of ingredients will proceed in an untested recipe — and to taste it in their imagination exactly as it will turn out when it's baked.
That's Main Street Cookie Company owner and founder Joycelyn Zambuto, whose culinary brilliance began with such imaginations.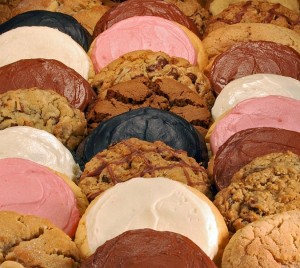 "In the middle of the night I would see a recipe and be able to taste it," says the Rainier resident and business owner. "For example, the snickerdoodle; it's a common cookie, but I never liked it. Then I thought about cream of tartar and I reconfigured it so there was no cream of tartar, and it came out well on the first reiteration. That almost never happens, but it worked."
Zambuto's talents are even more admirable in that she's had no formal training in cooking anything.
"I just worked side-by-side with my mother in the kitchen, but I am more interested in the recipe creation than the cooking," she remembers. "At first it was across the board, not necessarily just baking."
The genesis of Main Street Cookie Company, though, were the visits to a family friend's home.
"The first thing I would do was go to the kitchen and grab a stool and look at the cookbooks," Zambuto says. "Early on I became interested in baking because you can't just make it up as you go, or grab a pinch of this or that unmeasured. Baking is a very precise science. It's like chemistry."
That intrigue with kitchen chemistry resulted in a quest for inventing cookie recipes, one of which sparked the idea for business. When Zambuto came up with her first all natural, from scratch, artisan chocolate chunk cookies, she brought them into the local Rainier espresso cafe. Hands down, the employees loved them. However, the owner informed her that the site was closing.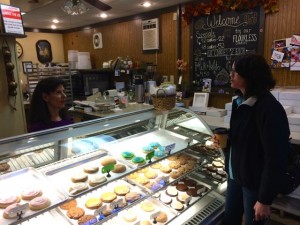 What happened next was pure genius. Zambuto loved the space, which was the former historic Rainier Hotel. What better to do with her baking skills and an attractive storefront than create a new hometown bakery?
"I had been in the catering business for a number of years, and I knew I didn't want to be at that end of the food business any more," she recounts. "This was a logical progression that capitalized on something I really enjoyed."
It took 30 months, the last 18 of which Zambuto spent tweaking cookie recipes. The ingredient qualifications exempted preservatives, artificial flavors, colors, dyes, hydrogenated oils and everything faux. Besides this, her challenges were all over the place: building renovations, finagling 400 square feet into a workable bakery, and deciding which cookies would most appeal to potential retail and wholesale customers.
"The learning curve was really huge; you can't anticipate 60 to 70 percent of what will happen," she says. "After a time, things came to a standstill and I had to take a hard look at whether I wanted to go forward. I made the decision to go forward, and to take the leap of faith."
That leap included coming up with a line-up of at least a half-dozen cookies before the doors opened. Zambuto invented ten, and since then her repertoire has grown with the business. While different times and seasons equal different types and total numbers of choices, she now has roughly 20 different cookie varieties.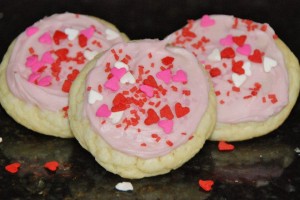 "Creating the recipes was a process where I had to imagine what I would want as a customer. I had to take my own feelings out of it," she says. "My most important mission was to bring out recipes with whole foods, organic, and no processing like food coloring. It's sometimes been a challenge because some companies say they don't care, but I care."
With the growth in business came the growth in employees. Main Street Cookie Company started with just one besides Zambuto to help get the bakery off the ground — but then as sales expanded, so did the need for good workers.
"The first year or two I was doing most of it, then employees came on board. We're in our eighth year now, and some days it seems I have been doing it forever," Zambuto says.
Not even the recession slowed down sales at the bakery and its wholesale components. Zambuto says that she steers clear of all the bad news and remains positive. And customers just kept coming in.
"I have a job to do, people are counting on me, and I want to do the best job that I can for my customers," she emphasizes. "I just keep doing what we need to do, and the best reward is seeing repeat customers, and those who have been referred by those who love our cookies."
Now Main Street Cookie Company has three facilities: the Rainier retail location, the worldwide online shipping site partnered with a New York company, and the wholesaling side that resells the cookies. If you want to find Zambuto's treats in the Puget Sound region, look no further than any Mud Bay Coffee Company, Batdorf & Bronson, Providence St. Peter Hospital, or Bayview and Ralph's Thriftway, among other sites.
"Worldwide, that wasn't something I really wanted because you're dealing with customs, insurance, and freshness issues," she explains. "As for the wholesale side, we looked at it critically where the cookies would sell best. We're already in Seattle and will be in Portland soon."
As for owning a unique business in a region where business is cut-throat competitive, even in bakeries, Zambuto approaches the challenge with calmness and charm.
"I'm very motivated because I have goals in mind with this business, and I don't recall I have a day when I don't have something to do," she admits. "It's all-consuming, but in a good way."
For a woman who is a first-time business owner, Zambuto is proud to be running a local company backed by her name. However, she cautions prospective bakery owners that it's a day-to-day process, and 24 hours.
"No matter what time it is, I am making sure everything is where it needs to be, and that everything is available," she says. "If you're looking at doing anything like this, you need to keep in mind that it's hard work. And you need to be willing to do things you never imagined."
So how many cookies a year does it take to make a great local bakery? Zambuto declines to reveal numbers. On a weekly basis, she only hints, "It's a lot of cookies. But it varies based on the time of year."
Current bestsellers are the chocolate chunk, the pink iced butter cookies, the lemon iced butter cookies, the peanut butter with chocolate, and her first recipe, snickerdoodle. Being the owner, manager, and head baker, her own favorites include not only her original chocolate chunk but also the seasonal pumpkin cream cheese and the Decadent Dark (chocolate) — but without the icing.
"And the Seahawks cookie has been especially popular lately, too," Zambuto says.
207 Binghamton
Rainier, WA 98576
Hours: Weekdays from 9:00 a.m. – 6:00 p.m. and Saturdays from 9:00 a.m. – 4:00 p.m.