By Gail Wood

If cheering were a sport, Black Hills High School's bowling team would be champs. Throughout their practice, a roar of cheers burst out whenever a teammate rolls a strike or picks up a spare. They can't contain their excitement.
Whether it's at practice or at a match, the cheers just keep coming.
"I'm glad we're always the loudest team out there," said Gabi Coviello, a senior and one of Black Hills' top bowlers. "We're really supportive of each other."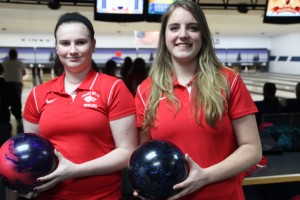 There's been plenty to cheer about. Last year, Black Hills went 11-0, just missing the state tournament after a loss in districts. And with Coviello and Savannah Connell averaging about 160, Black Hills is 8-3 this season and optimistic about their chances of reaching state.
"We're not too worried about our record," said Nikki Winkley, Black Hills' bowling coach. "What matters is districts. I like our chances at district."
Coviello and Connell aren't just good bowlers – both have season-best scores of 205 and 201. As the team's captains, they're also giving teammates advice, a how-to on bowling.
"They're enthusiastic and they're personable," Winkley said about her two captains. "They have knowledge of the game so they make like a secondary coach and are very valuable with their knowledge."
There's also their rah-rah factor.
"They're good leaders," Winkley said. "If we need someone to pick up the team, they're there to pick up the team. It's been very nice."
Coviello and Connell share a similar motivation for joining their school's bowling team their freshmen year – a parent who is a bowler. Coviello started bowling with her dad, Peter Coviello, when she was 12.
"My dad is a pretty good bowler," Coviello said. "He's been doing that with me for a while. I was about 12, 13 when I got my first bowling ball."
Occasionally, Coviello will beat her dad in a game. Connell's door to bowling was opened by her mother, Kris Connell.
"My mom was on the bowling team at her work," said Connell, a junior. "So I thought it would be fun to do during the winter."
Both Connell and Coviello bowl year around. The secret to their game isn't a blast-them-into-dust power. It's all about accuracy.
"It's really more of a mental game than physical," Connell said. "I mean there are some physical aspects to it, but more of it is mental – like you have to know where to move on the lanes and how much spin to put on it and the angle to be at to get the pins."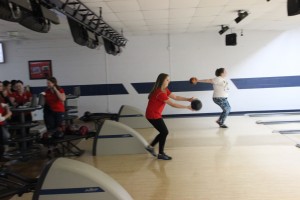 To be a good bowler, you don't have to be able to bench press 300 pounds. It's not about power.
"The secret to bowling is just relaxing," Coviello said.
The excitement Black Hills oozes at practices and matches isn't a surprise. It's merely a reflection of their coach, a walking, talking nuclear power plant filled with energy. In Winkley's how-to coaching book, having fun translates into winning. That and staying in the moment, forgetting their last missed spare.
"Like Dory from the movie Nemo, it's important to have a short memory," Winkley explained. "Regardless of what you did on the last roll, even if you did very poorly, it doesn't matter because you have another one coming up."
And Winkley emphasizes staying positive.
"We're not tearing ourselves apart because we didn't have a good roll," Winkley said. "Or coming up too pumped up because we had a strike. That might mess up our next roll and overthrow."
Even the best mess up.
"Nobody's perfect," Winkley said. "Michael Jordan missed shots. Every one misses. The important thing is to stay positive. There's always the next ball."
For Coviello, the attraction to bowling is twofold. She enjoys the challenge, the competition, and she enjoys the friendships.
"You can hang out with them and have fun," Coviello said about her teammates. "I also like having fun just being on your own, bowling."
To help get her point across to her bowlers, Winkley uses videos of her team bowling, showing them their flaws in mechanics. Mechanically, every roll is supposed to be the same, with the same motion.
"When I film, I can compare them from shot to shot," Winkley said. "That last one was great. This next one you struggled. Let's see what the differences are. You can slow it down."
The video is another tool of getting her point across.
"When I was growing up it was you can do this, you can do that," said Winkley, a Black Hills graduate. "I think kids today are visual. They need to see it. Show me."