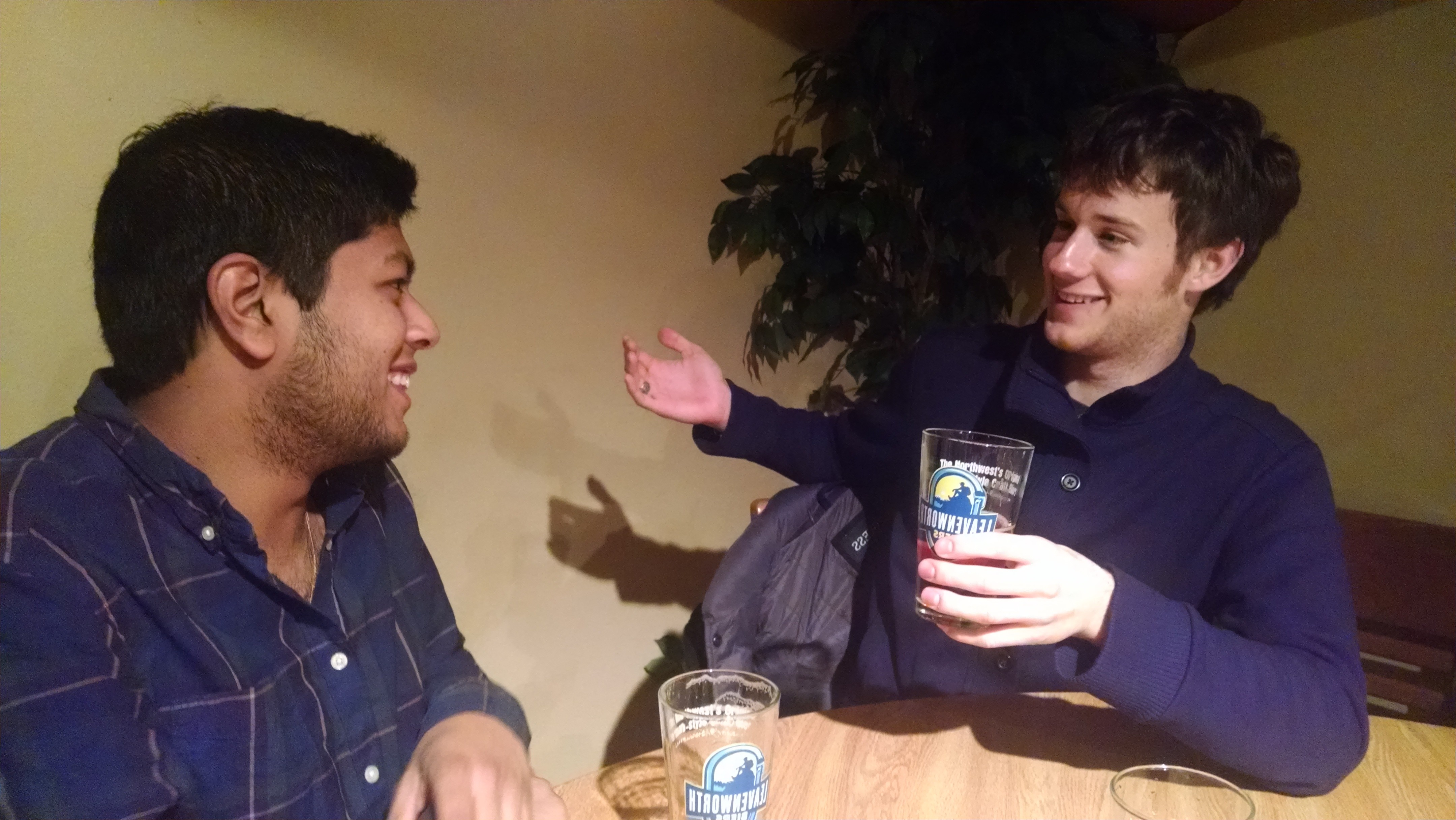 By Mary Ellen Psaltis

I suddenly arrived at a point in my life where my youngest son and I could drink beers together at a bar. Legally. He's twenty-two and home on semester break. (Yes, it's true he was old enough last year at this time.) This means, of course, that his friends have also reached an equivalent age. Left to their own devices, what would these young millennials do on a Friday night? Rather than get a play-by-play the day after, I enlisted the company of said son and two of his friends (Niki and Melissa) for a night out in downtown Olympia.
I was heartened to hear they would be willing to hang out with "Kosta's mom." Well, I was buying dinner and the first beer… but still.
The planning of the evening's festivities was turned over to my son. I did suggest starting with food to provide something to sop up the beers, which I expected to be part of the deal. The date was set ahead of time, but not much else. Details remained sketchy until the day of (maybe the night before). The internet was consulted. There were plenty of possibilities.
Joined by my husband and our older son, our merry band rendezvoused at 7:00 p.m. to find a lively crowd at Dillinger's. Without a reservation for the six of us, the wait was going to be an hour. We regrouped; our plans were fluid. We turned around and walked a couple of blocks to the Fish Tail Brew Pub. The table in the upstairs loft was big enough for all of us plus a few extra friends, though all the downstairs tables were taken.
It would be easy to spend your time deciding on a beer, as there are numerous choices, but don't stress over it. Soon there were glasses of Ice Breaker Winterfish with 100% Chinook hops, Organic Wild Salmon Pale Ale with mellow hoppy sweetness, Hobbit Smaug Stout with habanero chilies and Vicious Circle Amber Ale with complex hops with hints of floral and citrus. Don't you love beer descriptions? We could have had wine but didn't. Thumbs up were given to all the beers as well as serious kudos to the "surprisingly modern" music. I recognized none of it. I did notice it wasn't so loud that we couldn't carry on conversations. Though I wish my black bean burger had a few extra spices, the daily salmon specials were juicily cooked and came with seasoned condiments. The lamb gyros were declared meaty and well-stuffed.
After eating everything we ordered, it was time to walk to The Brotherhood Lounge. I've been living in Olympia for over 35 years, but it was my first time all the way inside. What appears to be a small, dark bar opens up to a surprisingly cavernous space that reaches a long way back (not counting the smoking area outside.) "It feels like you are back stage of an old theater," described one of our dates. The ceilings are so high that an aerialist can perform on a trapeze. This high-flying show will be returning in early January. My sister told me the place was packed for it the last time.
There is a single pool table and a shuffleboard deck. Both sons appreciated having an excellent beer on tap for $4.00 instead of the usual double price they pay where they live in California. The Brotherhood has plenty of beer choices. Both Kosta and Niki ran into friends and neighbors from earlier years in Olympia. The whole bar crowd seemed deep in friendly conversations, but after one drink we were on the move again.
Getting to the Eastside Club was quick, but the sidewalks were filling up with other walkers, dogs, and musicians. The Eastside Club has been part of downtown Olympia since before I arrived here. It looks a lot the same but not harmed by the passing of years. The five pool tables were in continual use. We gathered around the shuffleboard and for $5.00/hour (which they kindly prorated for us), enjoyed the playful competition. The well-worn blackboard kept score.
All these establishments feature happy hours and various food options, but mostly they offer places to unwind, meet up and enjoy your friends – both new and old. My college clubbing experiences were tainted by the thick haze of cigarette smoke. Fortunately, that stinky element has been removed. Now you can hang out, laugh, tell stories and catch up without reeking afterwards.
Participating in my Millennial Bar Hop reminded me that being with dear ones and not having a big agenda spells fun. We ran into people we knew at Dillinger's, Fish Tale Brew Pub, The Brotherhood Tavern and Eastside Club. "That's so Olympia," I heard numerous times that night. Isn't that great?! By 11:00 p.m. there was a line for hotdogs, and people were about to go dancing. I was ready for bed.
Drink responsibly. Know that certain taverns might not be where you want to take your mom, but Thurston County offers choices for whatever company you are keeping. I'm ready to venture out with a group of my peers.
Eat Well – Be Well