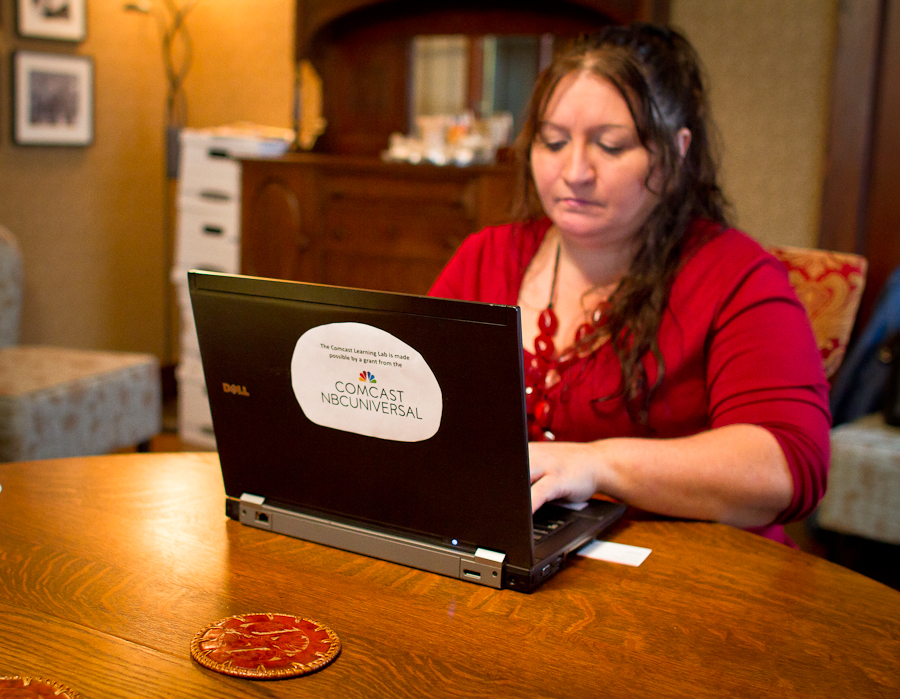 By Margo Greenman
"When you support and empower one woman, you're really supporting a whole network of people." This was the message shared by Comcast's Community Investment Manager, Diem Ly, earlier this week during the ribbon-cutting ceremony for the YWCA of Olympia's new Comcast Learning Lab.
The Comcast Learning Lab is part of a $10,000 donation from the Comcast Foundation designed to help take the YWCA of Olympia's Women's Economic Empowerment Program (EEP) to the next level.
The Women's Economic Empowerment Program provides low-income and unemployed women with the tools, hands-on training, and confidence they need to build real-life job skills necessary for entering the workforce and achieving financial stability. However, with the generous support of Comcast, the YWCA of Olympia is able to further enhance the program by providing program participants with access to computers and programs like Quickbooks, Microsoft Word, PowerPoint and Excel, as well as other computer applications commonly used in the workplace.
"The Comcast Learning Lab is such a great opportunity for us to infuse technology in the entire program," said YWCA of Olympia Executive Director, Hilary Soens. "Technology skills are critical no matter what type of job you go into. Without the Learning Lab we wouldn't be able to provide the kind of quality learning experience we want these women to have."
Representatives from Comcast and the YWCA of Olympia, along with Olympia City Councilwoman, Jeannine Roe, and members and the community all gathered inside of the YWCA's Other Bank on Tuesday, Dec. 9, for the unveiling of the new technology center. "It's with the vision of the Comcast Foundation and the YWCA that really enabled us to bring our full vision of what this program is to fruition," remarked Soens during Tuesday's unveiling.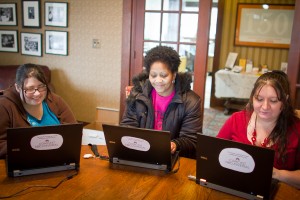 After the ribbon cutting, guests were given the opportunity to tour the "classroom," which is integrated throughout the YWCA's Other Bank distribution center and retail area. The Other Bank, which provides low-income, unemployed, disabled, and homeless women and their families with access to vital health and wellness products that cannot be purchased with food stamps or obtained at food banks, gives program participants hands-on experience working inside an operational distribution center.
And, while the YWCA of Olympia's EEP emphasizes careers in distribution and chain supply, EEP Program Director, Tanikka Watford, says the skills women learn through this program are transferable to many other careers as well.
Tatomya Wimbish is a former EEP participant turned YWCA of Olympia office coordinator and she says she's excited about the benefits the Comcast Learning Lab brings to the program. "It's one thing to offer job training, but it's another thing to offer the skills and hands-on experience to actually apply [that training] toward a career," said Wimbish. Wimbish, who enrolled in the program earlier this year, enrolled as a means to gain current work experience to add to her resumé after a stint in school left a hole in her employment history. After successfully going through the program and even landing a job with the YWCA of Olympia, Wimbish is certain that the Comcast Learning Lab will only add to the valuable hands-on learning that the EEP provides to women in the community.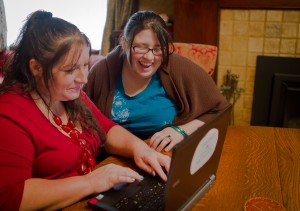 Like Soens, Watford, and Wimbish, Comcast believes that the Learning Lab will help Olympia-area women overcome poverty and achieve financial stability by providing relevant and accessible job training experience.
"In today's world, it's a huge barrier to not be digitally competent," said Ly. "To be economically empowered includes understanding how to find, apply, and secure employment; and seek out and navigate needed resources and programs. Empowerment starts with awareness and education. Our partnership with the YWCA is a catalyst for that."
Both Comcast and the YWCA of Olympia are excited to see the positive impact this program has, not just for the women who participate, but for the community as a whole. "We hope better computer skills means a single mom can find work and provide for her children," explained Ly. "We hope career training for a woman transitioning from a challenging situation empowers the rest of her life."
You can learn more about EEP and other services and resources available through the YWCA of Olympia by visiting their website. To find out more about the Comcast Foundation and it's commitment to supporting communities through digital literacy, click here.