By Gale Hemmann
"Can you repeat that, please?" It's something "Kevin the Brit" Huffer has heard many times since coming to the United States several years ago. He recounts with a chuckle how the employees at a drive-thru he frequented would ask him to repeat his order, until it donned on him that they could understand him just fine – they just wanted to hear his British accent.
Not that he minds. The good-natured Brit thoroughly enjoys life on this side of the Atlantic, where he serves as Programs and Operations Director at Oldies KGY 95.3 radio as well as a popular on-air personality. And he continues to stop at drive-thrus on occasion – in fact, he says that one novelty of life here is how much you can do from your car, from drive-up banks to the omnipresent espresso stands that dot the Northwest.
So, how did this Brit end up at a radio station in Olympia, Washington? I sat down with Huffer at the KGY office in their historic Port of Olympia building to find out. In talking with him, any notions you may have of the British as highly reserved and reluctant to talk are quickly dismantled (after all, talk is what Huffer does for a living). The affable Brit-turned-American and I talked about everything from British music to American television in the U.K. (the Simpsons are wildly popular), and why he loves life in the United States.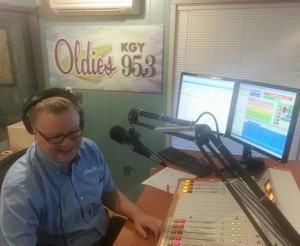 Huffer grew up on a farm in the small coastal town of Bosham in southern England. His father was a farmer and his mother was a nurse. He has four siblings, all of whom are musical. He grew up loving 60s and 70s classics, and was especially fond of Roy Orbison and Abba.
Huffer says he was interested in radio from a very young age. At 13, he volunteered at a local radio station in England. However, he felt urged to follow a "practical path," so he trained as a registered nurse, and later as the U.K. equivalent of a Nurse Practitioner. He also earned degrees in psychology and sociology. Over the years, he continued to volunteer for local English radio stations.
Then, in 1993, Huffer says, "I was in the right place at the right time." Even though he was a single father of two young children at the time, he decided to take the leap into radio when offered a job at a British station. For the next two-plus decades, Huffer advanced his career in radio, starting at Wey Valley Radio before moving on to a group of stations. A testament to his talent and acumen, he eventually found himself at the British Broadcasting Corporation (BBC) as a broadcast journalist.
Huffer came to the United States by way of love. He met his future wife, Sarah, on a trip to Hawaii. Sarah is an Olympia native and graduate of Black Hills High School. They lived in England for a bit, but decided to come stateside for several reasons, including more opportunities and to be nearer to Sarah's family. Huffer began contacting radio stations in the area by email, and was hired by KGY in 2007.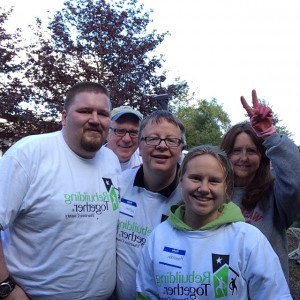 Huffer, his wife, and his two younger children (his two grown sons reside in the U.K.) live in Tenino. Having grown up on a farm, Huffer feels right at home in the rural, bucolic community. His children attend elementary school locally and participate in sports – his son plays football and daughter does gymnastics. Another interesting difference between the two countries, Huffer notes, is that youth sports are nowhere near as emphasized in the U.K. – the inclusive nature of kids' sports in the U.S. is something Huffer appreciates.
Sarah is a volunteer firefighter with the Tenino Fire Department and is currently training to become an EMT. Their son, Carson, was born here; daughter Samantha was born in the U.K. but knows the United States as "home" from a young age. "She's culturally bilingual," Huffer says of his daughter's ability to understand both British and American sayings around the house.
The family has made trips to the Tenino Rock Quarry and Wolf Haven International, two Tenino-area favorites, and also Ocean Shores. They also enjoy outdoor excursions around the area and frequent the Chehalis Western Trail with their Husky dog. Huffer has traveled some in his new country, including visits to California (including, of course, Disneyland), and Las Vegas, where Sarah has relatives, and he looks forward to exploring more.
While many locals may lovingly complain about the rainy weather, Huffer says he loves it. He tells me that Western Washington has four distinct seasons compared to the U.K. On wintery days such as the day of our interview, Huffer says the climate here actually reminds him of maritime Scotland.
Huffer also enjoys the many options for fresh, local food and produce here in Thurston County. When asked about the differences between British and American food habits, he notes that the British generally still follow the English custom of "picking up one's fresh vegetable of the day" at a neighborhood market (however, the advent of "superstores" like Asda, the British version of Walmart, are slowly changing and Americanizing the food landscape). He loves co-hosting "Our Community Table" at KGY, which focuses on different local food products each week.
So, how does British radio compare to its American counterpart? Actually, it turns out they are fairly similar – in fact, American radio consultants provided training at the station group where Huffer worked in England as they sought to modernize. However, Huffer notes that one marked difference in music culture between the two nations is that music is not as heavily labeled by "genre" in the U.K. Here, we often hear people say, "I only listen to ______ [type of music]," whereas in the U.K., a person or station can play different genres side-by-side – the focus is on the individual song. Although country music is a fundamentally American phenomenon, Huffer says a few classics, such as Kenny Rogers, have enjoyed airplay in Britain (whereas a station designated "country" might leave listeners scratching their heads). Huffer has definitely enjoyed becoming steeped in "new country" played by KGY's sister station, South Sound Country 96.9 KAYO. It's yet one more aspect of U.S. life he finds intriguing.
"Kevin the Brit" also finds himself at the center of a show about a very American topic: professional football. Huffer co-hosts the weekly "Hawk Talk," with Stephanie Hemphill, former Sea Gal and current Executive Director of the Thurston County Chamber (read a ThurstonTalk article about Hemphill here). He says he has learned a lot about American football through the show. "Though I still don't totally understand it," he says with a laugh.
You can also find the lively Huffer co-hosting the KGY shows Talia's Taste of Olympia and Community Connection.
Despite his nickname and lingering British accent, "Kevin the Brit" is quite immersed in Thurston County life. He serves on the Board of Directors for the Miss Thurston County Scholarship Program as Executive Director, a post he share with Stephanie Hemphill.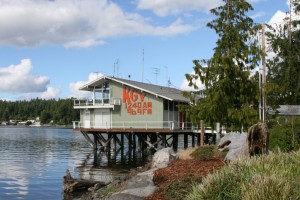 Huffer is satisfied with his decision to come to the States. He said the acclimation to the culture has been both natural and a continual learning process. He plans to stay here long-term, with visits to England. And he is still known to use a few British colloquialisms around the office. "I'll always be English at heart," he says.
With his fondness for Thurston County, it makes sense that Huffer would enjoy his work at KGY, with its focus on hyper-local news and content. He also likes the friendly environment and is excited to be part of the team as KGY moves forward in the digital era. "You couldn't ask for a better family," Huffer says of his American colleagues.
The fact that this Brit would land at KGY radio in Olympia is just one of the stories that makes this historic station unique. For more information about KGY, including a schedule of when to find Kevin the Brit on the air, visit the KGY website or like them on Facebook. You can also follow them on Twitter and Instagram (check out Huffer's daily Instagram photos of the view overlooking the water from the station).