By Megan Conklin

I grew up in a world with four seasons. A world where a person might look outside and say, with a note of surprise in her voice, "Hey, it's raining outside!"
My children live in a very, very different world. Rain is a perpetual, sometimes relentless part of their lives. And, interestingly, in can be a very fun part as well. Turns out they don't melt in the rain. In fact, they rather enjoy playing in it.  So, because staying indoors for nine months of the year is not an option, here are my family's top five Thurston County spaces to play outdoors on one of our notorious, soggy days:
Watershed Park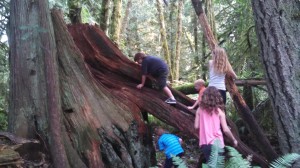 Walking in Watershed Park on a rainy day under the dense canopy of trees is not unlike walking there on a fair day. The naturally provided protection from the drizzle makes Watershed one of our favorite rainy day walks. A one 150-acre park in the southeast part of Olympia, this lush forest has three pedestrian entrances and one parking entrance (located on Henderson Boulevard). The trail system is vast and sometimes tricky for the kids in certain areas of the park, but other entrances offer very flat and manageable paths – this is a park that definitely demands multiple visits to explore its various personalities.
Riding the Dash/Capitol Campus
Riding the bus is something of a novelty for my children. We don't do it on a regular basis, and they don't take the bus to school, so a bus ride feels like a special treat. I admit to hitting on this particular idea out of sheer desperation one day, but the gist of it is this: catch the free DASH shuttle anywhere along its route in downtown Olympia on a rainy day. Ride in warmth and comfort for as long as possible or until the kids start getting squirrely (I have yet to be kicked off). Hop off at the Capital Campus and walk in the rain for a bit, admiring the fall trees, holiday decorations, or spring flowers – depending on the season. Then, catch the bus when it circles round again. The DASH runs every 15 minutes so you will never have long to wait. An alternative to this scenario is to hop off the DASH downtown and grab a coffee or hot chocolate to warm up. If your small people are not loving the rain, you might visit Archibald Sisters and pick up a kid friendly umbrella – they have every adorable style imaginable, from ladybugs to sock monkeys.
Olympia Farmers Market
This rainy day gem was born out of idea number two, riding the DASH. We all know how much fun the Olympia Farmers Market can be on warm, summer days. And it can be even better in the rain. As the final stop on the DASH's downtown route, most of the farmers market is covered, and when they pull out those tall, patio heaters, it is even a little warm. Wandering around in the market on a rainy day, stopping to warm our hands at a heater, eating as many samples as we can get away with – these are good times. I like it even better when it is closed. Then, we can claim the entire, vacant, covered area as our own personal play space. My kids have been known to run around the empty stalls for long enough to ensure a proper afternoon nap.
Burfoot Park
The allure of Burfoot Park, located in the northeast corner of unincorporated Thurston County, on a rainy day lies in its many, large sheltered picnic areas. One is located very near the playground, and is great if adults want to stay dry while kiddos play. I once hosted a 4-year-old's birthday party under this shelter, in late May, in the pouring down rain. We used the barbecue to make hot chocolate and warm-up food while the kids ran around screaming in the downpour, happy as could be. Burfoot also has other large sheltered areas located in the woods nearby, which offer respite from the rain while walking on forest paths or heading down to the beach.
Your local school's play shed
We all know that neighborhood school playgrounds often double as neighborhood parks. Most elementary schools – and some middle and high schools in our area – have outdoor, covered play areas. While this is a space that is only available on weekends, after school, or on school holidays, it still bears mentioning. Our nearby school play sheds have asphalt or concrete areas so we get the additional benefit of puddles. We try to remember our rain boots and usually end up stomping to our heart's content while singing some Western Washington classics such as "Singing in the Rain," and "It's Raining, It's Pouring." Or, we bring along a basketball or a tennis ball for a quick game of "wall ball" and enjoy fresh air and exercise as a family, without getting drenched.
I still dream of four seasons from time to time. But, even as I lament my children's lack of experience with snow (or sun for that matter), I also recognize that the beautiful, clean, green space that we call home would not be such without all the rain.
Thrifty Thurston highlights inexpensive family fun in Thurston County.  The weekly series focuses on family-friendly activities throughout our community.  If you have a suggestion for a post, send us a note at submit@thurstontalk.com.  For more events and to learn what's happening in Olympia and the surrounding area, click here.