Submitted by Westport Winery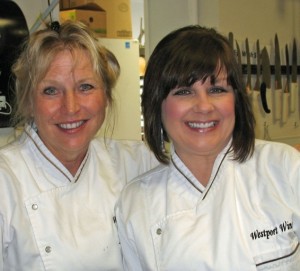 Westport Winery has added Patty Cakes to their bakery's offerings. This is a recipe named after team member Patty O'Connor who has been making these decadent treats for the staff to rave reviews for several years. O'Connor said, "Everyone loves this amazing cross between a cupcake and a bar cookie."
O'Connor, who joined the then fledgling winery in 2008, is an avid home baker. Converting the recipes to the commercial kitchen was stressful but worth the challenge. Winery co-owner Kim Roberts said, "We created four unique variations of the Patty Cake: Tahitian Vanilla, Chocolate Brown Butter, Pineapple Upside-Down, and Pink Lemonade."
With the many berries grown on the winery's Vineyards By-the-Sea farm O'Connor and Roberts also created the Ultimate Berry Shortcake which is a Tahitian Vanilla Patty Cake topped with vanilla bean ice cream, homemade berry compote, whipped cream, blackberry sauce and raspberry sauce.
By popular demand from their guests the winery has added baked fish and chips with wild Alaskan cod and garlic Parmesan Yukon gold potato wedges on both their lunch and dinner menus. And to add a vegetarian option to their appetizers they created Northwest Nachos with Tillamook and Cougar Gold cheddars, green onions and tomatoes topped with winery co-owner Blain Roberts' made-from-scratch guacamole.
Westport Winery and Vineyards By-the-Sea with the unique outdoor sculpture garden, lavender labyrinth, musical fence, 9-hole executive golf course, giant chess set, outdoor scrabble game, and grape maze, is located on the corner of Highway 105 and South Arbor Road halfway between Aberdeen and Westport. Westport Winery was named Best Northwest Wine Destination in 2010, 2011, 2013 and 2014.
Westport's award-winning wines are exclusively available at the winery. The tasting room, gift shop, produce market, plant nursery and bakery are open daily from 11 a.m. to 6 p.m. The restaurant is open for lunch daily from 11 a.m. to 4 p.m. and for dinner on Friday and Saturday from 4 p.m. to 8 p.m. For more information contact Westport Winery at 360-648-2224 or visit the website atwww.westportwinery.com.