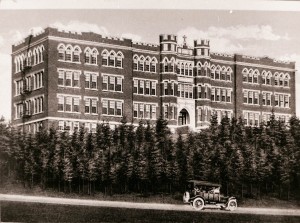 The City of Lacey Historical Commission will consider the nomination of Old Main Building on the campus of Saint Martin's University in Lacey to the National Register of Historic Places at its September 17, 2014 meeting.  The meeting will be held in Lacey City Hall, 420 College Street SE in Lacey beginning at 6:00 p.m. The public is invited to attend and comment on the nomination.
Old Main was constructed in 1913 with a side wing added in 1923. The building, now considered a Lacey landmark, is an example of Collegiate Gothic architecture and contains 120,000 square feet in an "L" shape. The nominated historic resources include the second generation of the original campus building, a statue, and formal entry stairs.
After the Lacey Historical Commission acts on the nomination, the Community Relations and Public Affairs Committee will be briefed at their normally scheduled meeting on October 6. The nomination will then be passed to Mayor Andy Ryder and Lacey City Council for a final motion at its regularly scheduled meeting on Thursday, October 9 at 7:00 p.m.
The Chamber's Prairie-Ruddell Pioneer Cemetery is the only other property in Lacey that is listed on the National Register of Historic Places. The cemetery was listed on June 30, 1995.
For those unable to attend the Historical Commission meeting that wish to provide input on any agenda item, please contact Lori Flemm, Lacey Parks and Recreation Director, at  (360) 491-0857 or by email at lflemm@ci.lacey.wa.us.