By Mary Ellen Psaltis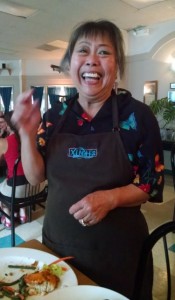 Xinh Dwelley has spent her life in and around food. It began as a child in the family rice fields of Vietnam. For years she shucked oysters for Taylor Shellfish Farms. Now she's the CEOE (Chief Executive of Everything) at her Shelton restaurant aptly named Xinh's. Fusing fresh seafood of the Pacific Northwest with Asian influences and adding a large measure of Xinh, diners can sate their palates with her numerous creations.
Xinh recently returned to the helm after taking a few weeks away to undergo surgery to remove a tumor from her colon and take a little time for recovery. The restaurant is currently open Thursdays through Saturdays in the evenings. You'll be relieved to know that she's charging ahead with vim and vigor.
Taylor Shellfish Farms, who owns Xinh's Clam and Oyster House, supplies the restaurant with an array of seafood. Xinh rattled off a quick recipe for their sweet, tender Manila Clams. Sauté garlic and onions then mix with the Thai flavors of lemon grass, coconut milk and lime juice. Add clams. Get every drop of the juice with hunks of crusty bread.
She also suggested Mediterranean Mussels (the ones with purple/black shells) cooked with garlic, a dab of butter, sun-dried tomatoes and jalapeño peppers topped with crisp bacon. Xinh likes the spicy peppers.
Her cooking includes ample amounts of basil, cilantro and chili flakes, depending on the dish. With any of these seafood recipes, you can make a full meal with the addition of rice, rice noodles or pasta, a loaf of artisan bread and a salad.
Before or after your meal at Xinh's, be sure to walk the interior perimeter of the dining room to see photos of Xinh with famous personalities and noted chefs. There's Julia Child, Andrew Zimmern, Anthony Bourdain, Jeff Corwin and Dirty Job's Mike Rowe. There are plaques, many awards and printed stories. I'll admit that it's fun to rub elbows with 'famous' types, but I am inclined to think that it's Xinh who is really the celebrity.
She left her home country, journeyed across the world as a young adult, learned how to shuck oysters faster than everyone else, married, raised her son, became the chef of a (now) long-time popular restaurant all the while overflowing with energy to tell a story or laugh about something. She is accomplished and grateful. You, too, could get your photo taken with Xinh.
You can also find Xinh teaching classes at Bayview School of Cooking located in downtown Olympia inside Bayview Thriftway. She's been there almost from the beginning of school's opening nearly eleven years ago. "Xinh is so knowledgeable about seafood and knows the answer to just about any seafood related questions anyone can throw at her," says Leanne Willard, Director.
Learn Xinh's cooking secrets.  Classes always fill up fast. You can see all of Bayview's offerings by clicking here.
I recall a rhyme from my childhood that explains what makes up girls and boys:
Sugar and spice and all things nice
Snips and snails and puppy dog tails.
Xinh is all that – sweet and funny with a zest for life. (She has a dog at home that is always glad to see her.)  She told me that she "loves what I do." I believe her. You can see for yourself. Her smile will be lighting up the room.
Eat Well – Be Well
Xinh's Clam and Oyster House
221 West Railroad Street in Shelton
Open Thursday – Sunday from 5:00 p.m. – 9:00 p.m.