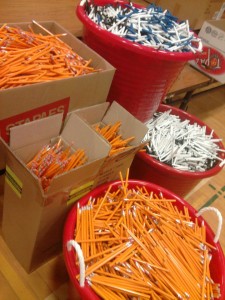 Shopping seasons never quite match up to the calendar.  You'll see Christmas trees while Trick-or-Treating, Valentine's hearts while caroling in the snow, and back-to-school specials before July fireworks.  For the most part, this is nothing more than a disconcerting reminder of the next overblown holiday spectacle, but sometimes shopping early has benefits.
The US Census Bureau says that Americans spent $8.5 billion at family clothing stores and $2 billion at bookstores in preparation for the 2013-2014 school year.  With 79 million people enrolled in school that term, back to school shopping is a tremendous industry.  But for some, the costs are daunting.  As an incoming kindergartener, my daughter was presented with a full page list of necessary supplies and I remember all too well the 'eat or buy textbooks' days of college.
Locally, organizations like Lacey's Garden Courte Memory Care Community are doing more than their share to alleviate some of these stressors.
Beginning June 15 through August 10, Garden Courte will partner for the second year with The Little Red Schoolhouse to collect backpacks, school supplies, and funds to help local children return to school with not only the needed materials but a sense of renewed pride and confidence.
Garden Courte is so much more than a warm, caring home for our aging family members.  They provide a speaker series and education for caregivers, part-time respite care to families, and open their doors to honor military families and host winter coat drives.  This spring, the Coats for Kids event received nearly 300 coats in only 30 days!  Donations of new or gently-used coats are accepted at Garden Courte all year to help address this vital need.
In conjunction with caring organizations like Garden Courte, the Little Red Schoolhouse Project exists solely to care for local children.  In 2013 alone, they generously collected and distributed supplies to over 3,300 students in our community.  This year's donations will be distributed on Thursday, August 21 to all needy Thurston County families.  Additional details can be found on their website.
Donations may be dropped off at Garden Courte (626 Lilly Road NE, Olympia) seven days a week from 8:00 a.m. until 6:00 p.m.  Call 360-491-4435 with any questions.
Do what you can to help Thurston County kids welcome the school year in style so they can enjoy the summer with the rest of us!