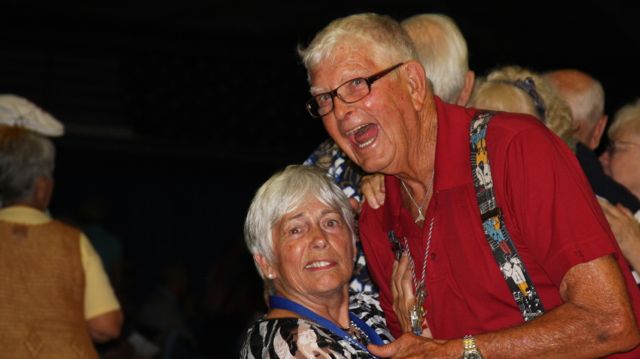 By Gale Hemmann
I love the quote, "Jazz music washes away the dust of everyday life." A uniquely American music form, jazz has the power to touch people of all ages, and to make us feel good and want to get up and dance. There are so many flavors of it, from classic 1920's-era New Orleans-style to more funky, eclectic modern versions. Whatever your preferred style, it is a music form best experienced live.
Thurston County residents have the opportunity to do just that: Come to the Greater Olympia Dixieland Jazz Society's America's Classic Jazz Festival at Saint Martin's University the weekend of June 26-29. You can hear over a dozen top-notch jazz bands from around the country on four stages, all in one venue. The event is family-friendly, so bring the kids and experience the unique thrill of live jazz to lift everyone's spirits and get you moving.
Did you know that we have one of the West Coast's biggest and most diverse jazz festivals right here in our backyard? Whether you are an avid jazz fan already, love to dance, or are just planning a perfect "staycation" for the summer, a trip to the jazz festival will do wonders for the soul. Now in its 24th year, the festival draws attendees from over 20 states, not to mention plenty of enthusiastic locals.
I talked with Walt Bowen, festival organizer, and asked him about the highlights of this year's event. Bowen noted there's bound to be something for everyone. In fact, one thing that makes the America's Classic Jazz Festival unique is the sheer variety of styles it brings together – it's the only jazz festival in Washington offering such a mixture of music, pairing traditional sounds alongside newer ones, and representing just about every region of the country.
For example, Tom Hook is a contemporary jazz legend from New Orleans, and led the Black Dog Jazz Band, one of the most sought-after groups on the United States circuit. Hook will be performing as part of Tom Hook and the Terrier Brothers, an upbeat, danceable ensemble. The Wolverine Jazz Band hails from Boston, and are considered one of the top groups playing traditional 1920's and 1930's-style jazz (think Louis Armstrong and Duke Ellington). Tom Rigney and Flambeau (out of San Francisco) bring fiery Cajun-style jazz to the mix (Rigney is also known as a world-class violinist and fiddler). And representing the Pacific Northwest, the Uptown Lowdown will be giving audiences a ragtime-swing flavor best known as "Seattle style."
Bowen notes that the festival is also a great opportunity for young musicians and band students – it's a chance to see some world-class jazz musicians live and up close. Festival organizers will often make a special effort to help young musicians connect with favorite performers.
Another cool thing about the festival is that it extends beyond the Saint Martin's University campus, offering several chances to listen to great jazz music around town each year. On Friday, June 27, Tom Rigney and Flambeau and Grand Dominion will play a public show at the Olympia Farmers Market (this is one of the market's most popular annual events, drawing a large crowd).
Grand Dominion will also play at The United Churches of Olympia (TUCO) in downtown Olympia on Sunday morning, at their annual "Dixieland service." For some great New Orleans-style jazz (they're considered one of the best groups nationally in their style), come join this lively event – all are welcome. My parents are long-time TUCO congregation members, and they look forward to this popular service all year. As my dad says, "it's just so energetic and inspiring … you can't sit still." It's no wonder the church is always packed for this event – the beautiful historic church setting and gospel-infused music make it a unique opportunity to experience the uplifting and soul-stirring qualities of jazz.
After the festival winds down, Grand Dominion and Tom Hook and the Terrier Brothers will close out the weekend with an "After-Glow Party" show at Tugboat Annie's on Sunday evening.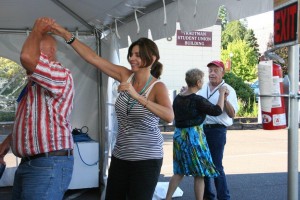 The Greater Olympia Dixieland Jazz Society came together in 1990 as a non-profit group working to spread the presence of jazz music in our area. They aim to create a vital local jazz culture, as well as training a new generation of young musicians in the genre. In fact, the society raises scholarship money to send young musicians to jazz camp each summer. "Jazz is America's gift to the world. We want to keep it alive, and keep the music out there," Bowen notes.
They do everything they can to make the festival comfortable, welcoming and fun. Dance lessons are offered onsite to make sure people feel confident cutting a rug. Local shuttles are provided, and a golf cart can even pick people up from the parking lot and bring them into the buildings. Onsite RV parking and a swing set for kids are offered. And plenty of lodging and hotel suggestions are included on the Jazz Society's website – in fact, Bowen notes the festival is a great asset each year to the area's economy and tourism.
Over 50 volunteers and hundreds of hours of people-power go into making each year's festival happen. While it clearly takes a ton of work and planning to bring it all together, at the core is a shared love of jazz and a passion for bringing great live music and dancing to an audience. "Jazz music is a universal language that everyone can enjoy…Music is good for the soul," Bowen says. (You can read a ThurstonTalk writer's reflection on the 2013 festival here.)
The City of Lacey has been absolutely instrumental in their support of the festival. The festival is also supported locally by the City of Olympia, the City of Tumwater, and KPLU 88.5 radio.
You can check out the Greater Olympia Dixieland Jazz Society on Facebook, or visit their website for more information and some great band bios.
Ticket prices range from $15.00 for students to $95.00 for the full festival for adults, with day pass options available. All proceeds benefit the youth scholarship fund.
After all, what pairs better with summer than live music, dance, and family fun?
America's Classic Jazz Festival
Saint Martin's University
Thursday, June 26 – Sunday, June 29, 2014
Full schedule and ticket information available here.