By Gale Hemmann
Whether you see Doug Walker's photos zipping by on buses around town or drawing your eye on a beautiful new website, his work creates a lasting impression.
Walker, owner of Doug Walker Photography, doesn't just take photos, he makes them. From learning about a business' mission to creating an overall "story" for a project, Walker has earned high praise from clients and many prestigious awards for his work. He specializes in "stunning images of people and the places they live in work in," and his photos truly capture the essence of a person or structure, radiating an inner life from buildings and human subjects alike. From architectural photos to food to family portraits, Walker brings out the magic in everyday life.
We are lucky to have such a talented photographer in our midst. I recently met with Walker at Batdorf and Bronson's tasting room in downtown Olympia. As we sipped their daily blends, Walker told me a little more about his work and what he enjoys most about his career.
Pleasant and polished, Walker is at ease talking about a number of subjects, and truly lights up when describing his approach to photography. From talking about his love of taking pictures at dusk to creating the perfect "signature image" for a company, he is passionate and almost philosophical about the subject.
It seems Doug Walker Photography's success lies at the nexus of talent and commitment, big-scale accomplishments and dedication to his local community. He has over twenty years' experience in commercial photography, and has won many awards, including the 2014 Commercial Photographer of the Year award from the Professional Photographers of Washington (his seventh) and was a Bronze Award Winner at the 2012 International Photographers Competition. He boasts big-name clients as well as local businesses in his dossier. Though he has been recognized on the national level, Walker truly loves working closely with regional clients.
Walker is an Olympia native. He grew up in the Steamboat Island area, attending Griffin School and Olympia High School. He then attended the prestigious Brooks Institute in California, where he earned a degree in photography. Walker is a student and mentee of the legendary underwater photographer and Ernie Brooks. (Read the ThurstonTalk article about Brooks here).
Simply put, Walker's photos will blow you away. Whether it's of a welder at work or a new municipal building, his work is unique in that it surpasses our standard notions of commercial photography, truly elevating everyday subjects into the realm of fine art. He is able to meet the client's business needs and then exceed them by infusing each photo with his creative eye.
Some examples of his work around town include photos for Intercity Transit buses and the City of Lacey's new website, and a re-branding campaign for the Washington State Liquor Control Board. He is also the person behind the signature images of local favorite Walter Dacon Wines.
Doug Walker has also done several projects for I.P. Callison & Sons, the world's largest suppliers of quality mint oils, headquartered right here in Lacey. Many other fine projects come from his collaboration with GCI Marketing, a local marketing firm.
He also regularly works for MSGS Architects and KMB Design Groups, both prominent architects in Olympia, and has taken some absolutely stunning photos of the new Olympia City Hall, among many other buildings.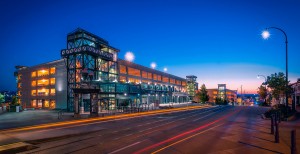 As a long-time member of The Valley Athletic Club, Walker recently approached them about displaying a series of grungy sports portraits of members. You can look forward to seeing the magical photos lining the walls of this popular athletic venue soon. (In the meantime, you can view one of his award-winning images from this project in this ThurstonTalk article).
Walker focuses on providing great customer service, no matter how big or small the project. He has many loyal clients, and is the go-to photographer in our area if you want stunning results.
As Walker's career has grown, he feels it is important to keep giving back to the local community. He volunteered as Den Leader and then Cubmaster for Pack 266 for eight years running.  He currently serves as President of the Professional Photographers of Washington and as a councilor to the Professional Photographers of America, both volunteer positions which he feels honored to hold.
He works with the Thurston County Economic Development Council and is involved in their efforts to promote Thurston County. He has also exhibited his work at Olympia Arts Walk, joining in the local artistic community for this creative celebration.
In addition to being a top-notch photographer, Walker is also a dedicated parent who enjoys raising his two sons. He stays busy with scouting and swimming activities, but always makes time to be involved in family life.
Walker relishes life in Thurston County.  He returned to the area in 1993 and has since called it home. Some of his favorite elements are the great coffee and the beautiful water setting of Puget Sound. He holds fond memories of growing up here and spending lots of time outdoors. His deep connection to and understanding of his native environment – from its people to its natural light qualities to its best spots for photo shoots – no doubt informs his work.
In talking with Walker, it is clear that while he is truly a first-class photographer, he is also a local at heart. And it is this winning combination that he brings together for his clients.
We wound up our interview with Walker describing an upcoming shoot, in which a client who is a swimmer will be photographed emerging from the water of Puget Sound at dusk. He had thought through the image in detail, and perhaps this image is the best metaphor for his work – technical precision combined with an organic love of life in the area.
One of Walker's upcoming new projects is doing the photography for the much-awaited new façade on the Washington Center for the Performing Arts (designed by MSGS Architects). 
Walker is available to teach workshops to individuals and groups. He works with clients to give them a "ground school," as he calls it (Walker is also a recreational pilot) in how to capture great photos, and then he sends them out in the world on their own to fly.
To learn more about Doug's work, to view his extraordinary portfolio, and to learn more about becoming a client or taking a workshop, stop by his website, Doug Walker Photography.