By Tom Rohrer

If anyone knows what it takes to win a high school fastpitch state championship, it's Lindsay Walton.
The Yelm High School head coach and former Western Washington University catcher teamed up with her sister, Cortney Walton, at Great Bridge High School in Chesapeake, VA., to win the Class AAA State Championship as seniors in 2000.
"Those memories last a lifetime," said Walton, the daughter of a former baseball player at the United States Naval Academy. "That feeling, it's hard to forget."
Walton's talented Yelm Tornadoes are hoping to form some unforgettable memories of their own this month, and so far, appear to be on the right track to do so.  With the league and district playoffs upon them, Yelm is hoping to shoot into the state tournament for the first time since 2004, when the Tornadoes were eliminated in the first round of the 3A bracket.
Yelm finished the regular season with a 15-3, including a 10-3 record in Narrows League play.  The Tornadoes dropped a tie-breaker matchup with Olympia 8-3 on Wednesday May 14. The two schools finished tied atop the league standings after the regular season, thanks in large part to Yelm's dramatic 2-1 victory over the Bears on Wednesday May, 7, which set up the deciding tie-breaker.
Yelm solidified their chance to face off against Olympia for a third time thanks to a 9-4 victory over Bellarmine Prep on Tuesday, May 13 at the Regional Athletic Complex in Lacey.
"After that game (against Olympia), I couldn't stop smiling," said senior catcher and captain Savannah Brown.  "There was no holding back my excitement."
Brown has plenty of reason to smile, as she has seen a dramatic improvement over her four seasons on the Tornadoes varsity squad.   As a catcher, Brown is involved with every pitch, including those thrown by junior standout pitcher Jessilyn Enlow and senior hurler Megan Mendonca.
Enlow and Mendonca form arguably the Narrows League's top pitching duo, a testament to the upperclassman's contrasting styles to keep opponents off balance.  Both pitchers also bring strong hitting at the plate to help their cause for a victory.
"Megan has way more spin on the ball, but Jessilyn throws with more speed," said Brown, who plays select team ball with both Mendonca and Enlow.  "Both are great pitchers and I feel confident with either out there."
"Both of them are terrific at the plate, so we find a way to keep them in the lineup," Walton noted.  "If you produce (offensively) you have a spot in the order."
The top of the Yelm batting order is occupied by spark-plug freshmen Alex Choate (.652 on base percentage, 7 RBIS in league play), a lefty-slap hitter who can wreak havoc with her speed on the base-path.  Rallies are consistently started with Choate reaching first base and stealing another shortly thereafter.
"I want to be that player who provides energy and can just get things going," said Choate, a year-round fastpitch player.  "With my speed, I think I can make it difficult for the opposing defense and pitchers."
"She's been such a huge addition for us and I know we wouldn't be in this position without her," said Walton.  "She can lay down a bunt and get on base or draw a walk, but she has a lot of power.  She can slap extra base hits.  She really sets the table for us offensively."
While offense generates headlines, the Tornadoes defense has been equally as impressive.  Anchored and overseen by Brown, the Tornadoes have been able to limit opponents to 82 runs heading into the Narrows League tournament.
"It's something we've all worked on," said Enlow, who wears a protective facemask to protect a concussion injury sustained in the weight-room.  "We take pride in making sure we take care of our responsibilities."
"As a pitcher, it's nice to know the team has our back if we can't force a strike out," mentioned Mendonca, who will attend Ottawa University in Kansas next year.  "It's very tight behind us."
This strong attention to detail at the plate and in the field is a byproduct of the team's strong senior leadership.  Joining Brown as captains are Taylor Finch and Breann Robertson.  The trio was voted into the positions by the entire team and have formed the strongest leadership group Walton has seen in her nine years as head coach.
"They are trend setters.  They all have a goal and are bringing the other girls along with them," said Walton. "They put the team before themselves and that's what you need.  You need great leaders to be a successful team."
"I rely on (Brown) because of her experience and how well she knows the game," said Enlow, who led the Tornadoes in innings pitched this season.  "As a pitcher, I'm not sure I would be in the position I am now without her."
"It gives me confidence knowing the team trusts me," said Brown, who will play for Pierce Community College next year.  "I raise my level of play and intensity because I know the girls look to me for that."
Strong leadership has helped develop camaraderie amongst the Yelm players, a key ingredient missing from Tornado team's in the past.
"That's the thing that would've put us over the edge last season and really is a huge part of our success this year," mentioned Brown, who tied for second on the team in RBI's in league play with eight.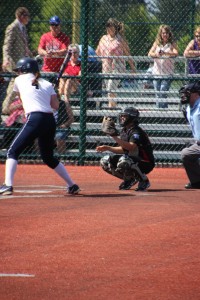 "We're so, so close," said Mendonca, who had five victories as a pitcher in league play.  "Really, we're almost too close."
Leadership and camaraderie can be traced back to Walton, a calming influence for the team on and off the diamond.
"I can go and talk to her about anything," Mendonca added.  "She'll help you however she can."
"We know she's been in all situations of the game and we trust her," said Choate.  "She puts us in the best position to win."
The daughter of two Yelm High School alumni, Walton moved across the country growing up due to her father's military career.  For vacations and holidays, the Walton's would return to Yelm to visit the coach's grandparents.  Walton's first teaching assignment while studying at Western Washington University was at Yelm Middle School and a year later, she took a job at the recently opened Ridgeline Middle School across town in Yelm.  She's been at the school and in the community ever since, a personal reason for celebration.
"I love this town and the support everyone in the community offers one another," said Walton.  "I remember when there was one stop light and the McDonalds moved to town and it was the biggest news ever."
"Just thinking about how much the town has grown, it's pretty special," she continued.  "Hopefully, we can make it even more special this year."