By Gale Hemmann

Reese Maultsby may be young, but he's already making waves in the percussion world. The senior at Black Hills High School recently won first place at the state level in the "multiple percussion" category. Not only that, but this is fourth year in a row winning the competition. He is believed to be the first student in the history of Washington State to achieve this feat.
So, how did he get to this level of skill? I sat down with Maultsby and his instructor, Keith Mitchell, during fifth-period band practice to learn more about Maultsby's musical experience. In a nutshell, it is a combination of talent and drive that have gotten Maultsby to where he's at. He constantly practices – he estimates that, in addition to school and lessons, he spends about 12 to 15 hours a week playing (and more before competitions). It is not uncommon for him to stay after school for several hours most days, working away at perfecting a piece of music.
Maultsby started playing percussion at a young age. He first became interested in music in the second grade, when he saw a friend of his father's playing the drum kit and was intrigued to learn more. His parents enrolled him in lessons, and he's been playing ever since. Though he started with kit drums, he's also played snare drums, and has found his true calling in "multiple percussion," an innovative style of drumming that involves playing as many as a dozen instruments simultaneously.
When asked what famous musicians he looks up to, Maultsby says he admires those who have innovated and expanded what is possible in the world of music (such as Eric Whitacre). Maultsby, too, wants to carve out his own path. He explains that the creativity inherent in multiple percussion is one of the things that draws him to it – you have to select a number of different instruments based on the sounds each contributes to the overall piece, requiring not just the memorization of notes but a creative vision of how it will all fit together.
He also mentions Mitchell as a huge inspiration. Mitchell has been Maultsby's mentor and coach since Maultsby was in the seventh grade. Maultsby appreciates that Mitchell pushes him to do his best, and says he has taught him a lot not just about music but about life as well. Mitchell has taught in the Tumwater School District for 25 years, and currently works as the percussion instructor at both middle and high schools. He loves working with the students and the strong arts program at Black Hills. He is proud of Maultsby's hard work and the dedication that he has developed over the past six years.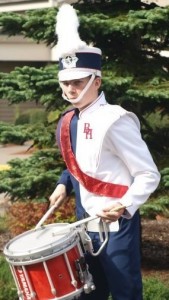 Maultsby also serves as the Senior Class President at Black Hills. When Maultsby isn't busy with school and music, he likes to spend time with his family. He says his parents have been incredibly supportive of his musical career and they come to all of his performances.
After graduation, Maultsby will be attending Central Washington University in Ellensburg, where he plans to earn a B.A. in Music Education. He envisions a career teaching music and performing on the side. Over the summer, he will be attending music camp, practicing and performing as he prepares to take his music to the college level.
Although State is a high-level competition, Maultsby says the atmosphere is supportive, with students cheering each other on. He enjoys the social aspect of State – the chance to meet up with other like-minded students from around Washington, and the inspiration that comes from being part of such a dedicated group. On top of an inspiring musical experience, the students get to have a lot of fun.
Mitchell notes that it is an incredible honor to be invited to compete at the state level. He congratulates not just Maultsby but the entire Black Hills High School Band, who competed at State as a group for the 11th time this year. (A student from the high school's chamber choir, Bailey Docter, also competed at the state level this year.) Mitchell notes that going to State reflects not just talent but "the students who work the hardest – just getting there is a huge accomplishment. You are competing against other students, from 26 districts, but you are really competing with yourself, to become the best musician you can be."
The Black Hills High School band will be giving their Spring Concert later this month, and will be performing at graduation in June. The high school's jazz band, with whom Maultsby also plays, performs at venues around town – you can catch them at the Urban Onion and other local spots in the coming months.
In hearing Maultsby play, he has a composure and professionalism beyond his years. As the Chinese philosopher Lao Tze says, "Music in the soul can be heard throughout the universe." This young man clearly has music in his soul, and he's ready to share his distinctive style of percussion with the world. In addition to his musical talent, Maultsby is also polite and pleasant, answering my questions with thoughtful responses. He is a great example of where talent meets hard work and a winning attitude.
To learn more about Reese Maultsby's work, you can check out the YouTube video of his winning state performance. You can also visit his website, Maultsby Percussion. He is available to teach lessons and currently has multiple students. You'll also want to keep an eye out for this rising star in the music world in the coming years – he's sure to be bringing his unique style of percussion to a bigger and bigger stage.