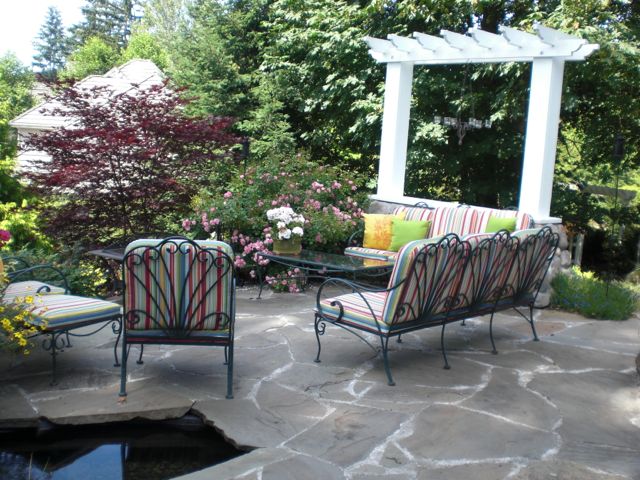 Submitted by Cathy Johnson, Dandelion Gardens

Since the Thurston County Master Gardeners discontinued their garden tour several years ago, there haven't been many opportunities to tour local gardens, gather ideas and inspiration, and talk to garden experts.  The Designing Divas Garden Tour and Festival on Saturday, May 10 and Saturday, May 17 will allow you to tour lovely gardens, attend some free and informative garden seminars, gather garden inspiration, use your green thumb to spend a little green on garden items, and support Concern for Animals.
Tour the gardens with Cathy Johnson of Dandelion Gardens and Evonne Peryea of Plantasia Botanical Gardens and talk with them and their experts.  The Designing Divas Garden Tour and Festival will be open from 10:00 a.m. to 4:00 p.m. on May 10 and 17 .  Come and celebrate the Spring garden season.
Dandelion Gardens has a three acre landscape with numerous garden rooms, dry creekbeds, flagstone patios, entertainment spaces, water features (including a very large water feature called Lake St. Clair!), and unique garden art.  Dandelion Gardens' landscape beds contain large sweeps of color, drought tolerant and low maintenance plants, mature Big Leaf Maples, and numerous hardscape features.  Plantasia has a lovely one acre display garden with 12 water features and unique, one-of-a-kind specimen plants.  Evonne has numerous "collector" specialty plants in her landscape with colorful and fun, whimsical art pieces nicely tucked into her garden.
Cathy and Evonne will be available to answer questions about their gardens and to help you with yours!  Bring your questions and bring your family and friends to the tour and festival.  The Designing Divas will also be offering free seminars.  No registration is required for the seminars so attend one, two or all of them!
Seminars at Dandelion Gardens:
May 10, 2014
10:00 a.m.  

Hardscaping

with Leslie Coulter of Outdoors by Design.  Learn all about hardscape materials and techniques from the best hardscape and landscape installation company in Olympia.
11:00 a.m.  

Decorating the Garden

with Cathy.  Martha Stewart meets the garden – ideas on how to add finishing touches, interest, color, and personality to your garden.
1:00 p.m.  

Landscape and Garden Techniques and Tips

with Cathy.  Learn some of the "tricks of the trade" to make your gardening more rewarding and easier.
2:00 p.m. 

Herbs and Herbal Skin Care

with Colleen from The Blooming Artichoke.  Get tips on how to incorporate herbs in your garden and in your skin care regimen.  Herbal skin care products will be available to sample and purchase.
May 17, 2014
10:00 a.m. 

Container Gardening

with Cathy.  Learn what perennials look best in containers and how to incorporate seasonal annuals and decorative touches for year round color and fun.
11:00 a.m. 

Pruning Techniques and Tips

with Lindy Blodgett of Outdoors by Design.  Lindy is an expert at pruning and garden care, and she'll offer great pruning advice.
12:30 p.m. 

Cacti and Succulents

with Nick of the Cactus and Succulent Society.  Nick is an expert on what cacti and succulents grow in our wet climate and he has unique planting techniques to share.
3:00 p.m.   

Small Maples for the Landscape and Containers

with Tracey of Nature's Tapestry Landscape.  Tracey is an expert on maples, so if you're interested in maples or are looking for a certain color, size, or style of maple, you'll want to attend her talk.
Seminars at Plantasia Botanical Gardens on May 10 and 17:
11:00 a.m.  

Best NW Grasses for Low Maintenance Gardens

with the experts from SouthBay Greenhouses.  SouthBay is an ornamental grass and groundcover grower and wholesaler here in Olympia.  SouthBay sells grasses to the public at its location and wholesale to local garden centers.

The Designing Diva's Garden Tour is also a fundraiser for Concern for Animals.

1:00 p.m.  Paver Patios & Walkways – the Right Material for the Right Job with Josh Labouff of Labouff Landscape.  Josh owns his own landscape installation company and is a hardscape expert.

2:00 p.m. 

Peony Envy – Successful Herbaceous and Tree Peony Growing

with Evonne.  Join peony expert Evonne for an indepth discussion of peonies for our Olympia climate and soils.
3:00 p.m. 

Pondering a Pond?  Establishing Successful in Ground Ponds

with Evonne.  Successful pond installation and maintenance require expertise, and Evonne will guide you through the process.
After you've toured the gardens and attended the seminars you can go shopping!  Dandelion Gardens has a large selection of garden containers, birdhouses, metal art pieces, and unique garden art made by local artisans.  Dandelion Gardens is located at 5415 Peninsula Drive SE in Olympia.  Plantasia also has a nice selection of containers as well as a gift shop with fun home and garden items.  Plantasia Botanical Gardens is located at 3938 88th Avenue SW in Tumwater.
The festival is free, but is also a fundraiser for Concern for Animals.  The designers are accepting pet food and monetary donations for Concern for Animals.  Concern for Animals is an organization that provides welfare services for animals including: low cost spay and neutering, emergency veterinary care, pet food,  and rescue services for dogs and cats in Thurston, Mason, and Lewis Counties.  This worthy organization has been helping low income people and their pets for over 34 years.  It's a fabulous organization and a worthy cause so tour the gardens, attend the seminars, buy something for the garden, and donate to Concern for Animals.