By Mary Ellen Psaltis

I'm a mom. Maybe you are, too. You probably know one. I have plenty of experience grocery shopping, cooking and washing dishes. Mother's Day is supposed to give me a "Get out of Jail Free" card. All chores are left for others to do. I only need await my silver platter with hot tea and warm scones. At some point in the day I luxuriate in the shower and then head out for brunch or dinner. This seems like a good idea. It is a good idea.
But where to go? Our Thurston County area has possibilities galore – breakfast, brunch, lunch or dinner. There are not as many restaurants as types of mothers, but there's a range of choices. Here are a few ideas:
Budd Bay Café – 360-357-6963 – Downtown Olympia on the water
Mother's Day Buffet Brunch from 8:30 a.m. – 2:30 p.m. (that's the time of the last brunch reservation.) If it's a lovely day, the deck seating will be open without a reservation. There will be mimosas, prime rib and lots more. Dinner seating begins at 5:00 p.m.
River's Edge – 360-573-5100 – Tumwater Valley
The same quality you've found for years at Budd Bay Cafe is now at River's Edge.  Owned by the same team, the Tumwater location goes great with a round of golf.  Mother's Day brunch and dinner are being served.
Pellegrino's Event Center – 360-709-9055 – Tumwater near Costco
Pellegrino's is continuing their Mother's Day Brunch Tradition with reservations from 9:00 a.m. – 2:00 p.m.  Enjoy Breakfast staples along with a made to order omelet station, carving stations and a chocolate fountain.  Kids 4 and under are free.
La Petite Maison –360- 754-9623 or 360-790-7374 – Westside gem
Open this Mother's Day from 4:30 p.m. – 9:00 p.m.. Find an inspired four-course prix fixe menu in addition to the new spring menu.
Basilico Ristorante Italiano – 360-570-8777 – Downtown Olympia
Though usually closed on Sundays, the downtown Olympia restaurant will be open Mother's Day with a special four-course dinner menu.  Reservations available between 4:00 – 8:00 p.m.
Falls Terrace  – 360-943-7830 – Oft photographed Tumwater Falls is your backdrop
Dinner menu begins at 11:00 a.m.
Waterstreet Café & Bar – 360-709-9090 – Downtown Olympia
Jeff Taylor is preparing extra special Mother's Day treats in addition to the regular dinner menu beginning at 1:30 p.m.
Ricardo's  – 360-413-9995 – Thinking steak? Think Ricardo's.
A special menu will be served between 3:00 p.m. – 7:00 p.m.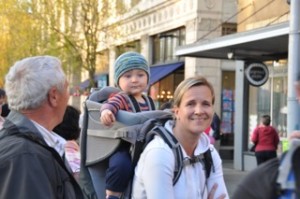 Traditions Café – 360-705-2819 – Thoughtful food downtown Olympia
You can get food from 11:00 a.m. – 5:00 p.m. and then from 5:00 – 6:30 there is Open Shape Note Singing, which is for everyone – singing skills not required. Fun for all ages.
O'Blarney's Irish Pub – 360-459-8084 – Long time Lacey eatery, but you need to be 21 or older.
Lemon Grass Restaurant – 360-459-9511 – Hawks Prairie location is open on Sunday
A note:
Some establishments are closed on Sunday, but you could always celebrate the day before. For example both Gardner's Seafood & Pasta  and Swing Wine Bar & Cafe are not open Sundays. Same is true for Bearded Lady Food Company and Grandpa's Soda Fountain and Ice Cream Parlor.
You can always cook for mom at home. That will involve the shopping, preparation and clean up mentioned earlier. Yes, going out does sound like a fabulous idea. It's a treat to sit down and have a pleasant person take your order. Remember, mom mostly cares about being together with family. The food is a delightful bonus.
Eat Well – Be Well