By Gale Hemmann
What do you think of when you see a plastic juice pouch, such as the kind that Capri Sun comes in? For many of us, it takes us back to childhood, and we remember a sweet, tasty drink. In this eco-minded era, we may also have a vague notion that the empty containers aren't easily recyclable and see them as potentially filling our landfills, including right here in Thurston County. But Carrie Ziegler saw something different: she saw potential for art and change.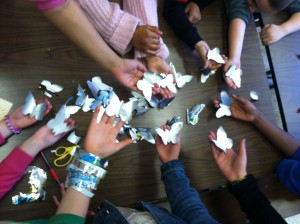 With an eye toward turning would-be trash into art (and a valuable eco-empowerment lesson for youth), local resident Carrie Ziegler has spearheaded an amazing project, set to debut at this year's Spring Arts Walk. Ziegler, an employee at Thurston County Solid Waste, has collaborated with youth and adults around the community to create "Rise Above Plastics: The Butterfly Effect." The project, made out of over 500 "upcycled" juice pouches, consists of a large butterfly chrysalis, with hundreds of tiny butterflies swarming around it.
According to Ziegler, the art represents transformation and hope: if each of us makes changes in our choices as consumers, we can create large-scale effects. The idea behind the butterfly project is the theory known as the "butterfly effect": a small, local action in one place can have global impact.
One of the coolest things about this project is that it is a true community effort. I spoke with Ziegler by phone to learn a little more about it. The project is based on a collaboration between the Thurston County Solid Waste and Environmental Health departments, and Ziegler has partnered with Environmental Health's Jennifer Johnson to make "The Butterfly Effect" come to life. Ziegler delivered presentations to over 600 local youth, teaching them about the impacts of plastic in our community. The kids were then invited to get hands-on with the project, cutting reclaimed plastic juice pouches into butterflies.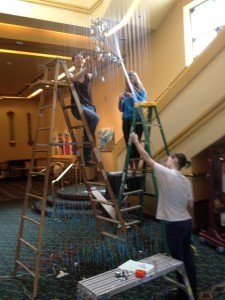 Inspired by the success of last year's "Whale Project," a giant whale made out of reclaimed plastic bags, Ziegler decided to do another arts-education project this year. (The "Whale Project" was a hit at Procession of the Species and featured on national television, and was just honored with the "Societal Impact Recycler of the Year" award by the Washington State Recycling Association. You can read the ThurstonTalk article about the project here.) Ziegler said it was exciting not only to see the "Whale Project" reach such a wide audience, but to show youth pictures of the completed project and let them know that their participation made a huge difference (the project also helped lead to the upcoming county-wide plastic bag ordinance.)
For "The Butterfly Effect," Ziegler enlisted the help of students from dozens of locations around Thurston County, including classes at Pleasant Glade Elementary School, YMCA after-school programs at 17 additional elementary schools, and Avanti High School. Kids from a Brownie troop at Lincoln Options Elementary School, the Thurston County Television (TCTV) Science Day Camp, and the Yoga 4 Girls Day Camp also lent a hand. Additional support was provided by The Evergreen State College's  GREEN Congress group and the staff at the LOTT WET Science Center. Ziegler is grateful to have had so much community enthusiasm for the project, and said the kids who participated were very engaged (they also each got to take a butterfly home as a souvenir).
The final result is stunning: a large-scale installation piece that reflects the work of hundreds of youth and adult volunteers in our community, making it a true microcosm of "the butterfly effect." The project will be on display at the Washington Center for the Performing Arts through June. Ziegler notes that it took a group of volunteers (including youth from Avanti) two days to install the piece. Clearly, it's a labor of love – and one you'll want to see.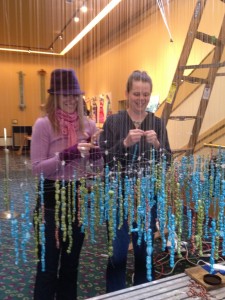 Ziegler is a Waste Reduction Specialist at Thurston County Solid Waste. She conducts educational workshops for kids and teens that aim to making learning about the environmental engaging and fun. She is available to do presentations for youth (including after-school programs, groups and camps) on several environmental topics. Thurston County offers an array of community education programs for adults, too, to help empower them to protect our local resources.
So, what's the most exciting part of this project? Ziegler notes that, after four months of hard work, it is deeply satisfying to see it come to completion and ready to make its public debut. She also notes that letting the youth who helped with the project know that they made a difference is incredibly heartwarming, and she looks forward to sharing the final result with them as "The Butterfly Effect" is sent out into the world.
To learn more about Carrie Ziegler's eco-minded art, visit her website, "Earth Art."
The "Rise above Plastics: The Butterfly Effect" project can be seen at The Washington Center for Performing Arts in downtown Olympia.