By Lisa Herrick
You can never predict what you will discover while standing on the soccer sidelines.  Although my kids claim I was eavesdropping, I contend that the conversation was exuberant and loud enough for all to hear. Once you meet the energetic and wacky Alex Zerbe, my assertion becomes quite believable. The more important fact is it led me to Zerbe's hilarious Go Seahawks Go! YouTube video and unveiled the fascinating and unusual profession of Alex Zerbe better known as the Zaniac.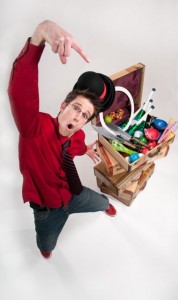 Zerbe's accolades include appearing on prime-time television in three countries, with debuts on the hit NBC television shows, "America's Got Talent!" and "Last Comic Standing."  Zerbe was voted Seattle's Funniest Prop Comic as well as distinguishing himself as the third best air guitarist in Seattle. Zerbe's comedic success started when his feet took him on a serendipitous journey.
Now residing in Olympia with his wife and two young daughters, Zerbe grew up in Seattle describing himself as "not witty but having a personality conducive to being funny."  Not yet realizing his talents in physical comedy as a viable profession, "really all I wanted to do was footbag," confessed Zerbe. (Footbag is more commonly known as hacky sack.)
Zerbe continues, "I didn't know what I was doing in life. I was young, taking an occasional community college class, and living cheaply. I had moved into one-half of a two-car garage. I was really just a lost kid."  Yet that so-called lost kid won an intermediate Footbag World Championship as well as earning a Guinness World Record for a trick called the Eclipse.
"Others may have been better physically but I knew how to perform, especially under pressure," shares Zerbe. I'm going to guess that this disposition toward being a natural performer is part of Zerbe's fortuitous comedic success. His wife, Jane, a 2009 Footbag Hall of Famer herself, encouraged Zerbe to pursue a job performing at school assembly shows. Zerbe knew that footbag was part of the show and that juggling would be a job requirement. He taught himself to juggle in the half of his two car garage so he could say with confidence, "Yes, I can also juggle."
Zerbe got the job and began performing at school assemblies throughout the country. While touring the East Coast, he met a professional juggler. That was the moment when he realized what he truly wanted to do in life. He pondered, "Is that a legitimate career choice? I can do that." Juggling broadened his talents into a more extensive array of physical comedy, which then led to a stint as a street performer.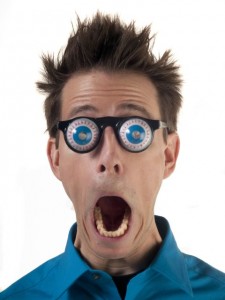 "At first, I did not really even have a show or any jokes. I was funny but not that funny. Street performing is tough because no one is really expecting you to be there. I could get a crowd but then I did not know how to keep them," Zerbe reflected on the beginnings of his career. It was then that Zerbe decided he wanted a partner to make a bigger show and more elaborate tricks, which resulted in ten years of the duo act Brothers From Different Mothers and entertaining audiences around the world.
In 2011, Zerbe went out solo as the Zaniac.  Zerbe says "Now, I have kids and don't want to be on tour.  So many people who do what I do are on the road all the time. I don't want to live in Vegas or do cruise ships. I do really well on the Northwest library circuit.  And school shows are the best possible gig. What else would I be doing at 2:00 p.m. on a Wednesday? I get to take my kids to school, have some down time then go to work and be home for dinner.  Plus teachers, school principals, librarians, PTA moms all are so nice. And the kids want to high five you."
Zerbe's shows combine comedy for kids and grownups with absurd maneuvers, intriguing stunts, and ludicrous humor. He performs at a variety of venues including schools, businesses, community events, libraries and county fairs. This summer Zerbe will be introducing his show Gravity Catastrophe to the science themed library Summer Reading Program. His school shows highlight reading, science and anti-bullying with an inspirational and entertaining message to local students. Zerbe has also been known to make appearances at ArtsWalk with his comedic juggling street performance. And he confesses, "I really love to just make silly rap songs."
For a good laugh or to learn more about Zerbe visit the Zaniac website or follow him on Twitter @AlexZerbe or Facebook ProfessionalZaniac.