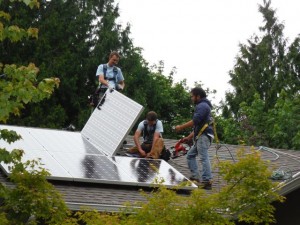 "How many solar panels do I need?"  Patrick Daly, South Sound Solar's project coordinator reveals that this is the most common question they hear from people considering solar power. However, he admits that the question More difficult to answer than most people think.
An assessment of solar potential is not strictly based on the square footage of a home's roof  or  how many panels can fit on the roof.  South Sound Solar completes a comprehensive on site analysis to determine how your family uses energy, what your energy goals are, as well as an assessment of physical structures and property conditions.
Dever Kuni, South Sound Solar's Vice President explains, "A site visit is the only way to accurately calculate your energy needs and solar potential."
Kirk Haffner, President &  owner describes what happens when  South Sound Solar visits your home "We bring a tool called a Solar Pathfinder to measure your solar potential. The Solar Pathfinder accurately predicts within 1% how many kilowatt hours of electricity a solar system at this site would produce. We want to be very accurate because how much electricity produced will determine how much you will save on your utility bill and earn from your production incentive. We do not want to put solar where it will not work or where it might be at risk."
South Sound Solar's site assessment will explore how your energy use and budget, condition and orientation of your roof, and what kind of trees and shading there might be. They use this information to provide three to four custom design options.
South Sound Solar is the only local provider who focuses entirely on the design, installation, and service of all types of solar.
To learn more about how solar can work for your home or business visit the South Sound Solar website by clicking here, calling 360-352-7869, or attending an upcoming informational workshop.