Submitted by The Washington Center for the Performing Arts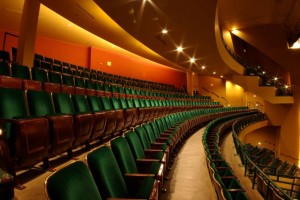 The Washington Center for the Performing Arts has been awarded a $2,500 grant to host a six-week program series featuring documentary film screenings and scholar-led discussions of twentieth-century American popular music.
The Center will host the "America's Music: A Film History of Our Popular Music from Blues to Bluegrass to Broadway" series to enlighten audiences about uniquely American musical genres including blues and gospel, Broadway, jazz, bluegrass and country, rock n' roll, mambo, and hip hop. The Center is one of fifty sites nationwide selected to host this program series. "America's Music" is a project by the Tribeca Film Institute in collaboration with the American Library Association, Tribeca Flashpoint, and the Society for American Music. "America's Music" has been made possible by a major grant from the National Endowment for the Humanities: Exploring the Human Endeavor.
"We are thrilled to participate in this exciting program that will help introduce different types of music, show how modern music has been influenced by older styles, and bridge gaps among generations" said Jill Barnes, Executive Director at The Center.  "The series is made possible by a grant awarded to the Washington Center in partnership with The Evergreen State College and Timberland Regional Library; we are appreciative of the collaborative opportunities this provides."
"America's Music," designed for a general audience, will introduce genres of twentieth-century American popular music that are deeply connected to the history, culture, and geography of the United States. Older and younger Americans alike will have the chance to recognize how the cultural landscape that they take for granted today has been influenced by the development of the popular musical forms discussed in this series.
The sessions will be held at the Washington Center, 512 Washington St SE, Olympia, on each Friday from April 4 through May 2, and one Saturday, on April 26, during Olympia's Arts Walk. All programs are from 6:30 to 8:30 p.m.  Andrew (Drew) Buchman, Expressive Arts (Music) faculty member at The Evergreen State College will introduce each film and lead a discussion afterwards.
The web page at americasmusic.tribecafilminstitute.org includes additional information on the series as well as scholar essays, suggested readings, discussion points and additional films on the genres.