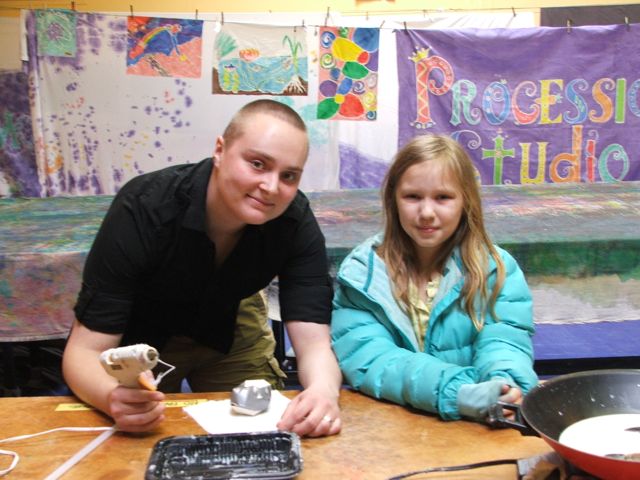 By Gale Hemmann

Each year, the Procession of the Species Celebration helps mark the passage of winter into spring in Olympia, bringing the streets of downtown alive in a blossom of color, music, and fun. It is an Olympia touchstone and a highlight of the year for many local residents. Whether you've walked in the Procession or just watched from the sidelines, you have more than likely seen the impressive swirl of animal costumes and contraptions of all kinds. From giant moths to a tree festooned with papier-mâché wildlife, the 2014 Procession of the Species promises to hold many innovative delights for all who attend.
At the hub of it all is the Procession Community Art Studio. Nestled in an alleyway in downtown Olympia, this large, airy studio is awash with people, activity, excited chatter, and dozens of Olympians putting the final touches on their Procession creations. This is where it all happens – volunteer meetings, art workshops, and, most importantly, a creative space for people of all ages and walks of life to create the animal-inspired costumes of their dreams.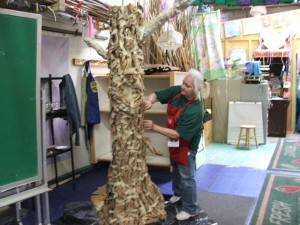 I visited the art studio on a recent weekend. The studio, entirely staffed by volunteers, is open for six weeks leading up to ArtsWalk weekend (and a week after, to allow for clean-up time). Upon entering the studio, you feel like you're walking into a fantastical carnival of creativity: immense, brightly-colored paper creatures hang from the ceilings, rest atop shelving, and sit in various stages of completion on the ample tables. One room is devoted entirely to batik fabric-making, and a Kids' Art Studio offers a special space for the little ones (though the entire studio is geared to be kid-friendly). Upstairs, "the Attic" houses supplies including paint in every hue imaginable. The art studio is a jungle, a garden, a wildlife safari, and a rainforest all rolled into one; only in Olympia can you find this unique amalgam of art and spirit. (For Community Art Studio hours, click here.)
Many of the beautiful items hanging around the studio are for the Luminary Procession, a nighttime street extravaganza held the evening before the Procession. Jade green and cobalt blue paper lanterns, giant slugs, and more treasures adorn the walls and ceiling. You can come watch the Luminary Procession (truly a must-see Olympia experience), or get involved by making your own beautiful light-up "luminary piece" at one of the Luminary Art Workshops.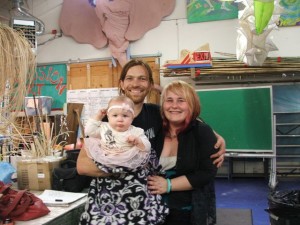 All are welcome at the Community Art Studio. You can check out the "Inspiration Island" collage wall (put together by volunteers) for ideas, or attend one of the art workshops to get started. I also got a sneak peak at one of this year's beautiful projects in the Giant Flower workshop, led by Kris Gerringer. Volunteers worked together on the wire-and-paper petals, and finished examples bloomed from a corner of the ceiling.
The only three rules for Procession art are: no words or symbols, no motorized vehicles (except motorized wheelchairs), and no live animals. Otherwise, your imagination is the only limit.
It takes dozens of volunteers to staff the studio, and while I met only a few, their friendliness and enthusiasm were representative of the Procession spirit. Laura Killian, a long-time volunteer, and her two teenage children welcomed me to the studio and showed me around (she and her daughter Wren co-lead a papier-mâché workshop). Nicole Mercier, one of Procession's volunteer computer gurus, also helped me get oriented. Everyone is quick to share ideas, help you find supplies, and cheer you on as your Procession artistic inspiration becomes reality.
The founder of Procession of the Species is Eli Sterling, the visionary Olympia resident who began the event in 1995. Talking with Sterling is a treat; he is a treasure trove of Procession history, and quick to extol its many virtues. We especially talked about the community-building aspect of Procession.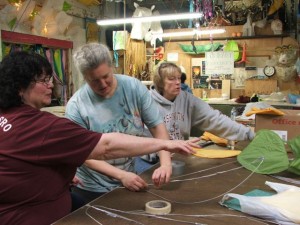 One often-overlooked detail is the fact that Procession supplies over 7,000 pieces of chalk, so kids (and kids at heart) can transform the Olympia streets into a beautiful, collaborative mural of art for the day. You can find Sterling in the art studio, bustling around town, and generally infusing Procession efforts with clarity and excitement in the weeks leading up to the event.
I also was fortunate to get to chat with some Procession volunteers, including Sterling, for breakfast at The Bread Peddler. The group was on their way to Lincoln Options Elementary School to do a presentation in a third-grade classroom, and their enthusiasm was contagious. Each person shared with me their personal path to becoming involved in Procession. Debbie Rowe, now in her third year, said she found the true joy of Procession to be in closely observing animals and nature in the making of her costumes. Sterling added that this is where the magic of Procession lies: at the nexus of art and nature.
Do you have Procession plans yet? Maybe you'd like to make your own eclectic creation to wear, bring the kids to do some sidewalk chalk, volunteer to help at the art studio, or just gather with friends and have a great time watching this gem of Olympia life parade by. Whatever your interest, be sure to get in on the fun – this year's event is quickly rolling into action.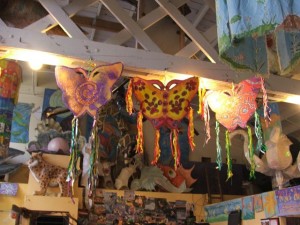 To learn more about the Procession, including its history and how to get involved, visit the Procession of the Species website. You can also join the Procession of the Species group on Facebook for spirited discussion and updates on all things Procession-related.
The Luminary Procession happens the evening of Friday, April 25 at 9:30 p.m. The Procession of the Species will be held on Saturday, April 26, 2014 at 4:30 p.m.
Thrifty Thurston highlights inexpensive family fun in Thurston County.  The weekly series focuses on family-friendly activities throughout our community.  If you have a suggestion for a post, send us a note at submit@thurstontalk.com.  For more events and to learn what's happening in Olympia and the surrounding area, click here.