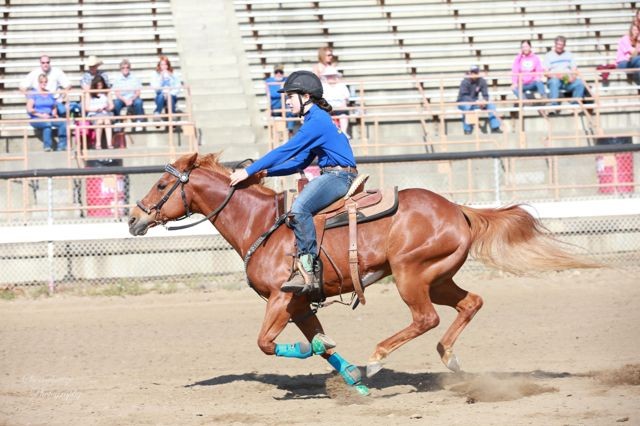 By Tom Rohrer

A horse can serve as a friend and a team as a family.
No one knows this better than the 2014 Rochester High School Equestrian team, a group of six girls in the midst of forming a lifelong bond.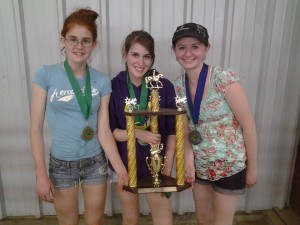 "No matter how hard your day has been or what's going on in your life, a horse is always there for you.  You can tell it anything and it will stand by your side," said Rochester senior Jakayla Dimmick. "With our team, I can talk to anyone about anything and they will be happy to help.  It's amazing."
A common love for horses connects the group and drives them to compete at a high level within the Washington High School Equestrian Team Program (WAHSET).  WAHSET allows teams to compete in a variety of categories, including performance, dressage, cattle, jumping, gaming and show.
Created in 2007 by current head coach Robert McFadden, Rochester received the state's highest honor at the WAHSET State Meet in Moses Lake last May.
Rochester took first place in scoring among small schools at the meet, an exciting and yet very surprising accomplishment for the team and their head coach.
"It was very exciting and we all put so much work into horses," said Rochester sophomore Quinn McFadden. "There was so much excitement between all of us and I think it's because we all worked so hard to get there."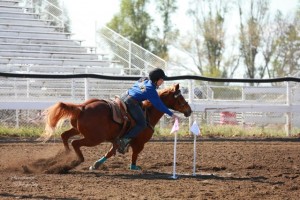 "It was a total shock," said Robert McFadden. "As far as where we came from and the years of growing pains to get into WAHSET, to win in that fashion was pretty crazy.  We didn't really know we were in the running.  We knew we had a great showing because we had several first or second place finishes, but we were competing against 68 schools and 400 kids."
Asked how loud his team's celebration was, McFadden replied, "Have you ever heard a group of teenage girls scream together?"
The Warrior riders were led by Brynna Paros, sisters Beth and Natalie Sanchez, McFadden's daughters, Hennessy and Quinn, Rilie McLeod, Maddie Smith and Jakayla Dimmick.
A year later, Rochester has familiar faces and replacements alike from the state championship.  Quinn McFadden, Dimmick, Natalie Sanchez, Brynna Paros and McLeod return while freshmen Tia Morin is the lone new addition.
With only this weekend's meet in Spanaway Lake remaining before the state meet in Lynden (held May 8-11), Coach McFadden is hoping the team can rekindle the magic found during last season's championship run.
"Last year was the culmination of four years of great camaraderie, work ethic and competitive spirit that the seniors developed.  The seniors, they were all excellent horse-women, and by the fourth year, they were a force to be reckoned with," he said. "I think we're getting there in terms of the level we competed at last year, but it takes time.  We're gearing up for the final push and our expectation is to perform at a high level and see what happens."
In the groups first meet of 2014, all team members earned a first place finish in an event.  McFadden, Morin, Dimmick and Sanchez took first in the Drill Working 4s competition, while McLeod substituted for Morin on the Hand Obstacle Relay team that earned first place.   Paros was on the first place Canadian Flags quad while Dimmick posted three first place finishes in individual events.
"We have a great balance between group and individual categories," said Robert McFadden.  "That can separate us from other teams."
Though trophies and championships are sought after, the equestrian team's impact goes beyond competition.  During the season, which runs from October to May, the group gathers once a week for practice at either Schneider's Ranch in Rochester or at Triple H Ranch in Adna.  These practices serve as an opportunity to hone skills for specific equestrian events.  Basic horsemanship skills and riding are practiced on the girl's personal time throughout the week.
"It's a grind for these girls," said Robert McFadden.  "There are a lot of cold, dark and wet nights."
"A majority of their work comes outside of the season or outside of our practices," he continued. "They take lessons and practice at least four times a week, and that can go all year."
Such dedication requires responsibility and discipline, skills the girls will have for the rest of their lives.
"You have to have a lot of passion for horses.  If you don't, you'll quickly fall out of the (sport)," said Morin, a freshman who hopes to become a veterinarian someday. "It's tough but we all have that drive and passion."
"With horses, you learn at a young age about hard work and taking good care of the tasks in your life," said Sanchez, a senior honor student and member of FFA and 4-H.  "Being on this team, you just add more responsibility to your life.  You need to keep stepping up."
Like all athletes, the members of the RHS team are still driven in part by competition.  Last year's state championship raised the standards of the program and the girls are looking to maintain their level of excellence.
"(Winning) motivates me to practice and to get better," said the sophomore Paros, who plays flute in the school band and also plays varsity soccer for Rochester. "I want to do well and qualify for state.  I'm not too hard on myself but competition can do funny things to people."
Coach McFadden, also an assistant coach for the Rochester varsity girls' soccer team, has had to compete and work for his team's opportunity to take part in the WAHSET circuit.
He built the team from scratch with advisor Chris Duncan and continues to run practices with help from only three volunteers.  Janna Dimmick, mother of Mikayla, uses her show judge experience as an assistant coach.  Tasha Freeman heads up drill instruction while Hennessy McFadden is in her first year as assistant drill coach.
"It's a group effort, people helping where they can, however they can," said Coach McFadden.
The surrounding Rochester community has also stepped up to support the team as well, a necessity considering travel costs and membership fees for WAHSET.
"We have a lot of private and corporate sponsors and really without them and the ranches we practice at, there wouldn't be a team," said McFadden.  "WAHSET is huge for kids who love horses.  It opens so many doors for them and exposes the kids to a lot of different events.  For everyone to have supported us like they have, it's pretty special."
Even with proper financing, the RHS Equestrian team wouldn't exist without McFadden's dedication and leadership.
"He's an inspirational figure for me every day," said Quinn McFadden.  "There is no cooler experience than being with my dad, having him as my coach.  I see what this team means to him and I really respect that passion."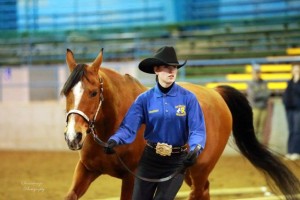 "In terms of instruction, he's much more than a skills coach," said Sanchez.  "There's always encouragement from him.  He wants you to succeed and is there to just push you in the right direction."
Prior to the family's move to Rochester, the McFadden's lived in Seattle, far away from the farm and country lifestyle they sought.   Had the re-location never occurred, the RHS Equestrian team may not exist today.  Such a thought makes the head coach shudder.
"We had an epiphany a while back in Seattle that we needed to leave and go buy a horse ranch and raise the kids in the country with horses," he said. "I think all the time, 'what if we hadn't moved?'"
"Then I remember all the memories I've made with my girls and with this program," he continued.  "How could I not smile thinking about that?"
For more information on WAHSET, please visit http://www.wahset.org.