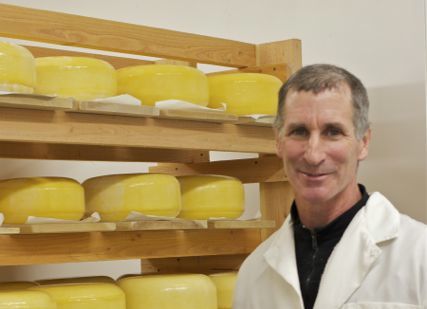 By Jennifer Crain

Vaulted ceilings and a cheerful fire in the wood cook stove greet me in the tasting room at Domina Dairy and Creamery. John and Sheila Ahmann say the space isn't done yet, but it's plenty finished enough to enjoy a chunk of their homemade bread, as far as I'm concerned. Ham from one of their pigs is sizzling on the stovetop. Sheila pops open a bottle of the pink wine she made a couple of years ago. 
She shows me a set of World War II photos – her father served in the Philippines – that hang on one of the wood-paneled walls, behind the counter. John leans over a twelve-pound round of cheese, working a double-handled cheese knife through its middle.
Outside, a face appears in the small window to the right of the stove. When I ask which cow it is, Sheila smiles.
"It's Jules," she says. "She knows we're in here."
Though the Ahmanns built the creamery on their farm in Chehalis only a year ago, John has been making cheese for a more than a decade. He grew up on his family's dairy farm, a 75-cow operation just eight miles from here. For seven years, John leased the dairy on the property from his retired parents, making cheese on the premises until they sold the farm in 2010.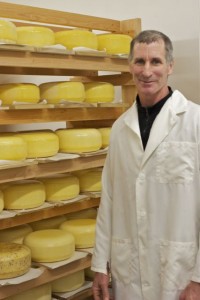 By that time, John and Sheila were living on a portion of the farm where Sheila and her sister grew up. When John decided to continue making cheese on site, they scaled down and built a micro-dairy so they could stay closer to the chores on the rest of the property. Sheila has boarded dogs there since 1996. They stopped keeping pigs but they still have a pony in the barn. They also keep two beef cattle that are of the same bloodline as her father's herd.
Sheila led me out to a covered area between the kennel and the creamery, where the cows are milked. Walking back, I looked out on the open yard where the cows were milling about, in grass studded with the kind of mud patches you expect to see in the middle of winter.
I swashed my boots around in a tub of bleach water before entering the creamery's production room. It's small and efficient, with only two tanks to store and chill the raw milk. Commercial sinks line a wall on the opposite side of the room near the pasteurization tank and a simple cheese press from the Netherlands, the region from which John sourced all of his equipment.
"I couldn't find any in the United States that was only fifty gallons," he says.
The prevalence of large-capacity equipment is indicative of the state of farming in the United States: everything about commercial farming is big. John tells me that these days, a dairy farm with 1,000 cows is a little on the small side. That means the system isn't set up for a tiny operation like Ahmann's. There's a lot of paperwork, he tells me, and a lot of regulations that a similarly sized goat or sheep farm wouldn't be required to abide by. Still, he keeps making cheese.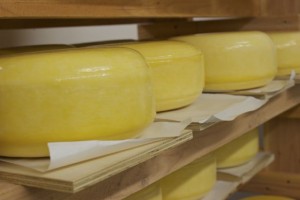 Though John no longer sells milk, he makes both pasteurized and raw cheeses, processing it himself by hand. Most of his cheese is the raw version. John says it's more popular because it tastes better.
I can see why when I try a bite in the tasting room. Cut open, the cheese is a glowing yellow and smells like butter. Smooth and well-rounded, it has enough tang to make it interesting without sacrificing approachability.
John's career as a large-animal veterinarian means he's always on call, traveling to dairy farms around the region to care for the cows.  But when he has a free morning, he takes the milk from Bella, Jules, and Princess (Big Rose is retired) and turns it into four rounds of his classic-style farmstead cheese. Sometimes, he'll get up as early as 2:00 a.m. to start the process.
If at first glance the creamery appears compact and modern, in the next it's clear that the facility is spotless. John's background as a microbiologist plays a significant role in the functioning of the creamery. Not many people, for example, are allowed inside the ripening room, a temperature-controlled space with rows of wooden racks holding dozens of aging cheese rounds. Decreasing the opportunity for contamination is a big part of his practice.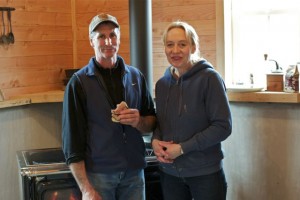 As a veterinarian to many of the milk-producing cows in the region, John has a unique perspective on feed, the living conditions of dairy cows, and how each affects milk and all its incarnations. Like most food artisans, John won't reveal everything about his process, though he says it all starts with what the cows eat.
"You have to feed them right. And you can't feed them byproducts and silo feeds, that's kind of the golden rule," John tells me. "They just get grass and dried hay and alfalfa. The rest is kind of my secret."
Photo credit: Jennifer Crain
Domina Dairy and Creamery
360-262-9112
John's cheeses are available at select locations in the Chehalis area. They are also for sale by the round by contacting the farm.