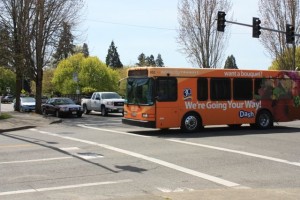 The Capitol Campus is flush with activity.  The legislative season brings bustling activity to downtown Olympia.  Pedestrians cruise the pathways – meandering between state office buildings or walking to get a cup of coffee or sandwich.  Today, I'm not walking.  I'm riding along.
Eugene taps his brake which brings the DASH shuttle  to a gentle stop. A group of well-dressed men and women disembark.  We maneuver through the campus.  Eugene makes a right turn around a car whose back end is sticking out.
Bob Zych takes the seat across from me. Zych works in the General Administration Building. I tell him about my story focused on what it's like to ride  DASH  and he agrees to be interviewed. We don't have much time. Zych uses DASH a few times a week to shuttle between his office and Franklin Street.  "If I walk it takes me seven minutes and when I get there I'm out of breath," says Zych.  He laughs and then adds, "I won't walk in the rain."
Zych's experience is one example of how easy it is to get from Point A to Point B in downtown Olympia on the free Dash shuttle.
Two minutes later I say my goodbyes to Zych. A handful of people get on and we make our way downtown. The DASH runs between the Olympia Farmers Market and Capitol Campus. DASH is a free service of Intercity Transit. "People can hop on and hop off at any point along the route," says Donna Feliciano, Marketing and Communications Coordinator for Intercity Transit.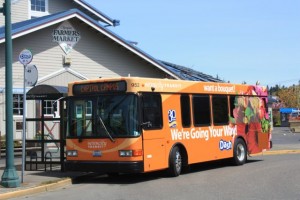 The buses are impossible to miss. They're brightly colored with  the word DASH sprawled across them in giant letters. The ride is quiet and fast.  I didn't have to wait long which is good because it's winter. The service currently runs weekdays, every 12-15 minutes between 7am and 6pm.
Jeanne Carras owns Bonaventure Shoes on Fifth Avenue. As a small business owner she's grateful for the flexibility DASH provides. "The DASH enables my customers to make the most of their lunch breaks by catching the DASH at the campus, get downtown to shop, grab some lunch, and get back to work within their lunch time," says Carras. "Previously they spent their time getting to their cars, driving downtown, searching for parking, having little time to eat or shop, and then rushing back to work."
Of course you don't have to work in the area to benefit from theservice. It's easy to picture a couple strolling through the Farmers Market and then catching DASH to get coffee at Batdorf & Bronson. Parents can ride with their kids and get off a few steps away from Wind Up Here.
Eugene pulls the bus over at the stop across from Sylvester Park. I thank him and make the short walk to my car. I parked in a spot with leftover minutes on the meter – there's plenty remaining. Eugene pulls away and heads back toward the busyness that is Capitol Campus.