By Eric Wilson-Edge
Computers are both the present and the future. Knowing how to use one has evolved from simply being able to press power and use a word processor to having the skills to create a website and write code. A certain degree of computer illiteracy is fine for adults. The same cannot be said for children. Today's youth are expected to be fluent in technology.  The proliferation of computers, tablets and phones has made acquiring this knowledge fairly easy – for some.
Access to technology is a major issue for kids who come from low income families or who live in rural areas. That's the motivation behind Comcast Foundation's donation of $20,000 to the Boys & Girls Clubs of Thurston County. The money was used to purchase computers, cameras and projectors. "Our kids are growing up in a technologically advanced world.  They need to be educated to keep up," says Lacey Branch Director Shellica Trevino. "Schools continue to experience budget cuts so any additional access to technology balances the scales for our youth."
The days where a student could turn in a handwritten assignment on a piece of paper are largely gone. Most homework is done on computers. Also, it's not uncommon to see virtual classrooms where most, if not all, of the work is done online.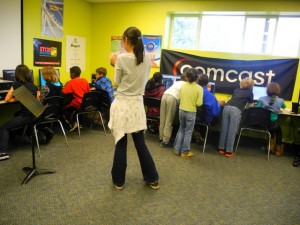 The influx of new technology to the local Boys & Girls Clubs is a win for all involved.  "We love for the kids to have the skill development and families love that the kids are using the computers to do their homework," says Joe Ingoglia, Chief Executive Officer for the Boys & Girls Clubs of Thurston County.
There's more to this program then simply slogging through homework. The Boys & Girls Clubs offers classes to members on a range of subjects including how to stay safe online. The goal is to produce a more savvy and critical web user.
The Comcast Foundation has provided $168,000 in grants to various organizations across Washington. "Comcast has been a true partner to our clubs, from training staff on dynamic tech programs to updating our computer labs, they've been there," says Trevino.
The donations are part of a larger initiative by Comcast. "As a tech company it's our responsibility to get the next generation ready," says Comcast Public Relations Director Walter Neary.
Preparing the next generation isn't just about learning core skills. The Boys & Girls Clubs use technology to help kids express their creativity. Neary likes to visit clubs and see the work students are doing. "Two years ago one of these girls did a video about body image – it was moving and disturbing," Neary recalls.
Tools like computers and digital cameras are powerful because they open up new avenues of self-exploration. "This technology really helps this generation express pain, optimism and ideals," says Neary.
Growing up isn't easy. Something as mundane as the 'wrong' clothing can be a critical blow to self-esteem. Imagine the potential harm something like the digital divide poses.  Thankfully, the Boys & Girls Clubs of Thurston County and Comcast Foundation are helping to narrow the gap.