By Tom Rohrer

Over the years, the competitive level in youth sports continues to increase.  This competition brings both positive and negative impacts.  While travel and select teams can increase athlete's chance of competing past the high school level, it's important to equally balance  development and fun.
A former Division I collegiate volleyball player, Olympia's Holly Nichols is providing a competitive, yet enjoyable atmosphere for middle school volleyball players.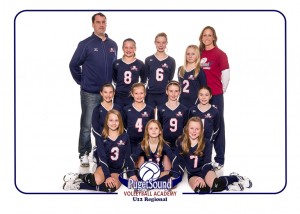 Joined by co-coach Todd Oestreich, Nichols coaches a 12-and-under satellite team from Thurston County for the Puget Sound Volleyball Academy, based in Puyallup.
Nichols, who competed at San Jose State University, is the owner of Discover Aquatics, a private swimming pool in West Olympia.  A veteran of the various adult tournaments and leagues throughout the Puget Sound, Nichols approached Oestreich a few summers ago about the possibility of coaching together.
"His daughter (Devyn Oestreich) and my daughters (Madison and Maia Nichols) both played together, and I just told him we needed to coach these girls," said Nichols.  "That's where it started."
Despite the young age of their athletes (the team is comprised mostly of 9, 10 and 11 year old girls), the team finished second a year ago in the United States Volleyball Association's Puget Sound Region within the 12 and under league.  This strong performance has brought about high expectations for the team, including a number one ranking in the division, heading into the 2014 club season.
"We've got a target on our backs and it's exciting because it shows how far we moved up," said Nichols. "I think we started ranked in the 20's, then moved our way up to number nine and then finished second in regionals."
A key to the girl's quick development, at such a young age, may be Nichols and Oestreich's focus on both the correct fundamentals and attitude.
"We work on foundational skills but also the sportsmanship aspect.  That's not necessailry just being gracious to your opponent.  We want the girls to maintain focus, which can be tough at that age," said Nichols.  "I find myself saying 'focus' a lot, but the girls are realizing that's what it takes."
Nichols is hoping her team can consistently handle the pressure that comes with being highly ranked.
"It's a two-way street with the expectations because we're happy to have had success, but other teams won't take us lightly and will try to beat us," Nichols said. "Our girls know they will be challenged every match, every point, so that can raise our level of play as well."
Last spring, the squad advanced as far as the regional championship. This season, due to the returning talent and fundraising efforts by the team's coaches and parents, a trip to the USA Volleyball Girls' Junior National Championships in Minneapolis, MN, is the ultimate goal.
A Midwest trip would be ideal but Nichols biggest wish is to witness her team enjoy competing and spending time together.
"I enjoy seeing them have fun on and off the court…The camaraderie and the relationships they're creating," said Nichols.  "They're not just developing in terms of volleyball, they are learning how to win and how to lose gracefully. We are able to watch them develop as people."
Growing up, Nichols competed in soccer and softball before joining her high school volleyball team and a traveling club squad.  After graduating from San Jose State in 1998, Nichols took a desk job in the Sacramento area before teaching lessons at a local swim center.
Nichols would run the swimming program for three years before relocating to the Puget Sound and starting Discover Aquatics.  Even after the move to Washington, Nichols continued to play in city leagues and tournaments from Seattle to Olympia. Through those annual evening trips to various gyms, Nichols' daughters developed their own passion for the game.
"They're kind of gym rats, because I would always play, and they just saw that as youngsters.  It got to the point where they were asking me to play and asking to join a team," said Nichols.  "I think it helped them just playing around and watching me."
So far, Nichols has had no problem balancing the coach and parent relationship.
"When we're at practice, I'm the coach, that's how it has to be," said Nichols. "I expect a little more from them, but I'm coach on the court and mom off it."
With her extensive experience as a player learning from high level coaches, Nichols is able to carry over that instruction in her current position.
"I always had solid coaching and can combine that with my playing experience," Nichols said. "I take what I wasn't taught or was taught and try to work with it.  I know what worked for me, what would've worked for me, that sort of thing and I can use that to my advantage."
Stemming from her time as a player, Nichols has seen the sport enter a new era of popularity not seen before.  The rise of televised matches, be it the Summer Olympics or NCAA Tournament have brought the game to the forefront for generations of female athletes.
"It's more mainstream now and girls respond to seeing athletes like Kerri Walsh and Misty May-Treanor succeed," said Nichols. "The training is more sophisticated and there are more tournaments at the amateur level.  It's becoming bigger every year."
Nichols and some members of the team attended the 2013 NCAA Division I championship in Seattle this past December, which was eventually won by Penn State University.  During her time at San Jose State, Nichols competed against the Nittany Lions in Pennsylvania, one of her more memorable experiences as a player.
"I enjoyed playing at Penn State, but playing at the University of Hawaii was a whole new experience because you're a celebrity out there," Nichols said.  "You're on TV, the crowd in the arena was huge and into the matches.  It's something I won't forget."
Twenty years from now, Nichols surely will not have forgotten the time she coached her daughters and the rest of the U-12 squad.  Passing down her passion of the game, and the lessons it can hold for life, is as valuable as any victory or championship.
"The game is meant to be fun.  Kids can still compete and have fun doing it," Nichols said. "When the game becomes 'work' or something along those lines, that's when the passion leaves.  It's never left me, and hopefully it never leaves these girls."