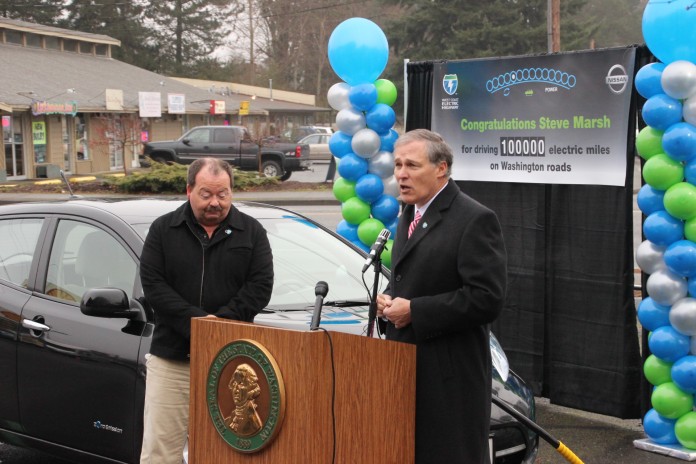 By Tom Rohrer
For Steve Marsh, Monday December, 16 started no different than any other day.
"It was just another day driving for me," said Marsh, who lives in Kent. "I guess I didn't expect anything like this and I was very surprised."
Marsh was at the center of a celebration in Tumwater Monday morning as he was honored for the 100,000 miles he has driven in the all-electric Nissan Leaf.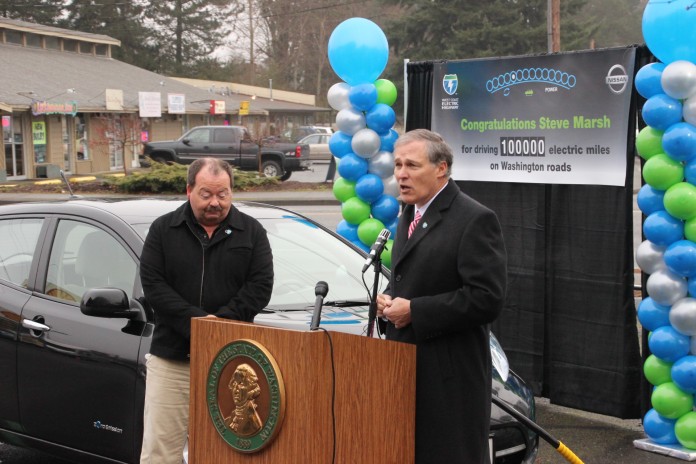 Representatives from Nissan and the Washington State Department of Transportation joined Washington Governor Jay Inslee to thank Marsh and his commitment to low-impact transportation.  The ceremony for the achievement was held at the Tumwater Shell Station and Deli Mart on Capital Way which is the only electric vehicle fast charge station in Thurston County.
Marsh has been the control manager at Taylor Shellfish Farms for the last thirteen years, requiring him to make the 130-mile roundtrip commute on a daily basis.
After putting over 300,000 miles on his previous two vehicles, Marsh purchased a Nissan Leaf in 2011.  Since then, he has driven exactly 100,000 miles, a majority of which have come on his route from the Kent Valley to Shelton.
Marsh spoke to the gathered crowd about the benefits of the vehicle and how it has saved him over $9,000 since the 2011 purchase.
Also speaking at the event was Inslee, Taylor Shellfish Farms owner Bill Taylor, state transportation Secretary Lynn Peterson and Erik Gottfried of Nissan North America, Inc.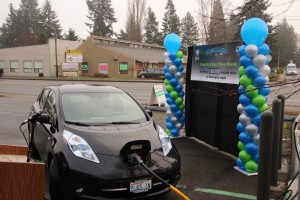 Inslee spoke about how Marsh's driving symbolizes a change in the way citizens use energy.
"This is a signal of achievement because we know one thing for certain – the world needs to move towards cleaner sources of energy," said Inslee, who presented Marsh with the State of Washington Washingtonian of the Day Award. "It's a revolution that is happening one driver, one car and one charging station at a time."
Upon his purchase of the vehicle, Marsh presented Taylor Shellfish his idea of installing a charging station for public use at his office in Shelton.  The idea was immediately accepted by the Taylor family and the company became one of the first businesses in the area to install such a station.
"Coming up with alternative sources of energy is important to us," said Taylor to the audience. "We're very concerned with ocean acidification.  We're thrilled that Steve brought the proposition to us and that we were able to put the charging station in."
"I think they've been very generous in honoring my request for a charging station," said Marsh, who had family and friends in the crowd. "Once a year, I issue a check to pay for the electricity I use. They donated the initial costs for the station so I want to make sure I cover what I use."
"It's great to have the stability of the company, the forward thinking," Marsh continued. "They're making sure we can meet demands and they give a lot of money and effort towards environmental stewardship."
Marsh has calculated that he spends 85 cents per gallon and around $5 to completely charge the vehicle.  He also mentioned how the car has run smoothly since the purchase, saving him thousands in possible maintenance costs.
According to Nissan, Marsh is the first American to drive over 100,000 miles in a commercially made all-electric car.
The savings in cash, along with the low impact on the environment, gives Marsh two opportunities to go green.
"There is environmental green and then there's also green economy that is saving the consumers money," said Inslee.
Marsh doesn't consider himself an environmental activist, but finds peace in mind knowing that his transportation does not release fossil fuels into the air.
"I haven't burned 3,000 gallons of gasoline and I'm happy my car doesn't give off exhaust," said Marsh.
Despite the accolades from the Governor and the media attention, Marsh is adamant of his normalcy.
"All I'm doing is driving my car to work every day," said Marsh. "Nothing flashy. That's the way I am."