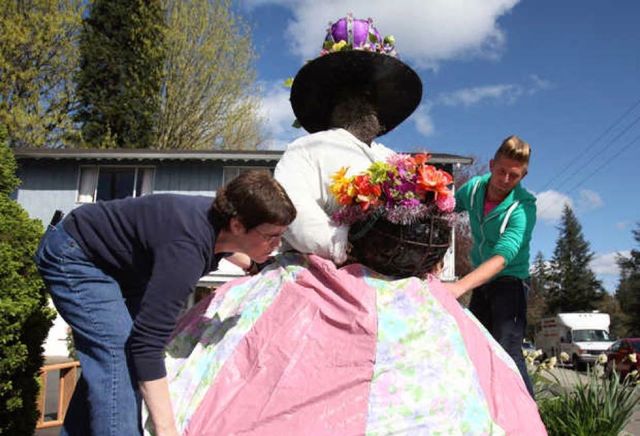 Submitted by Cathy Johnson for Dandelion Gardens
Flora, a delightful lady, is also one of the most recognizable landmarks in Tumwater.  The topiary lady stands in front of Artistry in Flowers.  Colorful Flora captures your attention on the corner of Cleveland and North Street.  Her stylish, seasonal outfits are great attention getters, from the Christmas angel halo to the fetching construction outfit proudly worn during Yelm Highway's construction project.  Flora's fetching outfits are designed by owner Jeff Hortin, manager Heidi Tobash and the staff.
It isn't easy to create outfits for a "woman" who is seven feet tall, with a  104-inch waist.  Flora doesn't have an enviable hourglass figure, but she does have an enviable fan base.  A tablecloth purchased at a discount store becomes Flora's skirt.  Material for local stores creates her blouses and hats.  Her costumes are refreshed every two years or so because they fade in the sun and weather.
What is Flora's history?  Ginny Greenwood, a previous store owner, took a sojourn in the 1980's to Minter Gardens in Chilliwack, British Columbia.  Minter Gardens (which unfortunately closed in October 2013) was a 32-acre garden delight with 12 themed gardens and beautiful garden pathways.  Part of the garden's attraction was its notable topiary figures. Ginny Greenwood was inspired.
When she returned from her trip, Greenwood hired a local welder to create Flora.  When Flora was installed in 1990, she was planted with seasonal annuals.  By the late 1990's, she was transformed from a flower lady to a stylish diva with more than 12 outfits to celebrate the seasons and holidays.  Flora makes a great pilgrim, a regal mother, and a scary witch.
It takes the team about an hour to change Flora's clothing, securing it tightly so it doesn't blow away in stormy weather.  When I peeked under her skirt (yes, I did), I could see the metal structure form, wire, and soil that used to be planted with flowers.
To the staff's delight, Flora has received presents from her admiring fans over the years.  An admirer, caught up with the spirit of the Irish, placed a can of Guinness beer in her basket on St. Patrick's Day and another fan left a bottle of wine in her basket for Valentine's Day.  Much to everyone's delight, Flora came to life in 2008 when a "look-a-like" participated in the Fourth of July parade.
Mitchell Bell, a manager and floral designer at Artistry in Flowers, said that his favorite outfits for Flora are her Christmas and Halloween attire.  Bell, a Yelm High School graduate, got his start in the industry through Yelm High School's floral program.  Bell's design flair was noticed and encouraged by his floral design teacher.  He was soon designing wreaths and floral arrangements for local events.  Bell has worked at Artistry in Flowers for four years.  He loves his job, and especially enjoys creating French country and creative, stylized  arrangements.
Artistry in Flowers opened in 1903 and has been on the same corner for 110 years.  The current owner, Jeff Hortin, has operated the business since 2002 with 12 employees.  Bell shared that Heidi Tobash, a second generation florist, has been with Artistry in Flowers for 24 years.  The store has "everything flowers," a nice gift line, blooming plants, and even silk plants.  Christmas is the store's busiest time of year.
Artistry in Flowers has given us Flora as a delightful and colorful community asset.  We would love to solve the mystery of who was her welding creator, so if you know, please let us know!  Flora is no bride of Frankenstein, so her creator would be joyfully celebrated!  When you drive by Flora, give her a honk or wave.
300 Cleveland Ave SE
Tumwater, WA 98501
360-943-1980