By Margo Greenman
How do you like to eat your oysters? Raw, on the half shell? Barbecued to perfection? How about swimming in a shot glass of spicy vodka? There are many ways to enjoy an oyster, and other shellfish for that matter, but how much do you know about the oysters that you're eating?
In the late 1950s, the Olympia oyster, once an abundant native species and Pacific Northwest icon, balanced on the fringe of extinction due to overharvesting and water pollution. Some fifty years later, this native oyster is making its return thanks to efforts from the Olympia Oyster Rebuilding Project, led by Bainbridge Island-based Puget Sound Restoration Fund (PSRF).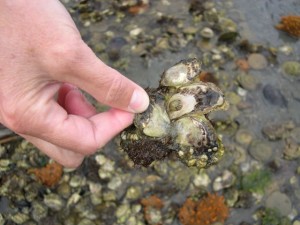 Puget Sound Restoration Fund is a nonprofit, project-based organization that heads up several restoration efforts throughout the Puget Sound region. The Olympia Oyster Rebuilding Project, which was launched in 1999, has celebrated significant triumphs in the restoration of native oyster beds, with noteworthy restoration successes at Liberty Bay, Dogfish Bay, and a new breeding group in Fidalgo.
Betsy Peabody, PSRF's executive director, explains that the Olympia oyster is important to the Pacific Northwest for a variety of reasons. "Olympia oysters are a part of [our] history, culture, ecosystem health, habitat structure, and natural filtration," she says, "not to mention a historic and iconic food source."
Because oysters are ecosystem builders, they are an integral part of maintaining healthy habitats for other marine species. The many holes and crevices found on the Olympia oyster's shell provides a place for smaller organisms to live – the same organisms that juvenile fish, including juvenile salmon, feed on. Brian Allen, project director for the Olympia Oyster Rebuilding Project, explains that, "specific salmonid species have been documented in significant abundance in restored, native oyster beds."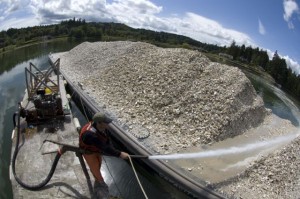 With support from local partners like Taylor Shellfish, Washington Department of Fish and Wildlife, native tribes, shellfish growers, tideland owners and more, PSRF is able to continue enhancing native oyster habitats, and projects to secure and restore 100 acres of nearshore oyster habitat by the year 2020.
In addition to PSRF's successful efforts in restoring Olympia oyster beds, PSRF also heads up three local shellfish farms, including Olympia's own Henderson Inlet Community Shellfish Farm (HICSF). While you won't find any Olympia oysters here, you will find the sustainable growth of the popular Pacific oyster, a species which was introduced in response to the decline of the Olympia oyster.
Puget Sound Restoration Fund oversees HICSF, but it is a fleet of loyal volunteers who make the farm possible. "The volunteers are [the] labor force and handle all of the major activities like planting, harvesting and sorting oysters for the market," says Allen. The farm also has a strong network of local partners, including Thurston County, Taylor Shellfish, Thurston Conservation District, the Nisqually Tribe, Olympia Seafood Company and many more.  Taylor Shellfish, for example, serves as the hatchery for seed oysters.  Bill Taylor, a fourth generation shellfish farmer, was one of the founders of the non-profit organization and the shellfish growers continue to strongly support PSRF's work.
One of the biggest goals of HICSF is to encourage clean water in the watershed. Peabody explains that, "we located [HICSF] in this place because there was a need – a downward trend in water quality and a series of downgrades in Henderson Inlet. For those who live in this watershed, the access to world class shellfish in their backyard is a good incentive to care about marine water quality."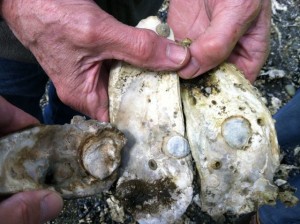 Peabody explains that PSRF's overall vision is, "a clean and healthy Puget Sound that is productive, full of life, and capable of sustaining us." Explaining that estuaries are productive only when there is a variety of "terrestrial and nearshore habitats [present]," Peabody says once these functional estuaries have been established, the next step is to sustain clean water sources for humans. "[This] is the challenge in the Puget Sound, and why we must find the means to sustainably occupy the Puget Sound watershed," she says.
Maybe the question shouldn't be, "how do you like to eat your oysters," but rather, "where do you like your oysters to come from?" People interested in eating fresh, locally grown oysters and shellfish can get their fill by attending one of HICSF's volunteer work parties, which volunteer Nate Bernitz describes as being a, "powerful food resource connection," and, "incredible motivator….not only for the volunteers, but for all residents of the watershed."
Naturally grown shellfish sourced from HICSF may also be enjoyed at local restaurants, including Dockside Bistro. If you're interested in purchasing fresh HICSF shellfish, check out their Farmstand or submit a phone (360-209-2044) or email order.  Sink your teeth into an Olympia oyster from Olympia Seafood Company.
To find out more information about the Puget Sound Restoration Fund and their many projects, visit www.restorationfund.org.  Taylor Shellfish and Puget Sound Restoration Fund have joined forces for an ultimate oyster-eating experience (and fundraiser for PSRF) during nighttime low tides.  Find event information and purchase tickets here.