By Eric Wilson-Edge
Tiny is not a popular word in the United States. It denotes restriction and limitation in a country used to space. There is no square footage on the American Dream.  We think big because we can.
2008 changed a lot of things for a lot of people. Some lost their homes while many more ended up saddled with debt. "People want to get out of living in a large home with a mortgage they can't afford," says Debby Richman, the Chief Marketing Officer for Tumbleweed Tiny House Company.
Tumbleweed is at the center of a burgeoning movement in alternative living. Tumbleweed homes pack a lot into a little. The average house is less than 200 square feet. The interiors are spacious and come with a living room, kitchen, bathroom and sleeping area.  There's also air conditioning and heat.
There may be less room, but that doesn't mean fewer options. Tumbleweed offers customers a choice of four exteriors and 21 interiors. Says Richman, "some people are more kitchen centric while others want to sleep both upstairs and down."
Olympia resident Dee Williams is something of a celebrity in the tiny house community. She's been on the national news and has given a TED Talk. The 50 year-old bought a set of blueprints from Tumbleweed about a decade ago and started building. "I was living in Portland in a three bedroom bungalow," says Williams. "I went from being one of those people who loved to kayak or climb to one of those people in queue waiting to buy a drill bit."
Williams spent $10,000 on her home. The price for an already constructed Tumbleweed is relatively inexpensive when compared to traditional houses.  Tumbleweed is certified by the Recreational Vehicle Industry Association, meaning their homes can be financed through a bank.  The typical monthly payment is around $400.
Williams' decision was based on more than just money, however. She was diagnosed with congestive heart failure at age 40.  "It got me thinking," says Williams. "I wanted a rich, vital life." The experience changed her perspective. "I've learned that I can be just fine with two pairs of shoes, that it's okay to have only two plates to my name. I can live with less and be incredibly happy."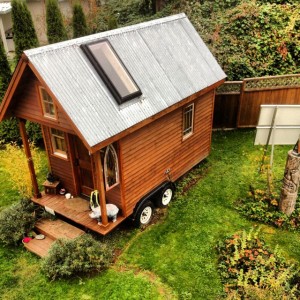 Tumbleweed owners have a unique relationship with their homes and with the company. A quick check of their Facebook page shows a devotion close to monogamy. There are little blue thumbs under countless pictures of smiling people. Owners are having conversations and exchanging helpful hints.  This is a community, a virtual one spread around the country, but a community nonetheless.
Perhaps it has something to do with quality. Tumbleweed's manufacturing sites are run by three members of the Amish community. The insulation is three times better than code. The idea is that it's possible to live anywhere from a frozen tundra to the tropics. "We want people to be comfortable in our houses," says Richman.
Or maybe it's because Tumbleweed doesn't hold knowledge close to the vest. The company offers workshops at different times during the year. These gatherings are intended to answer the basic questions of building and living in a tiny house.  Each workshop is location specific. Among other things, attendees at an upcoming Olympia event will learn about local laws and challenges that are unique to this area.  Participants will also get to tour Dee Williams' home.
The Olympia workshop runs December 7 and 8 at the Phoenix Inn. For more information including cost visit the website by clicking here. To learn more about Dee Williams follow the link to her company, Portland Alternative Dwellings.