By Mary Ellen Psaltis
Brrrr… these damp, foggy mornings that become damp, foggy afternoons have me wearing scarves and sweaters. It's no wonder I'm in the mood for soup. Steamy bowls invite a chilly body to be nourished. Soup, a magic elixir, can be made to cure many an ill.
At the same time, it's a platform for fall's abundant root vegetables, a handful of dried beans or peas, or the meat of your choice. You can throw in rice or pasta or not. Spices such as cinnamon, oregano and chilies will make each batch seem like it came from another country. I believe the number of soup possibilities add up to infinite variations. Maybe you have a pot simmering right now. If not, here are a few ideas for restaurants in town serving up a steamy bowl.
My dear friend Arlene met me for an early lunch on weekday. Tables were already full at 11:30, but as people came and left, tables were shared when chairs became available. The Bread Peddler reminds Arlene of being in Europe, but that's not the only draw. "If I want a bowl of soup, I don't know another place in downtown to go unless I make it myself." She knows she can get soup other places, but appreciates the quality she finds there. Arlene knows her way around the kitchen and doesn't need to eat food she doesn't like.
I had the roasted sweet potato and curried apple soup. Sweet and spicy, it was thick, satisfying and even vegan. I indulged in their slices of crusty bread with real butter – a hard combination to beat. If I'm going to eat bread, it needs to be fabulous. Bread Peddler bakes lovely, crafted loaves and prepares sandwiches and salads, including vegan options like curry couscous. Arlene noted that their sandwiches hold up under a juicy tomato and do not turn into a soggy disgusting mess in your mouth. Good to know. Her food tip? Take a couple of the almond filled croissants home for later. Eat one and you'll know why.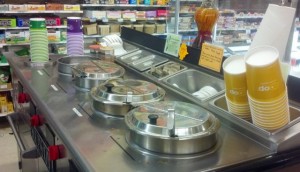 The Olympia Food Co-Op off Pacific Avenue stocks a soup and salad bar that fulfills one of my culinary fantasies: having several healthful, creative salads and soups available all at the same time. Of course at home, I would make just one at a time. Both the soups and salads include vegetarian and vegan options along with plenty of options with meat. There are recyclable containers for your lunch choices, but since I go regularly, I bring my own. Be sure to weigh your containers before filling with soup or salad, as you don't have to pay for the extra weight. Doesn't Pumpkin Pecan Soup with ginger, cloves, cinnamon, nutmeg and coconut milk sound lusciously autumnal? There are a few small tables inside the Co-Op and outside seating when the weather allows. I've been known to sit in the peace of my car (engine off) in their parking lot to eat my lunch.
Some time during his high school years, Panera became the 'date place' for my son Kosta and me. I think the broccoli cheddar soup with a side of multigrain baguette has been his favorite for a long time. We like to pick the table by the fireplace, and I get to drink an endless glass of ice tea. Panera may be a national chain, but that doesn't mean it has to be shunned. The staff is friendly, the atmosphere is low-key and clean, it's family friendly and you can get a specialty coffee or pastry if you are in the mood. It's also not a budget breaker. There are usually five soup choices on any given day.
My husband's family is Greek, which means I am an honorary Greek. I have gladly eaten my share of Hellenic fare. When we make something at home – it's a big production – seems like everything requires a 9 x 13 pan, lots of grape leaves or a leg of lamb. The time for such cooking is not always available. The Gyro Spot serves avgolemono, an iconic Greek soup with chicken broth, rice, lemon and egg froth. It's a change from your usual chicken noodle soup and tastes especially good when you have a cold – but welcome any time. It's not vegetarian, but it's more about the chicken flavor than much meat. You can order to falafel if you want to stay vegan.
The Gyro Spot is on 4th Avenue – and for those who have been around a while – in part of the space long ago inhabited by Crackers. There are tables or seating that lets you look out the window to watch passers-by. On another note, gyro is pronounced yeer-ro.
Tomato bisque is usually on the menu at Mercato. It was rich and creamy and really hit the spot – just right with the warm Panini that was overflowing with fresh mozzarella and (my favorite) pesto. Now that the weather is cooler, Mercato will also feature a second soup that will change regularly.
Many local establishments will have soup on their menu this time of year. Soup can provide body and soul comfort and it can be healthy at the same time. If you want ideas for making your own soup, shoot me an email.
Eat Well – Be Well