By Eric Wilson-Edge
There are only two things to do right now. First, finish reading this article. Second, get in the car and drive to Van's Burger. The clock is running. The venerable hamburger stand is closing for the season on October 26.
I went the other day. Sadly, this was my first time. I'd never heard of Van's and I seem to be the only one judging by the line of cars in the parking lot. "We manage the chaos one car at a time and make every effort to make the person who has finally arrived at the window feel welcome and appreciated," says owner Erica Van Lierop.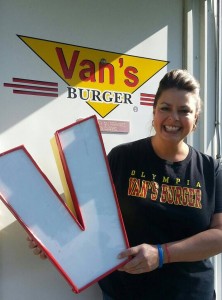 No one honked or flipped the bird. The people in the cars ahead of me waited patiently, expectantly. There wasn't a sense of urgency. Everyone seemed to understand.  This place is more than just food – it's community. "We have so many regulars. This was one thing I didn't take into account when starting Vans. The personal responsibility I feel towards the families that include us in their lives and choose us to spend their time and money with," says Van Lierop.
This dedication to others can be difficult to find in the service industry. The staff at Van's take pride in knowing people's names and what cars they drive. Van Lierop has seen kids grow up and move from the backseat to the driver's seat. She's also had to say goodbye. "To realize you're never going to see them at the window again.  It reinforces our mission to do our very best because the last thing I want to think is 'dang, that was their last burger and I forgot the bacon.'"
Van Lierop grew up in the area where her business is now located (off Yelm Highway). Back then she sold different things mainly berries, corn and daffodils from the family farm. The idea for Van's started when her father bought a trailer. "We served lunch in front of his house every Friday," says Van Lierop. Friends and family were the first customers. Then others started coming, mostly farm hands and people who worked nearby.
They're still coming. Two more cars have pulled in behind me. I roll forward. The menu board is low tech.  There are no glossy pictures or colorful fonts just little black letters on a white backdrop. A crackled voice comes through the twin speakers. I order something called The Fair Burger, fries and onion rings.
There is no one word to describe the food. It's Thanksgiving sleep, Nat King Cole's vocals, raindrops on roses and whiskers on kittens. I don't know. It's just good. My fingertips are covered in a combination of cheese and grease that somehow feels healthy. There's a picnic area with a tetherball and Sheriff Big Mac.  It's a little rusty but otherwise just like the one I used to climb.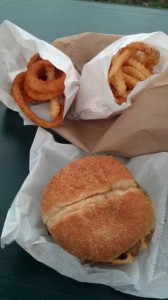 I know I said to read this article and then go to Van's. Well, be mindful of that last part.  Van's is only open Thursday through Saturday and when the month ends it will be closed until late March or early April. There are multiple reasons for the odd hours.  Van Lierop says she'd have to buy produce from faraway places during the winter and she worries about people driving in bad weather. Plus she says, "it gets as cold in the building in the winter as it is hot in the summer."
I finish and throw my wrappers away. As I leave I pull into the Sweet Spot. It's an offshoot of Van's. I order a milkshake and a corndog. I tell myself it's research.
7811 Yelm Highway SE in Olympia
Thursday and Friday – 11:00 a.m. – 7:00 p.m. (or until the last car is served)
Saturday – 11:00 a.m. – 4:00 p.m. (or until they run out of 100% natural Washington beef patties)