Healing takes work and takes time. Luckily, for Thurston County residents, the care of physical therapist Dr. Sean Sipe has become more convenient. Sipe and his team have created an environment at Inspire Physical Therapy for optimal patient care in a beautiful 3,100 square foot sunny space.
Everyone can end up in physical therapy (PT), including agile teenage athletes, workers with job-related aches, weekend warriors with skiing injuries, and patients with newly replaced knees and hips. Inspire Physical Therapy specializes in sports injuries, spinal care and general orthopedic conditions.
Sipe states, "I strive to be effective with evaluating and treating anyone that walks through the door from the adolescent soccer player to the 78-year-old coming off of a knee replacement surgery and all points in between."
Physical Therapy is unique in that it requires a consistent investment of time and effort, both in the clinic setting as well as at home.  The upside to this type of care is that patients get to know their physical therapists in a way that is different than with other health care providers.
Between pushing limits and commiserating over an injury, a relationship is forged. Sipe's quiet confidence and reassuring nature is one of the reasons patients visit his practice.
Local Business Roots
Sitting down with Sipe in the new office space, we spoke about what inspired him to pursue a career in physical therapy and how he landed in our local area.
"I charted the course for physical therapy in high school.  I was always strong in math and science and I was a bit of an athlete.  Something that combined sports and the medical field seemed like a good fit," Sipe states.
"I went to Eastern Washington University to pursue physical therapy and got into graduate school at age 21 and just never looked back. I volunteered at a local clinic and thought it was interesting.  I just set a course and stayed with it," recalls Sipe.
After graduation, Sipe found a position working in Aberdeen, but he had a vision to open up his own practice in Olympia. "I had a business partner that helped me get into the practice and we had some success in downtown Olympia," Sipe explains. "We started to expand the operation with some satellite offices and grew it to five locations and 30-35 employees."
Despite a profitable enterprise, the business partnership went in a different direction.  Sipe sold his shares in the business and entered a two-year non-compete period.
Sipe used the time to earn his doctorate.  "An opportunity came up in Yelm, which was outside of my non-compete range.  We took over the operation and it has been a great success story," he continues.  After the purchase of Yelm Physical Therapy, just over a year ago, he became a co-founder and partner in Centralia Physical Therapy.
"The success in Yelm and Centralia have allowed us to now put our legs back into Thurston County," Sipe says.  "We are very thankful for our banking relationship with Heritage Bank, as they have been a very business-friendly bank to work with.  And being able to have a business relationship like that is critical."
Tips of the Trade
To the weekend warriors or people trying to preserve or restore mobility and function, Sipe offers the following advice. "I think it is a minority of people in general that are serious and consistent with their fitness.  So if you are in that minority – good for you!  Those of you that are fit, working on staying fit or increasing your level of fitness, my biggest advice in terms of staying healthy is 'balance.' And not balance in the physical sense of balance, but balance with your training and effective modes of cross-training."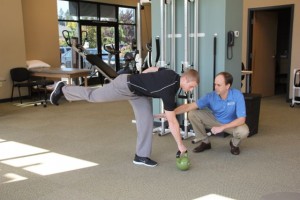 "If you are a runner, you should probably be on a bike and doing some spin.  If you are a golfer or tennis player, you probably should be working with some resistance exercises and weights.  Finding where you have that balance of nutrition, hydration and cross-training is key," adds Sipe.
"The second tip is, if your body is talking to you; don't ignore what it is telling you.  Listen to it and get it checked out.  If your body is talking to you, if there are aches, pains, stiffness, something going on, get it checked out and see what's happening with your biomechanics," he concludes.
"We are happy to be back and be part of the community; it's a great place to be," Dr. Sipe summarizes.
Inspire Physical Therapy
4740 Avery Lane SE Lacey, WA
360-491-1815
7:30 a.m.- 6:30 p.m. Monday through Friday