Submitted by Lucky Eagle Casino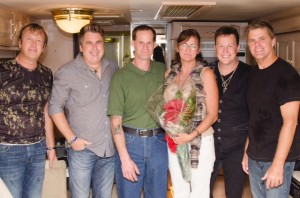 Dave Mahoney from Tacoma, stole the show during the Oct. 4 Lonestar concert at Lucky Eagle Casino & Hotel in Rochester, Wash. when he surprised his girlfriend Starlett by taking the microphone and proposing marriage. She said yes and the couple was serenaded by the group's smash hit "Amazed."
"It was one of the most spectacularly bold and romantic gestures I've ever seen," Lucky Eagle Vice President of Marketing John Straus said. "The audience was going wild and the band was into it. It was really cool."
Lucky Eagle played a behind-the-scenes role in the proposal, including arranging front row seats for the couple, coordinating the details with the band and arranging backstage passes.
The casino wants to help another romantic soul pull off an epic marriage proposal or give someone a second chance to get it right by re-proposing to their spouse.
Lucky Eagle will select one person and pay up to $10,000 to help coordinate and execute their dream marriage proposal or re-proposal as part of the casino's Lovestock 2014 Dream Proposal on-line promotion.
"Marching bands, celebrities, hot air balloons, fireworks…if you can dream it, we'll do it," Straus said. "We want to help pull off the most romantic, unusual and spectacular proposal of all time."
Lucky Eagle is asking interested romantics to submit their dream proposal or re-proposal ideas through LuckyinLovestock.com. Submissions are being accepted now and may be written or via video.
In addition to the chance to create their dream proposal, the winner will also receive travel to Lucky Eagle, a free deluxe wedding and reception for up to 20 people on Valentine's Day, plus $5,000 toward their honeymoon, free meals and hotel stays and more.
The Dream Proposal promotion is one of the centerpieces of Lovestock 2014. This half-year celebration of peace, love and chocolate features concerts, events and promotions galore, culminating on Valentine's Day weekend with a hip-shaking, romance-filled, love extravaganza. Think of it as a love-themed Woodstock. Ten couples will receive free weddings at Lucky Eagle as part of Lovestock 2014
For the latest information about Lovestock 2014 or for complete rules for Lovestock 2014 Dream Proposal, go to https://www.facebook.com/luckyeaglecasino or LuckyinLovestock.com.